I'm getting this one started a little early ... away we go! It's a sad month in Marvel history, as we begin what Joe Marek has dubbed "The Great Page Reduction." Replacing pages of story were pinups.
On the upside, I figure you might like to hear what Stan was saying about these books, so from now on I'll be quoting him, straight out of the Mighty Marvel Checklist!
JOURNEY INTO MYSTERY #110:
Stan and Jack have another super-spectacular going for them with this ish! It features the return of the mysterious Mr. Hyde, and the serpentine Cobra, as well as the ever-present menace of Loki! Also, you'll see some great battle scenes as Thor defies mighty Odin himself to challenge most of the warriors of Asgard!
X-MEN #8:
You'll see Professor Xavier for a short time here, and wait'll you discover where he is and what he's doing there! As for the new menace which confronts the X-Men -- there are TWO of them! One is "Unus, the Untouchable!," and the other is the fact that something totally unexpected happens to the Beast! Don't miss it!
TALES TO ASTONISH #62: Think you've seen everything? Wait'll you see Giant-Man BATTLING the Wasp! There are all kinds of plot twists in this one, and when Giant-Man becomes Ant-Man, and goes into action against that ant hill, man, it's the most! And the 10-page Hulk hair-raiser which rounds out the issue is nothing to sneeze at, either! You'll meet an old villainous friend of yours in this one, too!



AVENGERS #10: There's a new wing-doozy of a villain in this one named Immortus! His power is somewhat different than any we've shown before! And dig this -- the title of this block-bustin' yarn is: "The Avengers Break Up!" Even Jonah Jameson would have to enjoy this one!



SGT. FURY #12: Here's a real twist for you -- one of the Howlers DESERTS during a life-and-death mission! Which one? Now you don't expect us to spoil your surprise here, do you? It's Fury at his best -- and that oughtta be good enough for anyone!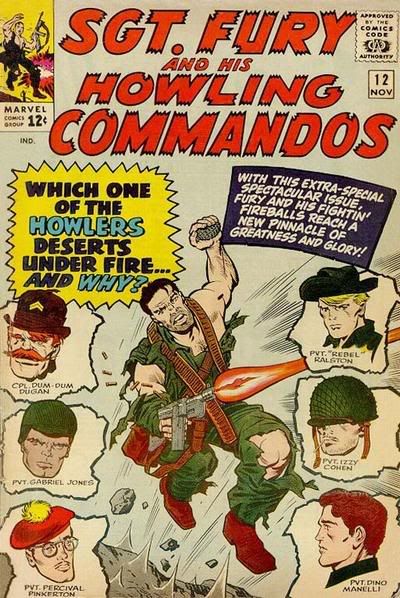 AMAZING SPIDER-MAN #19: The one you've been waiting for! Under slowing down under the weight of a zillion personal problems, Spidey swings back into blazing action again! The title tells the story: "Spidey Strikes Back!" It guest stars the Human Torch -- features the Sandman, the Enforcers, and all the Marvel magic for which Webhead is famous!



FANTASTIC FOUR #33: We don't know how Stan does it, but each ish of the F.F. seems to top the one before it! This month you'll see the umpteenth return of everybody's favorite character, the sensational SUB-MARINER -- but, with a difference! Now he's fighting WITH the F.F., against a brand new undersea foe named Attuma! Aw -- why say anymore? It's got EVERYTHING!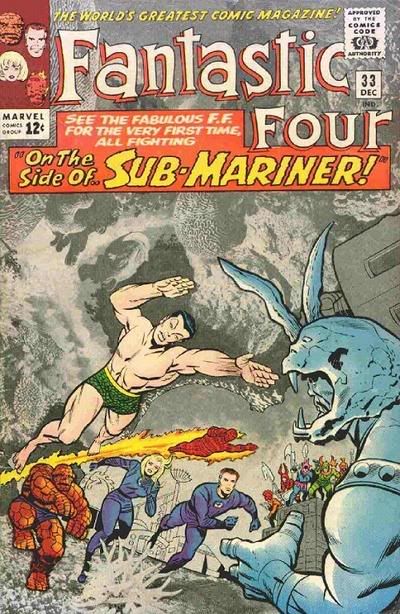 TALES OF SUSPENSE #60: Can you picture "Iron Man Wanted For Murder!"? Well, that's the title, and the tale has more drama and tension than you've the right to expect for 12c! But, if that isn't enough for you, there's a fast-moving pulse-pounding Captain America ring-a-ding razzle-dazzler that'll curl your hair! How ABOUT that!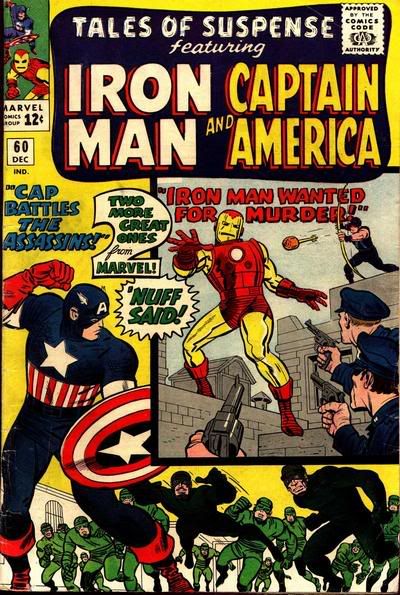 STRANGE TALES #127: There's a real twist to this month's Torch and Thing romp! A mystery villain is introduced -- as well as an auto race to end all auto races! As for Doc Strange, he finally has his showdown with the dread Dormammu!



Take it away, people!
Catch all past threads at
http://marvelmasterworksfansite.yuku.com/forums/5
A complete and updated list of which comics we covered in which leg of this marathon is at
http://marvelmasterworksfansite.yuku.com/topic/7980?page=1