This thread will be a reading companion to the recently released Flash archives volume 5, and I'll be using it to post letter columns and other artifacts to provide some additional context.
We left off the last "flash"back for volume 4 at issue #135's LC - you can find that thread over
here
So let's set the stage - it's now late 1962. While there's some increasing fervor for the first wave of Marvel's silver age, Flash still occupies a prestigious place in fandom. It was the place editor Julie Schwartz first began giving out free artwork, and as we saw in the previous installment, letters could be found from LC luminaries like Don Thompson, Paul Seydor, Biljo White, Don McGregor, and Guy Lillian III.
The first LC dealing with stories from this volume is from #136, and in it we find such tidbits as Julie's favorite baseball team, ye editor's response to an embarrassing gaffe in #133's Kid Flash tale, and a letter from future writer Larry Herndon. It's also comforting that even in the heyday of the Silver Age, the phrase "I've got the strangest feeling I'm being turned into a puppet", raised some eyebrows: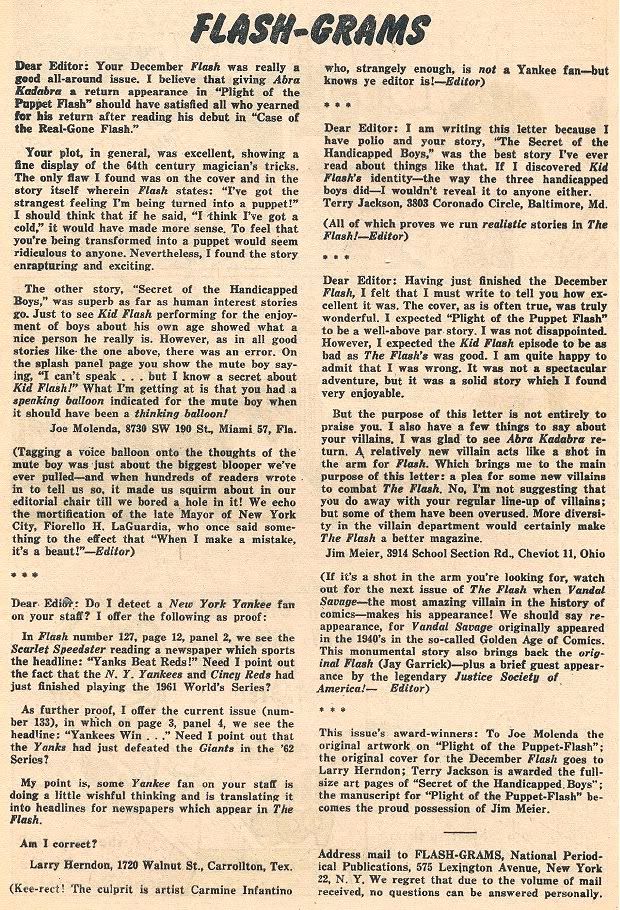 Coming up: DC's dean of continuity chimes in on Barry & Iris' relationship!