What's all this crazy talk about binding comic books?
Are you tired of waiting for your favorite titles to be bound and collected (if ever)? Are you unhappy with the official collected editions (poor reproduction quality, missing issues, only in B&W, too expensive)? Or do you just want to get your books out of their dusty comic boxes in a more accessible, readable format? If so, binding may be the answer. The great thing about comic book binding is it's all up to you. With a little cash (no one's binding for free!), comics (obviously!) and creativity, you can make your very own unique book.
Okay you've convinced me. I have a bunch of books I want to have bound. What do I have to do?
1) Choose your bindery:
Here's a
link
to different bookbinders, both domestic and international. If you're more courageous, you can always try the Yellow pages in your area to seek out local binderies and ask them.
Choosing the bookbinder first is necessary because, outside of the forum members, they will be your direct source for answers especially those pertinent for your particular projects. Before you start hacking away at your books, you should check with them first.
Factors in choosing a bindery:
a) Cost. For many prospective binders, cost will be a primary determining factor. Pricing can vary as low as $15 to as high as $100 or more, depending on the particular binder, size of the book, type of binding, prep work necessary and associated extras, such as dies, head/tail lines and bands or real leather. It's up to you how much or how little you want to spend.
b) Experience. Before you send in your precious comics, you want to be certain that the bindery has some experience with binding comics. The bindery list linked above lists places that have been used by forum members. If you are meeting with a new bindery, be sure to ask them about their experience with comics and, if possible, to see some actual samples. If you have had books bound in the past, bring in a book for comparison and to show them what you would like done.
c) Location. The pros of using a local bindery are reduced shipping fees (although that can be offset by local taxes) and the ability to meet with your bindery directly.
d) Options. No two binderies are alike. Each has its own strengths and may be better-suited for one project than another. You may want to use a low-cost, no-frills bindery for your basic books and deluxe "all the bells & whistles-added" bindery for your special projects.
2) Next step is prepping your books:
Some people do nothing, wrap their comics up and just send them off. Others remove back covers, double-sided ads and letter columns. The more creative types go a step further and add in table of contents, re-scanned comics/covers, online/fanzine interviews or other extras. Ultimately, it's up to you how much work you want to put in your bindings.
A fellow forum member has made a nice basic
tutorial
for those interested.
What condition should my comics be before I send them in?


As best as they can be! But when it comes to ordering needed back-issues online, F/VF-graded comics are often suitable, even going as low as VG for older, expensive issues. Binding removes many of the defects that otherwise lower the grade of a comic, such as spine roll or creases, rusty staples, and small edge tears or creases. Be wary of including comics with mold or foxing though.
Do I need to remove staples?
It's not always necessary because, in most instances, one of the first things your binder will do is trim the spines and remove the staples at the same time. If you plan to do a lot of prep work on your comics, removing staples may make your job a bit easier. Check with your bindery first because some may prefer to remove the staples themselves. On the other hand, some places may charge a fee if they have to remove the staples.
What do I do about cardstock/chromium covers?
You can bind them if you want. The caveat with cardstock covers is that, depending on placement and how many there are, they will make it so that your books won't necessarily lie flat and stay open by themselves. Think of them as a stiff bookmark/divider in your binding.
How can you get around this? There are a few solutions:
1) remove them
2) scan & reprint them on regular paper before removing them
3) if you really want the cover but don't want to go through option #2, removing the back cover and leaving just the front can help. Also, if you just have one cardstock cover trade/graphic novel, placing it at the front or the back of the book is another solution. Leaving in cardstock covers can weaken the binding over the long-term however.
Can I bind trades/graphic novels?
Yes. You can bind several trades together (a completely ad-free book) or you can mix & match: binding both floppies and combination of trades/gns. See the post regarding cardstock covers.
Example: In this book, I had the Human Target graphic novel bound with the 4-issue miniseries and then the regular series. The cover was removed.
How do I remove covers from trades/graphic novels?
1) Pull and rip.
2) Use a hair-dryer directed at the spine edge to soften the glue and gently remove the cover. See the tutorial above.
3) One ingenious method offered by another forum member is to heat a pan/flat griddle over the stove on low heat. Place the spine of the book on the hot surface for a few seconds (any spine damage will be covered during the binding so that shouldn't be an issue). Once the glue is softened, pull and remove. You can then remove the excess glue residue or cover it up with a small strip of wax paper which will be removed later on or hidden in the spine when the comics are bound.
What do I do about wrap-around covers?
You have a few options:
1) Bind the comics as-is although you lose the wrap-around cover effect.
2) Remove the cover in one piece, bend it backwards (so that the inner right is now facing front) and place it on top of your comic. That way, when you open to that particular page, you get the full-effect of the wrap-around image.
Example: Wrap-around covers refolded to get full effect of image.
3) You can treat it as a gate-fold (see below).
What do I do about gate-fold covers?
If you're not having your books trimmed (see below), you don't have to do anything.
If you are having your books trimmed, and still want the gate-fold, you should mark each gate-fold with a post-it note or sticky. What some binders will do is fold the cover in half. That way, the edge is away from the outer edge when they trim the book.
Example: Here's a triple gate-fold from Marvel's Infinity War. The cover is reversed so you see the back and front side-to-side (like a normal wrap-around cover).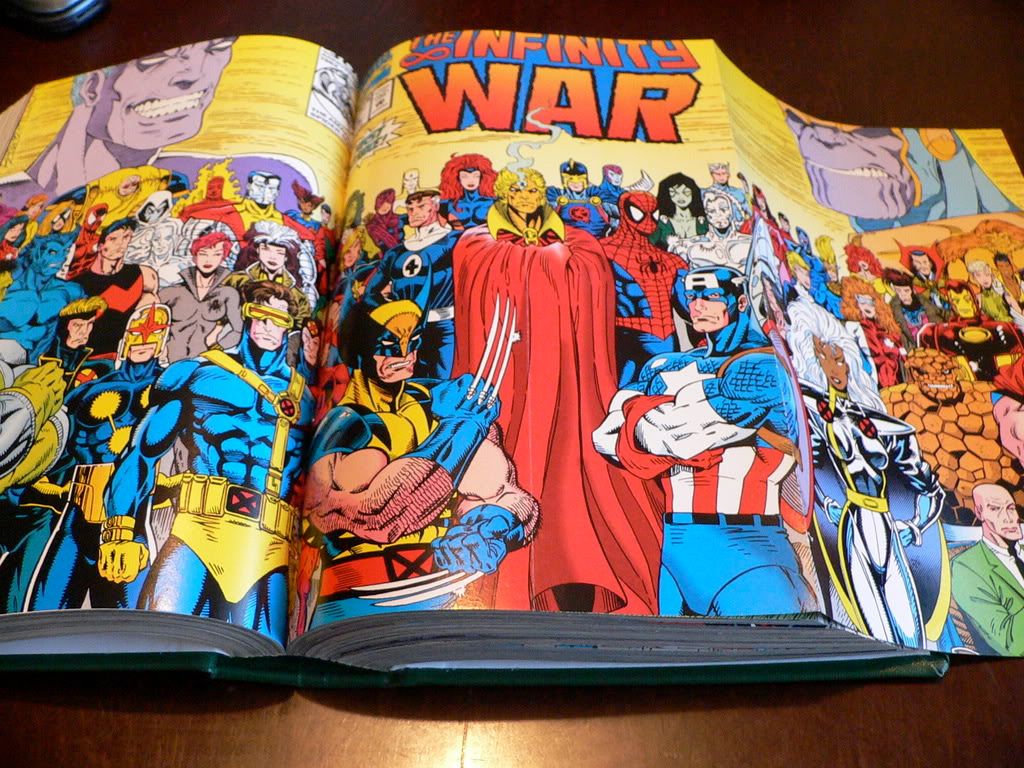 In this example, the book binder folded the cover before trimming; otherwise, the entire third page would be trimmed off. Note the thin white line in the above picture.
Here's a close-up with the cover crease. As you can see, it's not that noticeable and fades a bit but is something to take into account.
The same principle applies to internal gate-folds. Here's an example of the massive gate-fold from Ultimates 2 #13 opened up. The pages were already pre-folded away from the edge so the bindery didn't have to do any extra folding.

Is there a maximum thickness or # issues I can bind?
Not really. In general, 2" thickness is recommended by many binders. More than this, books may become unwieldy and heavy. Some book binders will charge an additional fee for extra thickness. Ultimately, however, it's personal preference and how much prep work you do beforehand to your comics.
The number of issues needed to reach or exceed 2" varies. Factors include the number of pages in each book, the thickness of the paper used (newsprint and glossy paper have different thicknesses), thickness of the cover stock, and whether you have elected to remove ads and back covers. In the end, the number of comic book issues isn't what matters so much as the actual size of the stack of paper you want bound.
Where thickness matters most is in the potential gutter loss (i.e. center of your books). With older pre-1980s comics, it usually isn't an issue since they tend to have decent white margins around the artwork. With modern comics that have a lot of double-page spreads and full-bleed artwork, you will have some gutter loss.
Example: This behemoth of a book doesn't suffer too badly from gutter loss, despite it being 51 issues in thickness! Even so, it was only around 2-1/2" thick. This binding benefited from aggressive ad (fortunately, most of the ads were all placed in the back) and back cover removal.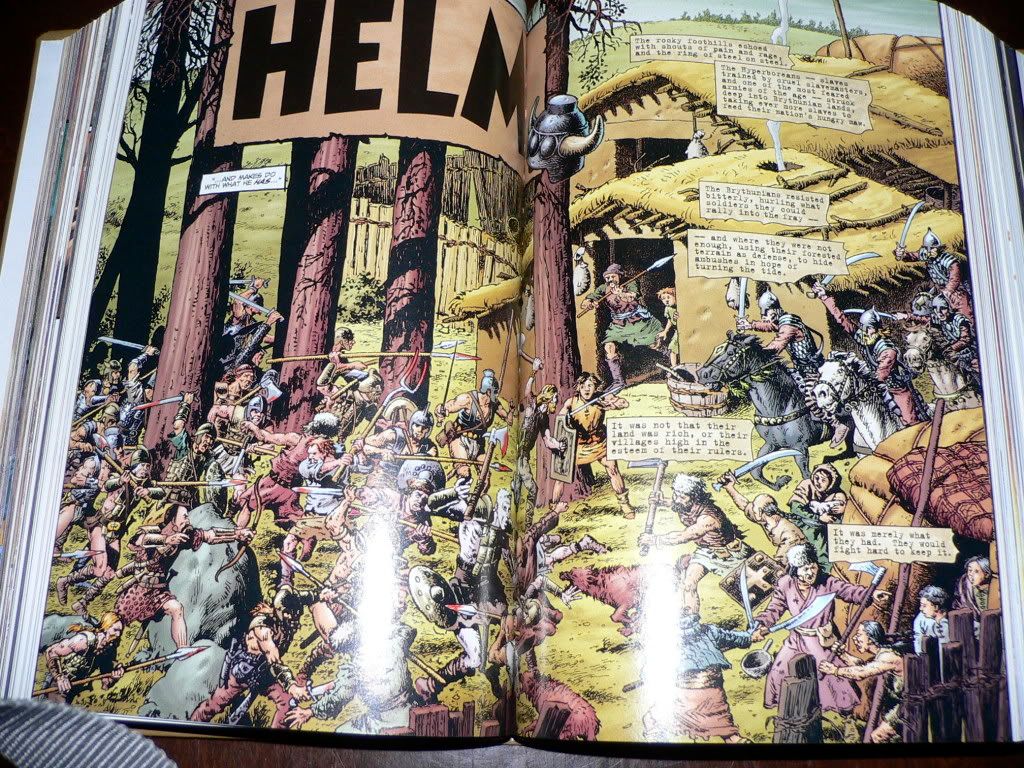 A thicker book also means a greater weight must be supported by the binding when it sits on the bookshelf, which can possibly affect the durability of your volume over the long haul.
Is there a way to minimize gutter loss?
Other than binding smaller volumes, the best way to minimize gutter loss is to have your books Smythe-sewn.
There are 2 basic ways to bind books: glued vs. sewn.
Glued binding
tends to get a bad rap because of commercial trades that are poorly-made, use cheap glue and fall apart after a few reads. When it comes to bookbinding, however, glued binding, particularly what's known as double-fan adhesive binding, is a popular alternative to sewn binding, especially as used for libraries and universities. DFA binding gets its name from the process by which the PVA (polyvinyl acetate) glue is applied by fanning the spine in one direction, then the other. The double-fanning process insures that adhesive is placed not only on the edge of each loose sheet, but also a little onto the surface of each page; as a result, a much larger surface area of each sheet is adhered to the adjoining sheet leading to a much stronger binding than traditional glued, perfect binding. Notches may be made in the spine to assist in glue spread.
Pros: DFA binding creates a durable bind that is also flexible in comparison to oversewn books. Because there is less trimming, there is less gutter loss and the book opens easier.
DFA-bound book on top vs. oversewn book on bottom.
Another advantage of DFA-bound books is repair (should it be necessary) can be done without further gutter loss. An oversewn book (which has already had 3/16" spine trimmed) would have to be re-trimmed and then sewn again.
Cons: If applied too liberally, the glue can seep in places where it shouldn't be like the pages and top edges. DFA binding isn't as durable as a sewn book, but unless you're really giving your books a work-out, DFA binding is a reasonable alternative.
Sewn-binding
refers to the process by which individual sheets or signatures of the book are sewn together (either by hand or machine) to create a strong, durable bind. There are 2 methods by which this can be done: oversewn vs. Smythe-sewn.
In
oversewing
, the individual pages are sewn together with the threads through a 5/8" or more binding margin. Think of oversewing as stapling your comic to the right of the spine.
Pros: This creates a durable, semi-flexible book. The strength and durability of oversewing works best on heavy volumes or coated paper stock like journals.
Cons: Oversewing will not work on fragile, brittle paper. Because a 5/8" margin is required for oversewing, gutter loss is to be expected.

Smythe-sewing
gets its name from its inventor, an Irish-American named David McConnell Smyth. In contrast to oversewing, this technique uses threads to sew through folded signatures (in this case, issues) of a book which are then all attached together with thread, creating what is called the book block. Think of it as stapling your comic directly in the center of the spine. This results in a durable book that has no gutter loss and is able to open completely flat.
Pros: No gutter loss. This is especially advantageous for modern comics with full-bleed art and double-page spreads where text/art may otherwise be lost.
Cons: Smythe-sewing is more labor-intensive and tends to be more expensive. Because the threads are sewn through the center, complete signatures have to be used. There can be no loose pages (no ad or back cover removal).
Oversewn book with some gutter loss:
Smythe-sewn book with minimal gutter loss:

What do I do about large over-sized graphic novels?
One option is to scan and reprint. Here is one member's method:
As far as scanning and reducing goes, I just scan magazine-sized pages into my computer, full size, making sure that they're not resting too crookedly on the glass (easier said than done at times).

Then when I'm going to print them out:

Open Word. Make sure you can see the WordArt features on the toolbar--mostly you'll just be using Insert Picture. In the upper right hand corner of the screen, there's a little icon that you click to get a ruler at the top of that document--you'll want that.

Set margins so that the image width is five and three quarters inches wide. (I leave a 1 inch margin on the right for a right-hand page and 1.7 inches on the left. The left hand page--the back, that is, of the right hand page--is a mirror image: 1 inch on the left, 1.7" on the right. This leaves more margin than you need all around, and you have to trim all four sides of the page, but I like having the option to move the image around a slight amount on the page without coming too close to the edge. If you want to set a fixed margin at one edge that's close enough that you don't have to trim that side, you can certainly do that.)

Insert the image for your first page on a blank Word document with margins set for a right hand page. Adjust the size slightly if you need to by pulling and dragging on the corners to get the edges of the panels at your margin (you're using Word Art features here--experiment a little to get comfortable; it's not at all hard or complicated.)

Print the page.

Turn the page over in your printer, oriented so the top will come out first.

Open another blank Word document and set its margins for a left handed page.

Insert the second page's image, adjust image size and position as above, and print. You now have a two sided page, and the margins should be pretty close to being matched up.

If your printed page is satisfactory, you can then delete the images on your two Word documents and insert, adjust, and print pages 3 and 4, in the same way. Repeat until the story is finished.

When you trim your pages, be sure to leave at least a quarter of an inch more on the inside margin than you leave at the edge of the page to prevent gutter loss.
What do I do about mini-comics?

As with oversized comics, one option is to scan and re-print (in this case, enlarge) the mini-comic. Depending on the original size of the mini-comic, however, resolution may be grainy at normal comic size. Another option is to have the mini-comic sewn/glued at the appropriate spot in the book as-is. A third option is have the bindery create a small pocket in the back to insert the mini-comic.
Then there are the comics which aren't mini-comics but slightly smaller. Comics have changed dimensions over the years. In particular, Marvel went through a period in the late 90s-early 00s when they shrunk their comics just slightly. This experiment didn't last very long before they went back to regular modern comic-size. Problem comes when binding runs with comics of both sizes. If your books are trimmed down to the smaller size, you may lose art/text from the regular comic. One option is just to leave your books untrimmed. Alternatively, tell your bindery to line up all the comics along one side (either the top or bottom) and trim the other sides. That way, loss of art is minimized and the book has a nice trimmed look.
How do I know my books are complete?
Just how complete your book is is up to you. Some people will bind all cross-over issues/guest appearances. Others will add articles/interviews from comic magazines. You can go
here
in the Binding Vault for some suggested maps for books. Maps can vary since some people will map books based on # issues/thickness while others will do it based on storylines.
Some good online resources:
comicbookdb.com
or
comics.org
where you can do searches by title, character, creator or even story arcs. Publisher-oriented sites include
UHBMCC
or
Mike's Amazing World
for Marvel and a sister site for
DC
.
Marvel
DC
Some other useful sites for
DC teams
(JLA, JSA, Legion) and the
Titans
.
Where can I find some needed issues or get rid of extras?


You can post your wanted/trade list on our very own
Missing Swap Shop.
Members have had good luck using various
online
shops.
I've got my books mapped and prepped. Now what?
Regardless of which bindery you use, you need to provide them with a template for your book lay-out including what information you want stamped on the spine and/or cover i.e. title, creator names, company, volume/issue #. If you want a die, you should note where you wish it to go. The same goes for what information you want in the panel lines. In addition, you will choose the colors for your buckram covers and the lettering/spine dies as well as any other extras (ribbon bookmarks, head/tail bands, etc). The important thing is that the book binder will stamp your book exactly as you fill it out. So be sure to proofread your binding slip! One exception may be in cases where a creator name or title may be too long for the spine width even with a shrunken font. In this instance, they might split it up into 2 lines.
A forum member has converted a binding slip into MS Word via
zipfiles
.
You can have your information run right to left across the spine or along the length of the spine. Your binder may charge extra for fancier configurations, including different/enlarged fonts.
Examples of different spine/cover lay-outs: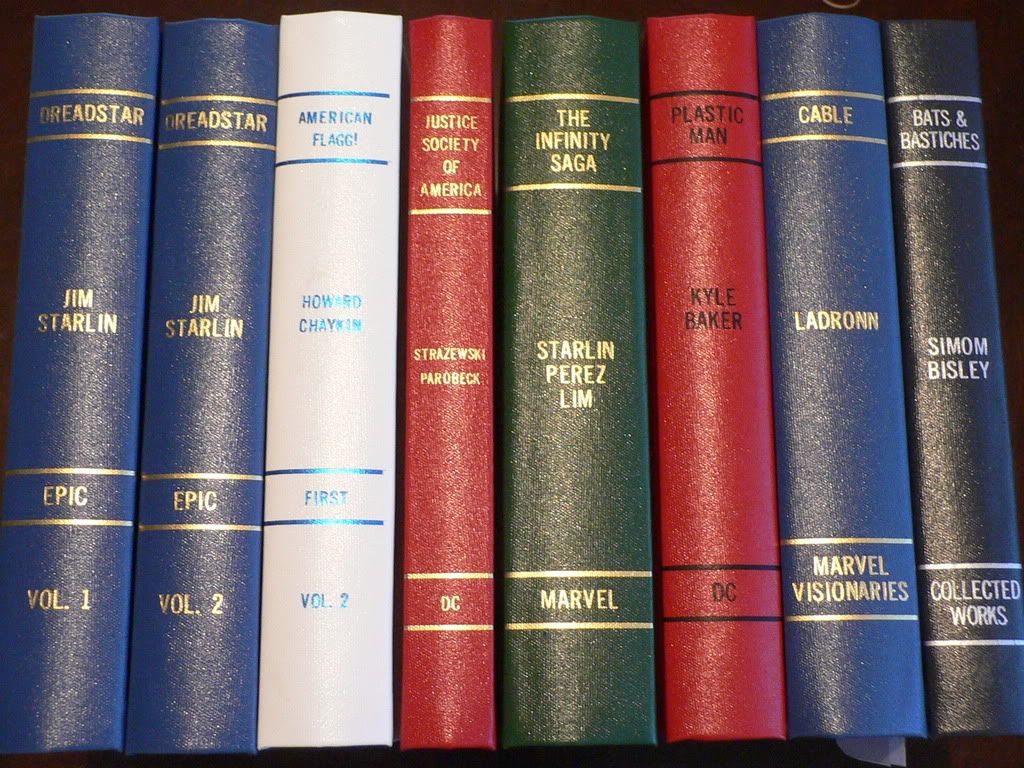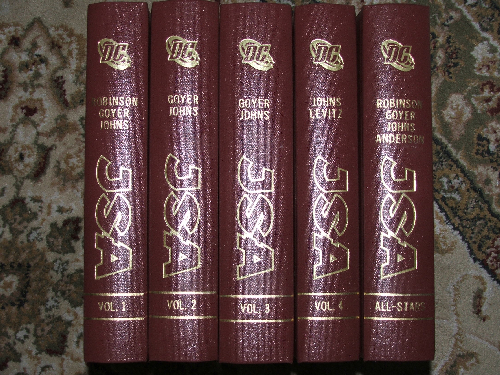 Once that's done, secure your comics with rubber bands/twine (you can also re-use backing boards to sandwich the comics in-between for added security), package them in the box and ship them out.
Should I have my books trimmed?
It's up to you. Most binders will trim the outer edges of the books so that everything is flush. If you don't want your books trimmed, however, because of potential loss of artwork/lettering, be sure to let your binder know. Some binders don't routinely trim books while others will leave a book untrimmed if they believe too much artwork/lettering will be lost. If you are adamant about having your books trimmed, let them know!
A look down the edge of a trimmed book: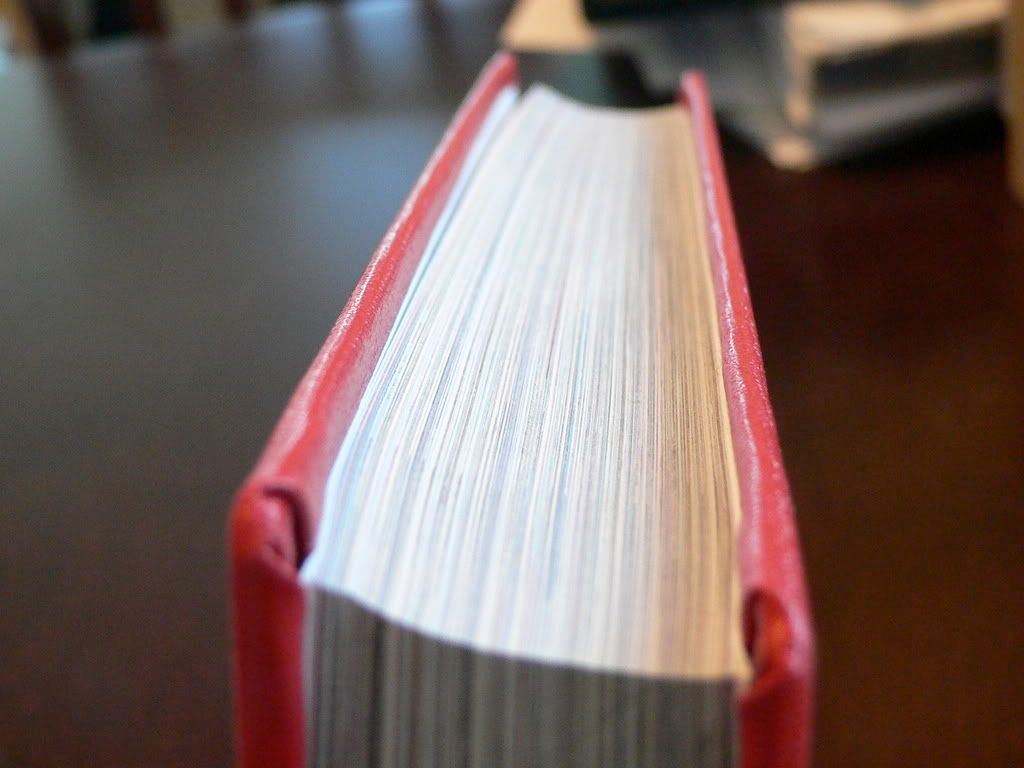 The corresponding view from an untrimmed book: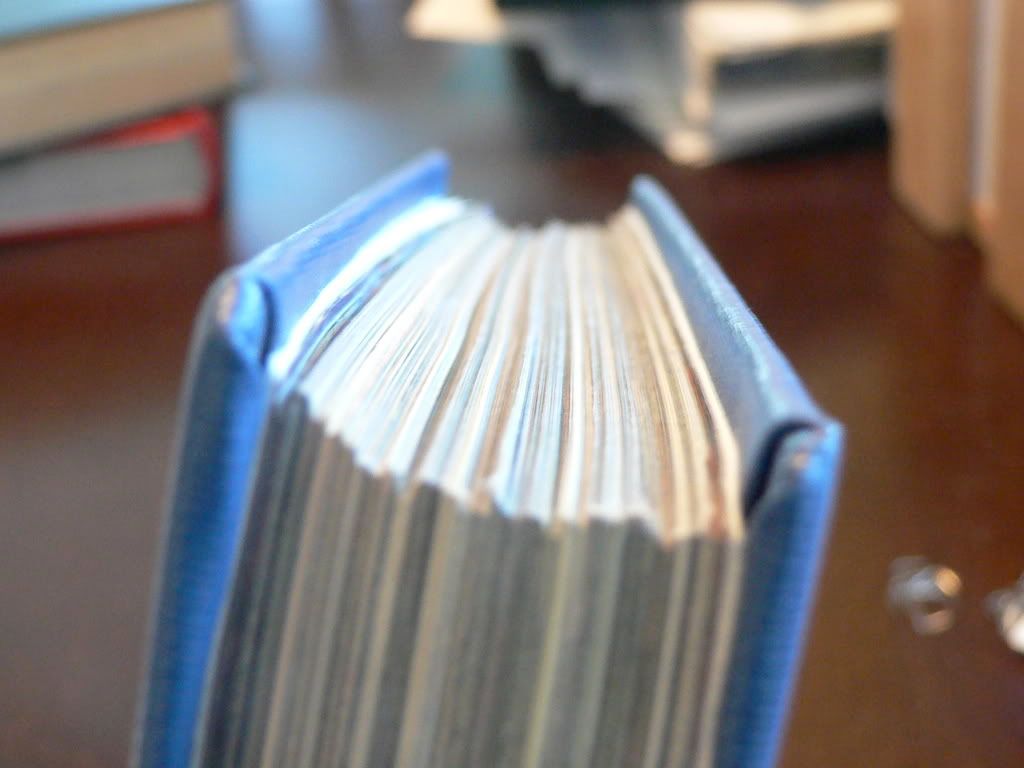 What are head/tail lines?

What are head/tail bands?
These are largely decorative pieces of ribbon to cover the space at the top/bottom of your books between the sewn book block and the spine.
Head band with a ribbon bookmark:
DIY aka adding the "bells and whistles" to your book:


You've assembled all the issues, mapped out your project, prepped all the books and filled out the binding slip. Before you wrap them up for shipping, here are other possibilities you can add to "spice" up your volumes.
How do I make my own table of contents?
See
this
thread.
How do I make custom dustjackets?
Here's
a nice thread.
If you're planning on doing custom covers, TOCs or dies, there are plenty of online resources:
- for company or
title
logos
- for covers:
comiccovers.com
,
coverbrowser.com
,
comicvine.com
- for original
art
and
sketches
. DC has free desktop images for
Vertigo
,
Wildstorm
and
DCU
as does
Marvel
.
- for
fonts
. A Google search for "free fonts" will provide any number of websites.
How do I add my own head/tailbands and ribbons to a book that's already been bound?


See
this
thread.
How do I make dies?
Contact the bindery you are using. They will provide you with the information you need to create one. In general, a die logo needs to be in B&W. The cost depends on the size of the die.
If you are interested in making a new die, one way to defray the cost is to see the level of interest beforehand and if people are willing to chip in for the initial cost.
Other extras:
Ask your binder if these options are available.
Imitation leather buckram:
Real leather:
Two-tone binding:
Custom-image wrap-around covers:
Half-binds: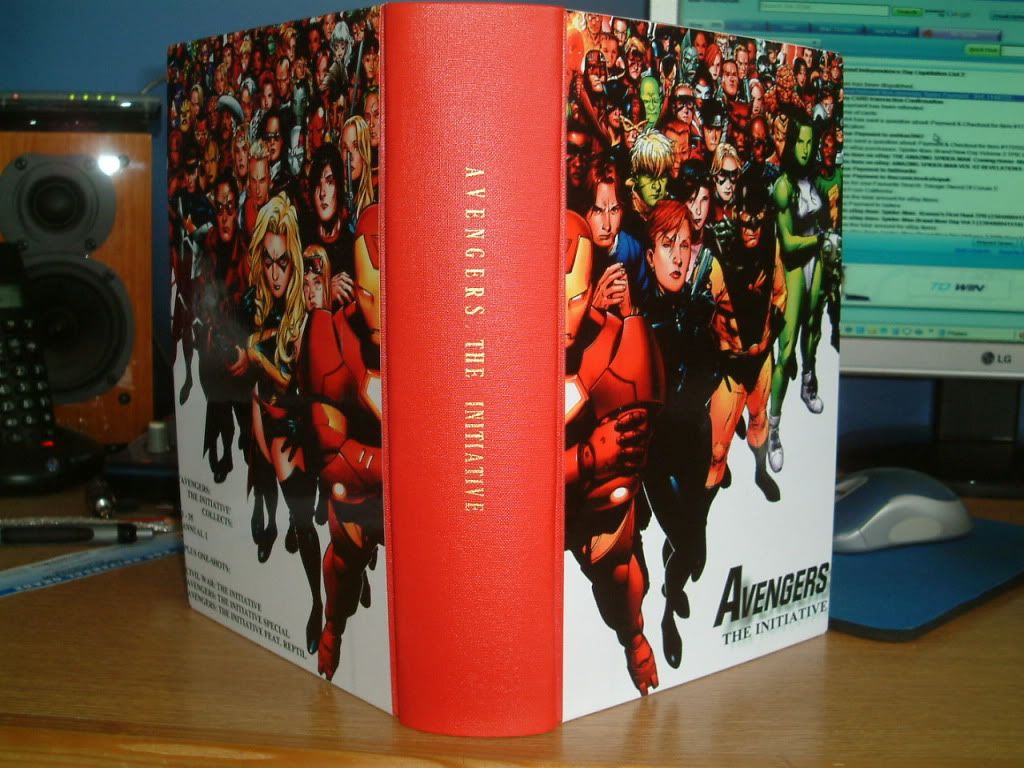 What's the best way to ship comics?


Some people use USPS priority mail boxes. They're readily available (and free!) at your post office, can fit 3-4 projects and arrive in 2-3 days.
Others like UPS since they provide tracking/delivery confirmation and insurance. A bit more expensive. You can set up your own UPS account which is cheaper than paying the retail UPS prices.
Another option is USPS media mail. Slow but very cheap. Technically, comics aren't considered media mail because of all the ads. There is always the slight possibility that your branch/office might open your box for inspection and return the books to you. If you weigh your box and print out the label yourself, that's supposedly less likely.
Can I do my own binding?
If you're really motivated, there's plenty of information on the web/books to help you bind your own books. A few members have done it themselves.
A few final suggestions:
1) If you plan on binding a full set/run of comics, it's best to send it all at once. That way, it's more likely that your books (spines) will be uniform and line up. If you don't, then be sure to mark MATCH on the binding slip and, even better, scan/photocopy the spine of an older book and send that in with your later volume so your binder has something to work with.
2) NOTE: Your book binder will bind the comics as shipped. They will not necessarily go through each issue with a fine-tooth comb. In other words, check your comics and proofread your binding slip BEFORE you wrap them up. The last thing you want after all your hard work is to have a book sent back with issues out of order/missing/upside down/misspellings.
3) To cut down any binding regrets, do plenty of research beforehand, ask forum members and talk to your binders if you have specific questions or concerns. Be sure to let them know what you want rather than assuming that they will do something.
Welcome to the forum! If this is your first-time, you'll find comic binding is addicting. Pretty soon, you'll not only be binding the comics you have, you'll be searching out new comics to bind or coming up with new maps for projects.
Before you know it, you'll go from this eyesore:
to this shelf of wonder!
Enjoy your books and
post pics
!