Once again, I will be using this thread to post some of the letter columns and other items from the original
Superman
issues presented in the Kryptonite Nevermore collection, so it can serve as a reading companion.
For posts about shortcomings in the reproduction work on this volume, please refer to this thread, where there has already been a lengthy discussion on that issue:
http://marvelmasterworksf...y-first-look.html?page=21
I would like this thread to focus solely on the stories contained in the volume, and provide some context from the era in which they were published.
So let's set the stage... it's late 1970. Mort Weisinger, longtime editor of the Superman family of titles was retiring, and his fiefdom was partitioned among 5 different editors - Murray Boltinoff (
Action
and
Superboy
), Jack Kirby (
Jimmy Olsen
), E. Nelson Bridwell (
Lois Lane
), Mike Sekowsky (
Adventure Comics
starring Supergirl), and Julie Schwartz (
World's Finest
and
Superman
). Bridwell was also given the daunting task of maintaining some continuity between the various titles, under the auspices of associate editor, while also manning the letter columns and contributing to some of the back-up features.
In addition to picking up the pieces that Weisinger left behind, the editors were also faced with the challenge of updating the Man of Steel for the more sophisticated readership of the time. Jack Kirby fired the first shot, introducing the sinister Morgan Edge, head of Galaxy Broadcasting, in the October 1970 issue of
Jimmy Olsen
. A couple of months later, Julie Schwartz brought in Denny O'Neil as writer of the flagship title, and work was begun on the 9-part (or, technically speaking, 8-part plus an interlude) epic presented here.
The column from that first Schwartz issue (
Superman
#233) was filled with mostly the kind of "gotcha" letters that Mort used to run. However, Chris Juricich (a familiar name to readers of CBG) wrote a prescient missive that foreshadowed a lot of the developments soon to come: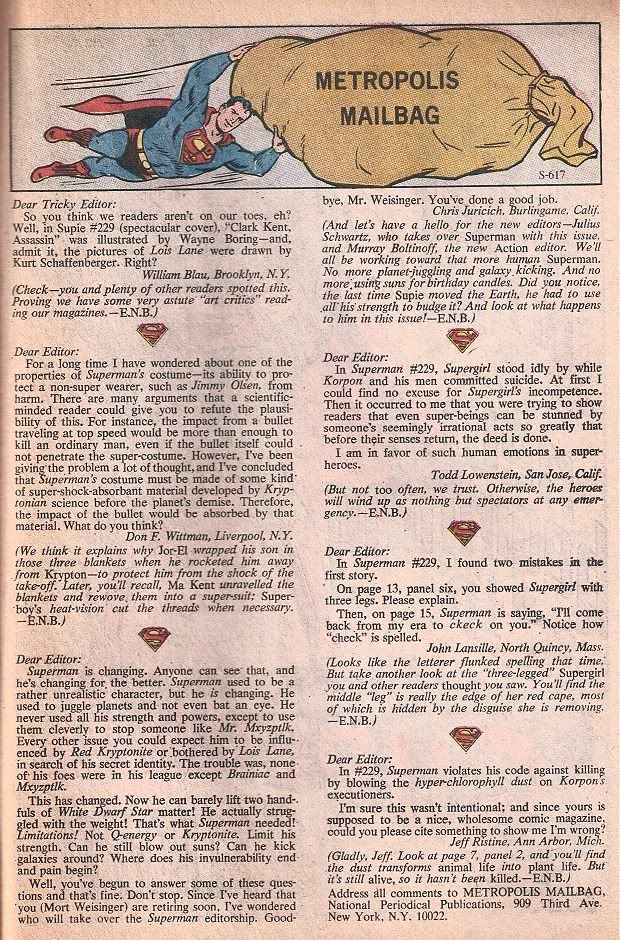 Also included in that issue was the always handy Direct Currents, which had a nice cross-section of DC titles from that month. Mention is made of the soon to be unfolding Fourth World from Kirby, and an eclectic assortment of war, western, humor, horror, and superhero titles:
I would be remiss if I didn't mention another big event of this issue - the debut of a new back-up feature that would provide a look back at Kal-El's home world:
Finally, there was a beautiful 2-page house ad, entitled "1971 - a new year brings a new beginning for Superman". I don't need to post it here, because DC was gracious enough to include it at the back of this volume. The ad outlined all of the new features then being introduced among the various Superman family of titles. This was a very big deal, because the ad appeared throughout all DC titles that month, an unprecedented 2-page promotion! It was apparent that Superman would never be the same, and reinforced the sense of foreboding readers had at the end of "Superman Breaks Loose", as the sand-creature shuffled off to meet his destiny.
Coming up: "Pesky" Pasko delivers a coup de grace to imaginary stories