5 years ago, I hoped that someday I'd get to see the original Adam Strange series collected in the archives. At that time, we hadn't even gotten the first volume, and it seemed like a pipe dream. But that dream is now a reality, and chalk up another milestone achievement of the DC archive program.
To help commemorate this event, here's another reading companion thread, that I hope will help put this volume into better context- the contemporaneous letter columns that discussed the stories in this volume when they were originally released. For those who may have missed it, there's a similar thread that accompanied the previous Adam Strange volume that can be found in the vault over here:
http://marvelmasterworksfansite.yuku.com/topic/4023
I also highly recommend that any fan of Adam Strange visit the site of Michael E. Grost, who composed some very entertaining and insightful reviews of these stories which can be found here:
http://members.aol.com/MG4273/strange.htm
We'll start off with the LC of
Mystery in Space
#84, which had the reaction to the full-length "Cloud Creature that Menaced Two Worlds" that leads off this volume. Rave reviews were unanimous, including effusive praise from Ronn Foss, one of comic fandom's founding fathers: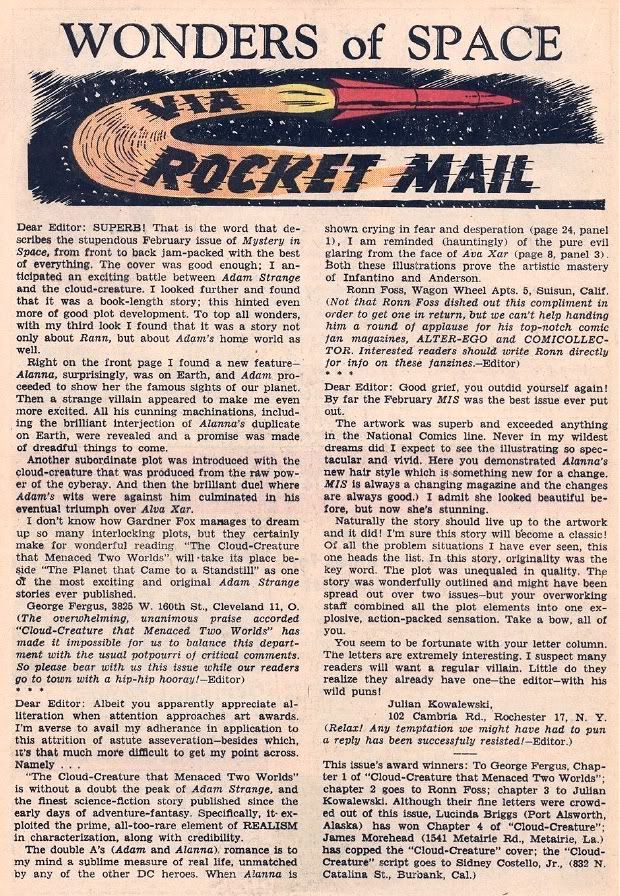 Another familiar name would crop up in the next column. A teenager from Flushing, NY named Marvin Wolfman crafted a clever letter to garner some free artwork, and was rewarded for his efforts with the original art for the classic cover of MiS #82! Wherever you are, Marv, I sure hope you held onto it, and that it's now proudly displayed in your living room!: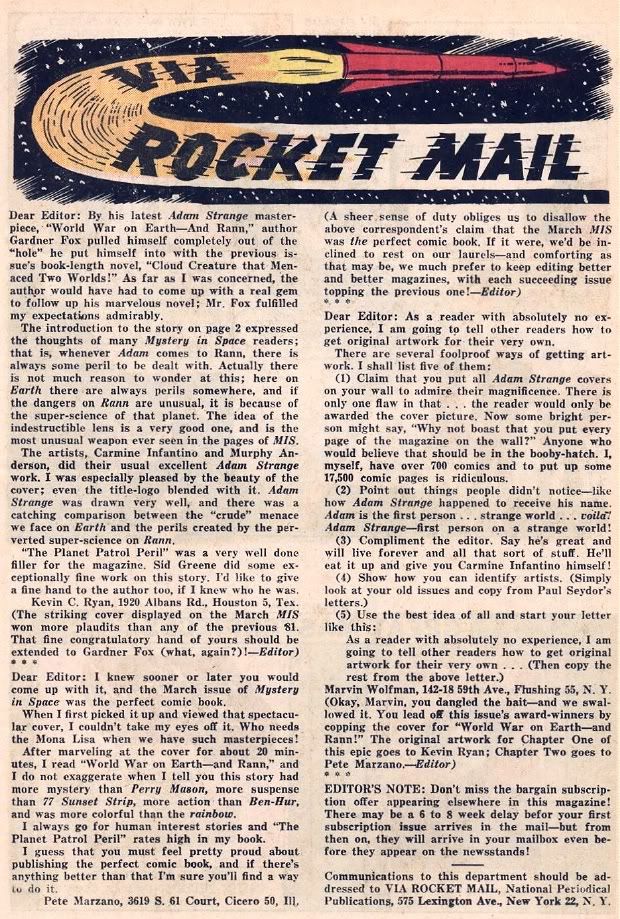 Coming up: A fan letter from a one-hit wonder?