You may know forum member Revive The Red Raven mostly from his presidency of the esteemed Red Raven Revival Society! But he's got another claim to fame as owner of one of the perhaps most rare Masterworks ever. And I say "perhaps" because we still don't know the full extent to which this Masterworks was produced, if it was an error copy (likely) or perhaps even some kind of counterfeit (unlikely), or how many such editions exist!
First off, RRR tells me that he bought this edition of
Avengers Masterworks Vol. 1
, one of the original 27 that reprinted
Avengers #1-10
, but instead of a dustjacket that reproduced the cover to
Avengers #1
inside the foil frame, it contained the following cover image: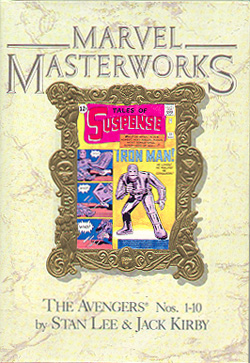 ....which, as you can tell, ain't
Avengers #1
! No, it's a poorly colored version of the cover to Iron Man's first appearance in
Tales of Suspense #39
. A "Marvel Masterwork" to be sure, but one that wouldn't see canonization in the Masterworks library until four years after Avengers Vol. 1. In doing some research, RRR found that this oddity was mentioned in an old issue of the Comics Buyer's Guide. Inquiries to Marvel about this edition were inconclusive.
So at this point, we're doing an information outreach: does anyone else have a copy of Avengers Masterworks Vol. 1 that resembles this? Does anyone remember the CBG article that may have discussed this?