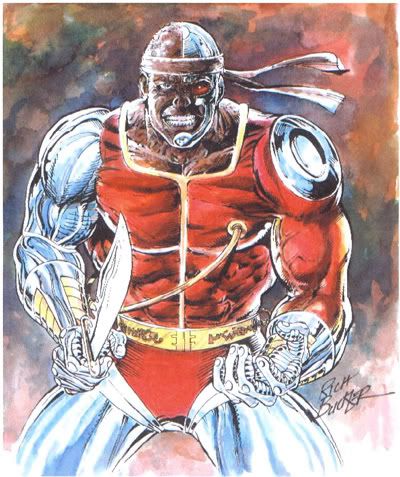 Since this title has been brought up more than once by a certain member of the Masterworks team...
, I'm curious as to how much interest there might be for it.Admittedly this title would not be my next choice for a BA masterwork, it does, however, make for a interesting pick. As a done-in-one book it won't take away anyone's regular "slot", so even if you hate the choice your pain will only last the 1 month. I'll base the expected contents on the "What If?" pages which include Astonishing Tales #25-28,30-36, Marvel Spotlight #33,Marvel Team-up #46, and Marvel Two-In-One #26,27 at about 266 pages, not including any extra bonus materials.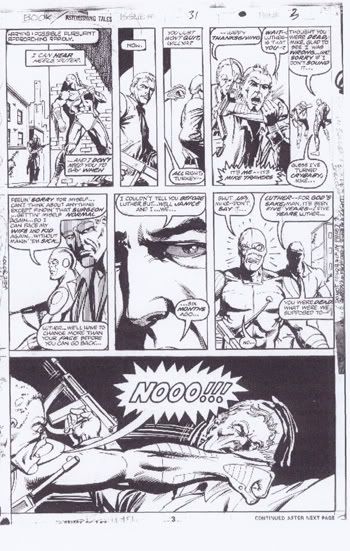 This book would feature the original Deathlok series (1974-76) which had Luther Manning as the lead character. Later we got two more "Deathlok" characters in the 90's, but this was the first. As the story goes, he was a soldier whom, after a near fatal injury, is transformed into the experimental Deathlok cyborg in a very post-apocalyptic future. As he fights the evil corporate and military forces, he struggles to keep his humanity.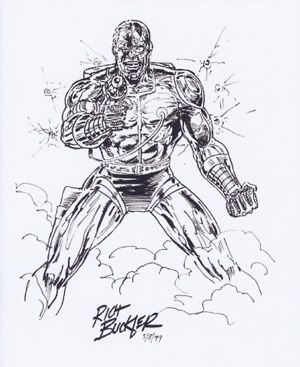 The book really would be a who's who of 70's comic talent. Writers on the series would include Doug Moench,Bill Mantlo,David Kraft and even some Marv Wolfman. In the art department there's Pablo Marcos,Keith Pollard,Arvell Jones,Sal Buscema, and Ron Wilson. Some very early work by Klaus Janson and Bob McLeod find it's way here too. Oh yeah, George Perez has his first published pro-comic work in 2 pages in Astonishing Tales #25 (George was Rich Buckler's assistant at the time). Not a bad line-up, however in the end this would very much be a Rich Buckler book.
Rich Buckler was the man that emulated Jack Kirby to such a degree (see his 70's FF work) there was a joke that Marvel should have given Kirby back Rich's original art. Rich did extensive work for both Marvel and DC (as well as others) besides helping the careers of Todd McFarlane,Jim Lee,Mark Texiera,Klaus Janson,George Perez,Jackson Guice,etc...although now out of the comics business, here is a link to see some of his current work.
www.richbuckler.com
Rich describes his original idea as "Frankenstein meets Captain America"-a super soldier that looked like a monster. He proposed the idea to Roy Thomas but Marvel was looking at a option for the Six Million Dollar Man. When Charlton got the option instead, it became a go.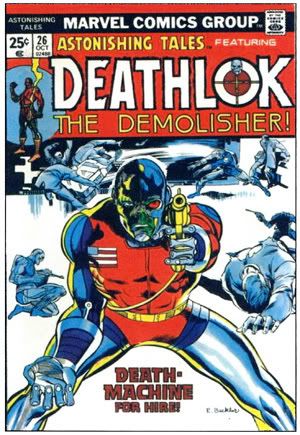 One thing different about the original Deathlok concept vs the later version- he was a white male with a black wife and a half-black son. I think the mixed marriage aspect in the 70's was more edgey than the later version. I also tend to agree with Rich when he says that making the character a pacifist later negated the whole concept. Your opinion may differ.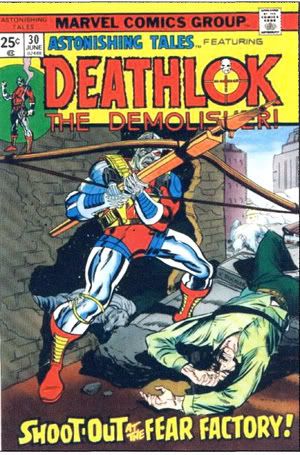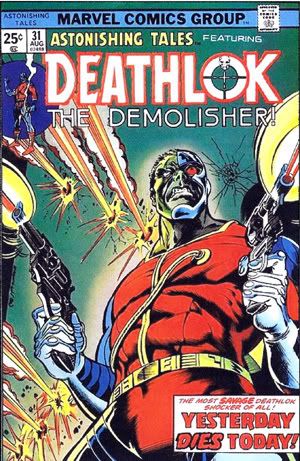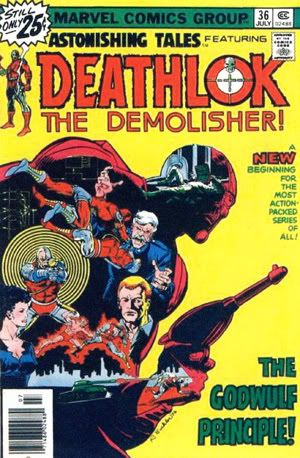 The first "team-up" books in masterworks could make it here: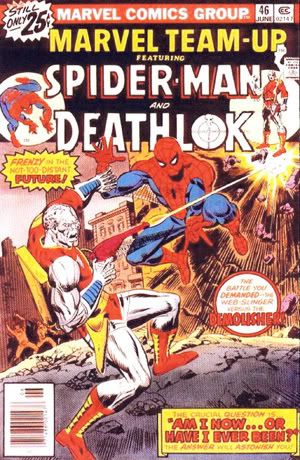 I find it fitting that a man whom so admired Jack Kirby had the "king" return the favour by drawing a cover of Rich's own creation:
Sorry about the length but at least there are some nice covers to look at.
So what do you think? Would you buy a Deathlok Masterworks???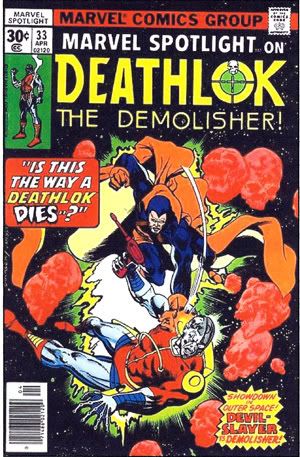 ...The Pick!