"I think that people want peace so much that one of these days governments had better get out of the way and let them have it."
-President Eisenhower 8/31/1959
This bonus installment takes us back to the summer of '59, when Ike was in the White House and Hawaii was new to the union. It was still early in DC's glorious Silver Age, when Julie Schwartz edited only one super-hero comic and Mort Weisinger was dazzling his readers with Invisible Jimmy, Mermaid Lois, and Super-Monkey!
News of the Month
:
7th - Explorer 6 transmits 1st TV photo of Earth from space
14th – American Football League organized with NY, Dallas, LA, Minneapolis, Denver & Houston
21st - Hawaii becomes 50th US state
24th - Hiram L Fong sworn in as 1st Chinese-American senator while Daniel K Inouye sworn in as 1st Japanese-American Rep (Both from Hawaii)
Newsreel of the Month
: It's Official! Hawaii Gives Us the 50th Star (August 21, 1959)
Magazine Cover of the Month
Jackie Kennedy (Life Magazine, August 24, 1959)
Music of the Month
:
US Top Singles
:
1. Big Hunk O' Love - Elvis Presley
2. Lavender Blur - Sammy Turner
3. My Heart Is An Open Book - Carl Dobkins Jr
4. There Goes My Baby – The Drifters
5. Lonely Boy - Paul Anka
UK Top Singles
:
1. Living Doll - Cliff Richard
2. Dream Lover - Bobby Daren
3. The Battle Of New Orleans - Lonnie Donegan
4. Lonely Boy - Paula Anka
5. Big Hunk O' Love - Elvis PresleyMovie of the Month
: "Plan 9 From Outer Space" starring Gregory Walcott, Mona McKinnon, and Duke Moore (premiered July 22, 1959)
TV Clip of the Month
: Johnny Cash appears on "Town Hall Party" to sing Folsom Prison Blues (first aired August 8, 1959)
Sports Moment of the Month
: Sandy Koufax sets the NL mark of 18 strikeouts in a game in a 5-2 win over the Giants (August 31, 1959)
Top 10 DC Comics of the Month
(as selected by Osgood Peabody, listed in order of their publication):
All-Star Western #109
: Journey back to the early days of Johnny Thunder's career in "The Screaming Eagle Ambush", then Foley of the Fighting Fifth undergoes a "Trial by Magic", plus the Trigger Twins in "Every Sheriff Has 5 Soldiers"! (Cover by Gil Kane)
Superman #132
: Find out what would have happened had Krypton not exploded in "Superman's Other Life"! (Cover by Curt Swan & Stan Kaye)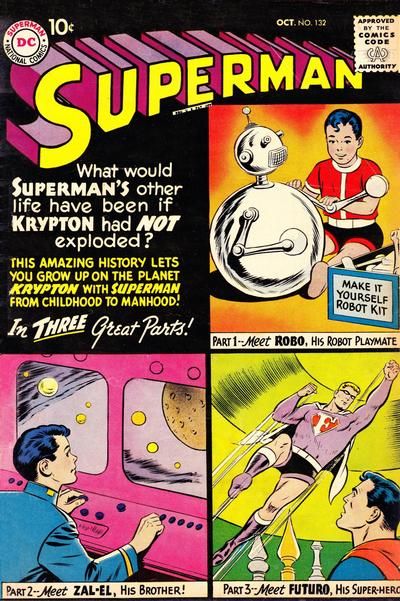 Lois Lane #12
: Superman's Girl Friend becomes "The Mermaid from Metropolis", Lana Lang is transformed into "The Girl Atlas", then secret identity hijinks ensue when "Lois Lane Loves Clark Kent"! (Cover by Curt Swan & Stan Kaye)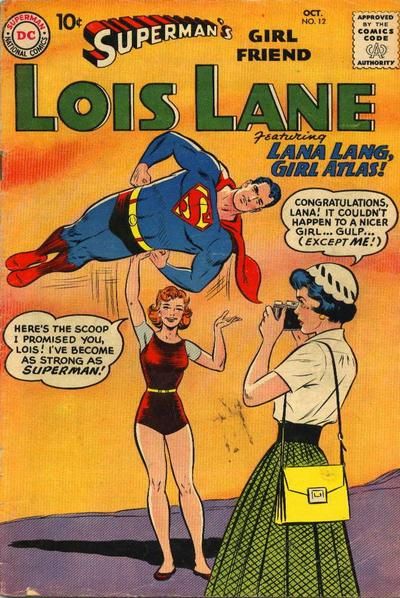 Jimmy Olsen #40
: Our favorite cub reporter gains strange new powers in "The Invisible Life of Jimmy Olsen", Kara secretly comes to his aid in "Jimmy Olsen, Supergirl's Pal", then he goes undercover in "Jimmy Olsen, Juvenile Delinquent"! (Cover by Curt Swan & Stan Kaye)
The Flash #109
: Sam Scudder is back to torment the Scarlet Speedster in "Return of the Mirror-Master", then the Flash has an underwater adventure in "Secret of the Sunken Satellite"! (Cover by Carmine Infantino & Joe Giella)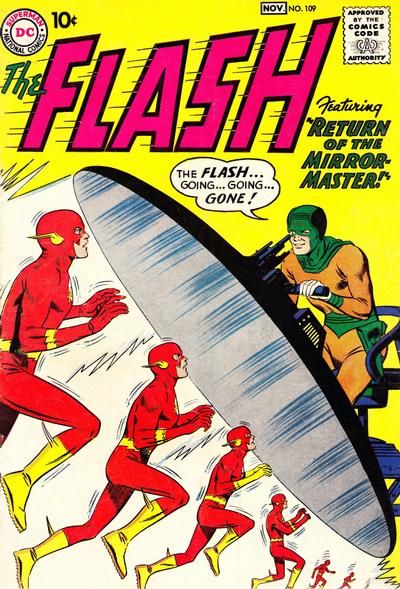 Superboy #76
: Beppo makes his first appearance in "The Super-Monkey from Krypton", meet "The Biggest Bully in Smallville", then the Boy of Steel finds his secret identity in peril in "The Day Clark Kent Got a Haircut"! (Cover by Curt Swan & Stan Kaye)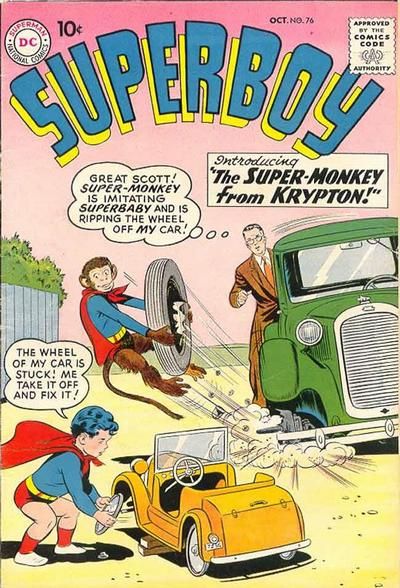 Brave & the Bold #26
: Rick Flag and the original Suicide Squad are reduced to microscopic size in "The Sun Curse" then have their furlough in Paris interrupted by a "Serpent in the Subway"! (Cover by Ross Andru & Mike Esposito)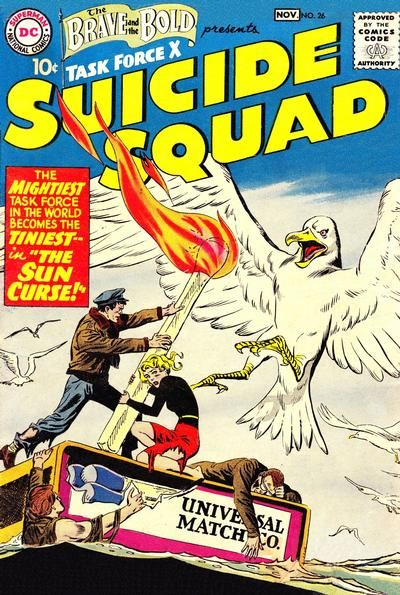 Strange Adventures #109
: A trio of sci-fi treats, "The Man Who Weighed 100 Tons", "The Warning From One Million B.C.", and the third Space Museum tale entitled "Secret of the Tick-Tock World"! (Cover by Gil Kane)
Action Comics #257
: Luthor decides to test out a new weapon on Clark Kent in "The Reporter of Steel", then Congorilla becomes "The Man-Ape Skin Diver", and Supergirl grants "Three Magic Wishes"! (Cover by Curt Swan & Stan Kaye)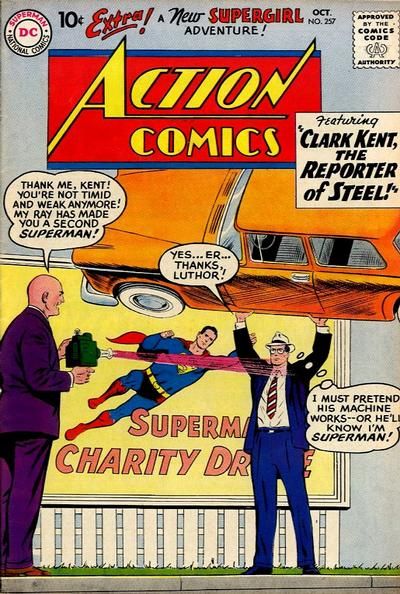 Adventure Comics #265
: Find out the incredible origin of "The First Superman Robot", then Aquaman unravels "The Secret of the Super-Safe", and Green Arrow employs "The Amateur Arrows"! (Cover by Curt Swan & Stan Kaye)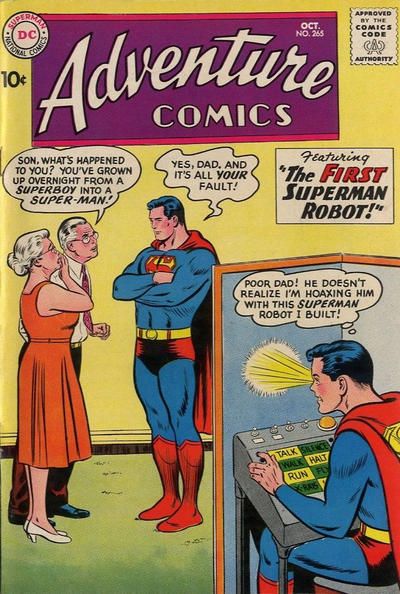 You can find all DC comics published this month right
here
courtesy of Mike Voiles' Time Machine!
You can also find a lot of other publishers' output this month courtesy of Mike's site right
here
.
.