"I love the colorful clothes she wears
And the way the sunlight plays upon her hair
I hear the sound of a gentle word
On the wind that lifts her perfume through the air"
-Brian Wilson, 1966
50 years ago, the Gemini project completed its final mission, the Pre-Fab Four had their first #1 hit, and the Game of the Century took place in Michigan… while on the spinner racks, DC debuted the Dominoed Daredoll, the Legion launched a legendary epic, while another team of heroes got tossed on the junk heap!
News of the Month
:
1st - NFL awards New Orleans its 16th franchise on All Saints Day
4th - Flooding of Arno River in Florence destroys countless art works, kills 149
8th - Edward W Brooke of Massachusetts becomes 1st African American popularly elected to the US Senate
8th - Ronald Reagan elected Governor of California
9th - John Lennon meets Yoko Ono at an avante-garde art exposition at Indica Gallery in London
11th - Gemini 12 , last Gemini mission,(Lovell & Aldrin) launched on 4-day flight
14th - Muhammad Ali TKOs Cleveland Williams in 3 to retain heavyweight title at the Houston Astrodome
18th - Sandy Koufax announces his retirement at age 30 due to arthritic left elbow
22nd - Heisman Trophy Award goes to Steve Spurrier, Florida QB
24th - 169 die of respiratory failure & heart attack due to severe NYC smog
Newsreel of the Month
: Gemini Finale – Program's Triumph Prepares Moon Shoot (November 15, 1966)
Magazine Cover of the Month
: A Matter of Reasonable Doubt (Life Magazine, November 25, 1966)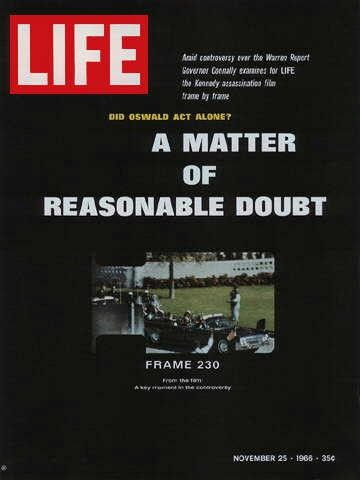 Music of the Month
: The Monkees first single rocketed to #1, while a masterpiece from the Beach Boys climbed up the charts right behind it
US Top Singles
:
1. Last Train To Clarksville – The Monkees
2. Poor Side Of Town - Johnny Rivers
3. 96 Tears - ? & the Mysterians
4. Good Vibrations – The Beach Boys
5. You Keep Me Hanging On – The Supremes
UK Top Singles
:
1. Reach Out I'll Be there – The Four Tops
2. Stop Stop Stop – The Hollies
3. Semi Detached Suburban Mr James - Manfred Mann
4. High Tide - Paul Jones
5. Good Vibrations – The Beach Boys
Further Down the Charts
: Mitch Ryder & the Detroit Wheels sent "Devil with A Blue Dress On" to #4, while Memphis soul singer Carla Thomas peaked at #14 with "B-A-B-Y"
Movie of the Month
: "The Professionals" starring Burt Lancaster, Lee Marvin, Jack Palance, and Claudia Cardinale (premiered November 2, 1966)
TV Clip of the Month
: Two screen legends join forces on The Lucy Show in "Lucy and John Wayne" (first aired November 21, 1966)
Sports Moment of the Month
: Billed as college football's "Game of the Century", the meeting between the nation's two unbeaten and untied teams, #1 ranked Notre Dame and #2 ranked Michigan State, ends anticlimactically when the teams play to a 10-10 tie (November 19, 1966)
Top 10 DC Comics of the Month
(as selected by Osgood Peabody, listed in order of their publication):
Our Army at War #175
: Sgt. Rock gets jilted by a "T.N.T. Letter" from his girl back home! (Cover by Joe Kubert)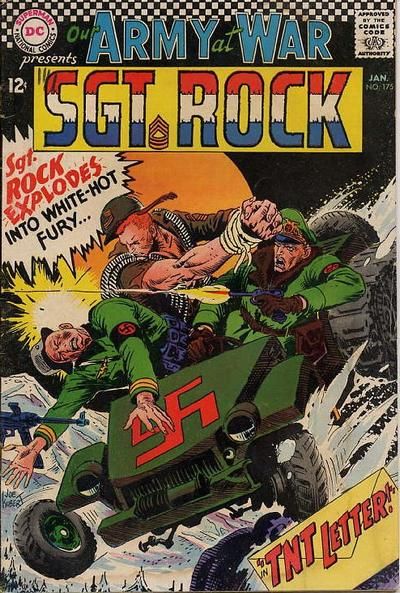 Superman #192
: Find out how a non-Super Clark and Lois manage "Clark Kent's Super-Son" in this imaginary story! (Cover by Curt Swan & George Klein)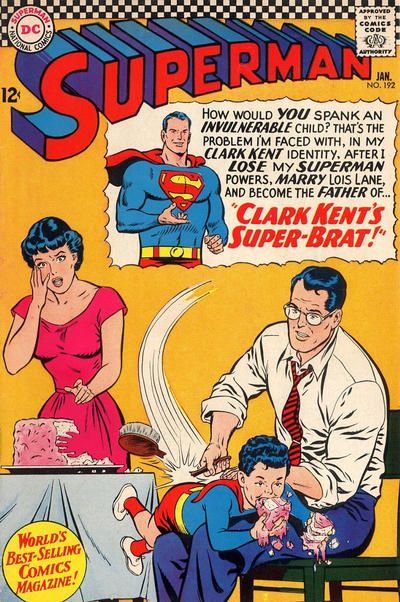 Aquaman #31
: The Sea King gets back into the spy game when "O.G.R.E Strikes Back"! (Cover by Nick Cardy)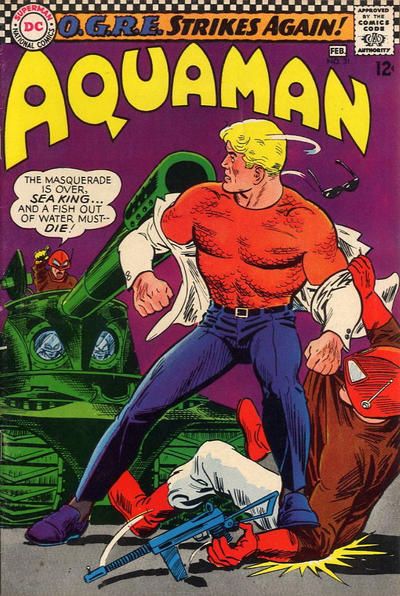 Lois Lane #71
: Lois' clash with Catwoman concludes in "Bad Luck for a Black Super-Cat", then find out what dark secret Miss Lane is hiding in "Hush Money, Sweet Lois – Or Else"! (Cover by Kurt Schaffenberger)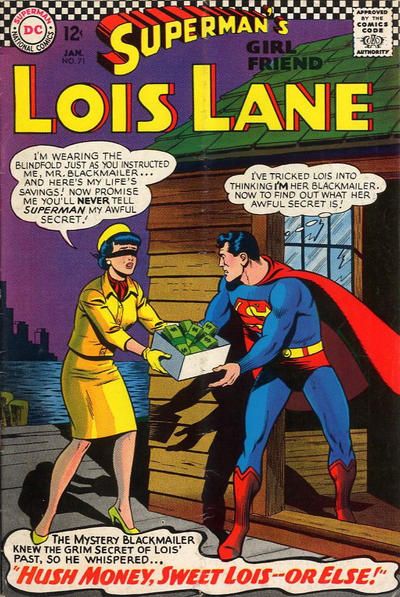 Superman #193
: An 80 page giant featuring the greatest super-stories ever published, including the classic "Death of Superman"! (Cover by Curt Swan & George Klein)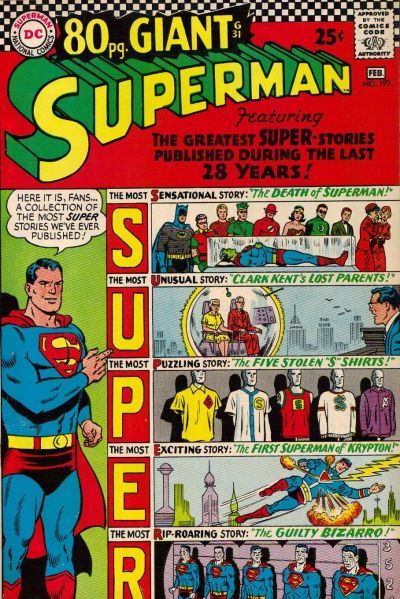 Teen Titans #7
: The Teen Titans go abroad and encounter "The Mad Mod, Merchant of Menace"! (Cover by Nick Cardy)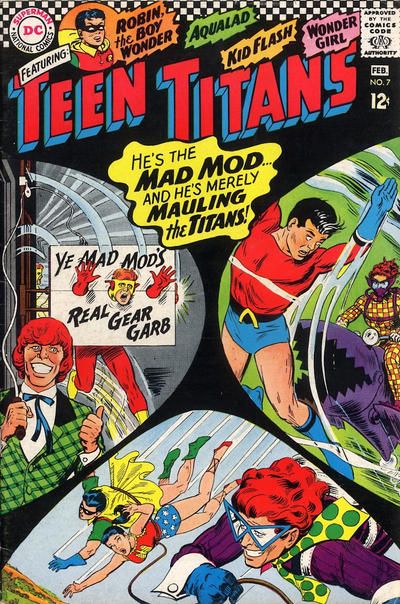 Secret Hearts #117
: Karen and Peggy reconcile their differences, while Rita's night out with Greg is spoiled by an unexpected encounter (Cover by Gene Colan)
Green Lantern #50
: Hal Jordan hits the road after leaving Coast City and finds intrigue in Idaho in "The Quest of the Wicked Queen of Hearts", then journeys to the planet Parma for some fisticuffs in "Thraxton the Powerful vs. Green Lantern the Powerless"! (Cover by Gil Kane)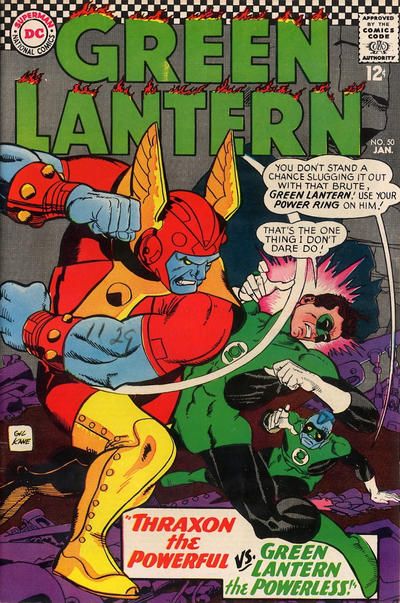 Adventure Comics #352
: With the dreaded Sun-Eater approaching the Earth, the Legion of Super-Heroes desperately reach out to the deadliest villains of the galaxy in the epic saga entitled "The Fatal Five"! (Cover by Curt Swan & George Klein)
Detective Comics #359
: A mysterious new costumed character appears in Gotham City in "The Million Dollar Debut of Batgirl", then the Ductile Detective unravels "The Riddle of the Sleepytime Taxi"! (Cover by Carmine Infantino & Murphy Anderson)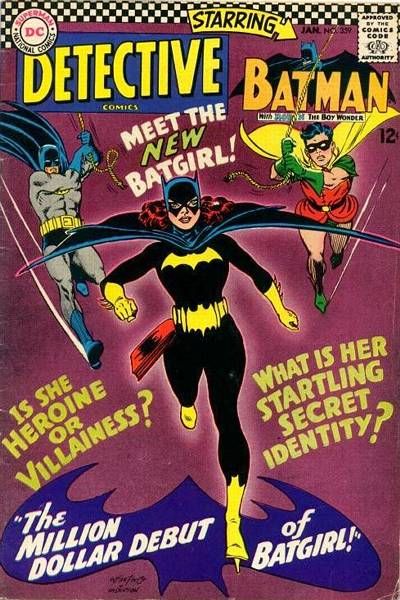 You can find all DC comics published this month right
here
courtesy of Mike Voiles' Time Machine!
You can also find a lot of other publishers' output this month courtesy of Mike's site right
here
.
And if you want to see what Marvel was up to this month, click right
here
to find the matching installment of the Marvel Masterworks Marathon!
.