" Turn off your mind, relax and float down stream
It is not dying, it is not dying"
- "Tomorrow Never Knows" John Lennon
In August of 1966, the Beatles released a landmark album while concluding their final tour amidst controversy, a Texas sniper went on a killing spree in Austin and Raquel Welch had her first big movie role…. in the four color world DC treated their fans to a pair of giants, a new foe emerged to battle the Legion, and a startling revelation awaited the Dynamic Duo!
News of the Month
:
1st - Charles Whitman, former marine sniper, wounds 31 & kills 16 at University of Texas before being killed by police
3rd - Lenny Bruce, comedian, dies of a morphine overdose at age 39
5th - Martin Luther King stoned during Chicago march
5th - Beatles release "Revolver"
6th - Luci Baines Johnson, daughter of U.S. President Lyndon Johnson, is married to Patrick J. Nugent. The ceremonies are televised live on all three American networks.
17th - Willie Mays hit his 535th home run, putting him in second place for career home runs.
18th - A crowd of nearly one million Chinese college and high school students, pledge themselves to the Red Guards movement in a rally at Tienanmen Square, part of Mao's "Cultural Revolution"
19th - A firecracker and rotten fruit are thrown on stage at a Beatles concert in Memphis. The group makes it safely out of the stadium after their car is surrounded by demonstrators
29th – The Beatles perform their last public concert in Candlestick Park, San Francisco
Newsreel of the Month
: The Beatles in the Bible Belt – the Memphis Concerts (August 19, 1966)
Magazine Cover of the Month
: The Texas Sniper (Life Magazine, August 12, 1966)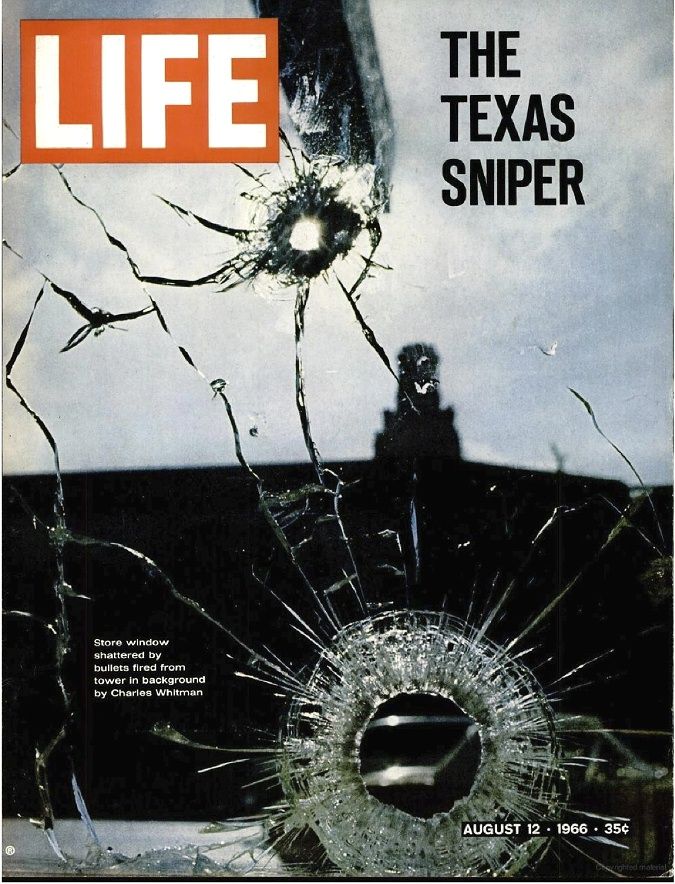 Music of the Month
: A one-hit wonder group from Spain named Los Bravos had a huge hit with "Black is Black", while the Beach Boys sent their second single from Pet Sounds up the charts, the sublime "God Only Knows"
UK Top Singles
:
1. With A Girl Like You – The Troggs
2. Black Is Black - Los Bravos
3. The More I See You - Chris Montez
4. Mama - Dave Berry
5. God Only Knows - Beach Boys
US Top Singles
:
1. Summer In The City - Lovin' Spoonful
2. Lil' Red Riding Hood - Sam The Sham & the Pharoahs
3. Wild Thing - The Troggs
4. Sunny - Bobby Hebb
5. They're Coming To Take Me Away - Napoleon XIV
Further Down the Charts
: Wilson Pickett howled his way to #6 with "Land of 1000 Dances", while Billy Stewart scatted up to #10 with "Summertime"
Movie of the Month
: "Fantastic Voyage" starring Stephen Boyd, Raquel Welch, and Edmond O'Brien (premiered August 24, 1966)
TV Clip of the Month
: A 26 year old kid named Richard Pryor meets his idol Jerry Lewis on the Merv Griffin Show (first aired August 1, 1966)
Sports Moment of the Month
: Muhammad Ali KOs English challenger Brian London in the 3rd round (August 6, 1966)
Top 10 DC Comics of the Month
(as selected by Osgood Peabody, listed in order of their publication):
Our Army at War #172
: Rock and one of his German counterparts duel to the death in "A Slug for a Sergeant"! (Cover by Joe Kubert)
The Atom #27
: The World's Smallest Super-Hero battles the Panther Gang in "Beauty and the Beast-Gang", then takes another dip in the Time Pool to visit 18th century France in "Stowaway on a Hot-Air Balloon"! (Cover by Gil Kane)
Lois Lane #69
: Lois plays Insect Queen for a day in "Beware of the Bug-Belle", then wrestles with a marriage proposal from a millionaire in "Lois Lane's Last Chance"! (Cover by Kurt Schaffenberger)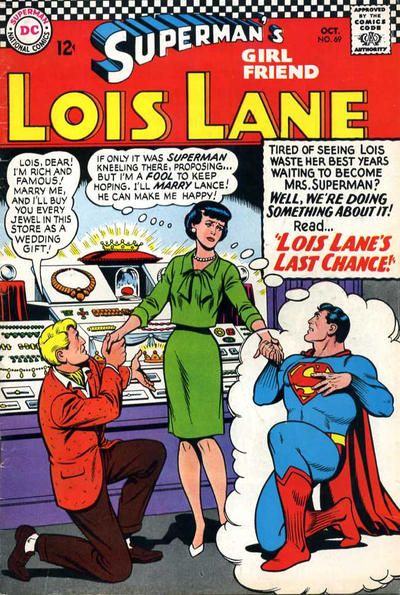 Batman #185
: A collection of stories spotlighting Robin the Boy Wonder! (Cover by Sheldon Moldoff, Jim Mooney, Curt Swan, Charles Paris, and Stan Kaye)
Hawkman #16
: The Winged Wonder travels to the dimensional world of Illoral and back again to thwart "The Lord of the Flying Gorillas!" (Cover by Murphy Anderson)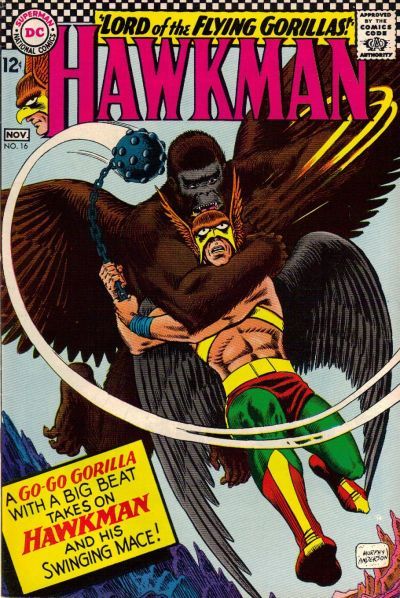 World's Finest Comics #161
: Another star-studded collection featuring Your Two Favorite Heroes! (Cover by Curt Swan, Sheldon Moldoff, and Stan Kaye)
Green Lantern #48
: Keith Kenyon breaks prison and adopts a deadly new persona in "Goldface's Grudge Against Green Lantern"! (Cover by Gil Kane)
Star Spangled War Stories #129
: A kid raised by pterodactyls? It could only happen in The War That Time Forgot! Find out for yourself in "My Brothers With Wings"! (Cover by Joe Kubert)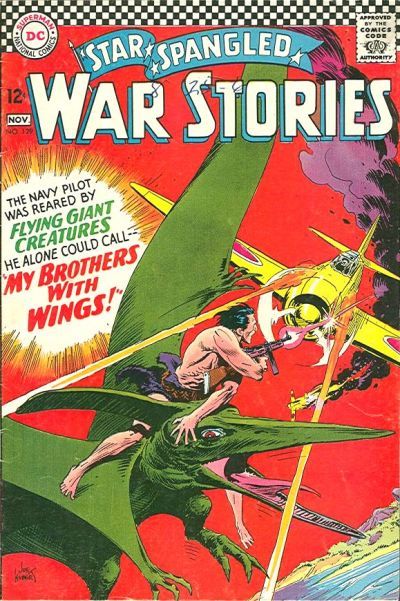 Adventure Comics #349
: A deadly new foe named Universo makes his first appearance in "The Rogue Legionnaire"! (Cover by Curt Swan & George Klein)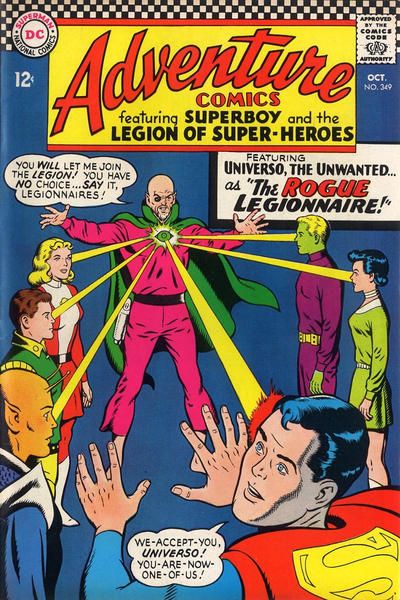 Detective Comics #356
: One of the Dynamic Duo's deadliest foes is finally unmasked in "Inside Story of the Outsider"! Then the Ductile Detective must find the "Truth Behind the False Faces"! (Cover by Carmine Infantino & Joe Giella)
You can find all DC comics published this month right
here
courtesy of Mike Voiles' Time Machine!
You can also find a lot of other publishers' output this month courtesy of Mike's site right
here
.
And if you want to see what Marvel was up to this month, click right
here
to find the matching installment of the Marvel Masterworks Marathon!
.