"Sinatra with a cold is Picasso without paint, Ferrari without fuel -- only worse."
-Guy Talese, from Esquire article "Frank Sinatra Has a Cold" April, 1966
It's time to visit April 1966… a month that saw more grim news from Vietnam, a colorful Oscars telecast , and the continuation of an historic sports dynasty… while on the spinner racks, DC gave us two wacky weddings and a new femme fatale…
News of the Month
:
3rd - Soviet Union's Luna 10 becomes 1st spacecraft to orbit Moon
3rd - Tom Seaver signs with the Mets for a reported $50,000 bonus
8th - AFL chooses 36 year old Al Davis as commissioner
11th - Jack Nicklaus becomes the first player ever to win back-to-back Masters after winning a 3-way playoff with Gay Brewer and Tom Jacobs.
12th - 1st B-52 bombing of North Vietnam
12th - Singer Jan Berry of the rock music duo Jan & Dean is seriously injured when he loses control of his Corvette and crashes into a parked truck on Sunset Boulevard
15th - Rolling Stones release "Aftermath"
15th - An American military spokesman reports that there has already been 1,361 U.S. servicemen killed in the Vietnam War as of April 9, already more than the 1,342 that had died during the entire year of 1965
18th - Bill Russell is named the 1st black coach in NBA history (Boston Celtics)
18th - The Cultural Revolution is officially proclaimed in China
29th - The total number of U.S. troops in South Vietnam reaches 250,000
Newsreel of the Month
: New 747, Fashion, Atlanta Braves debut, Nicklaus at the Masters (April 14, 1966)
Magazine Cover of the Month
: Is God Dead? (Time Magazine, April 8, 1966)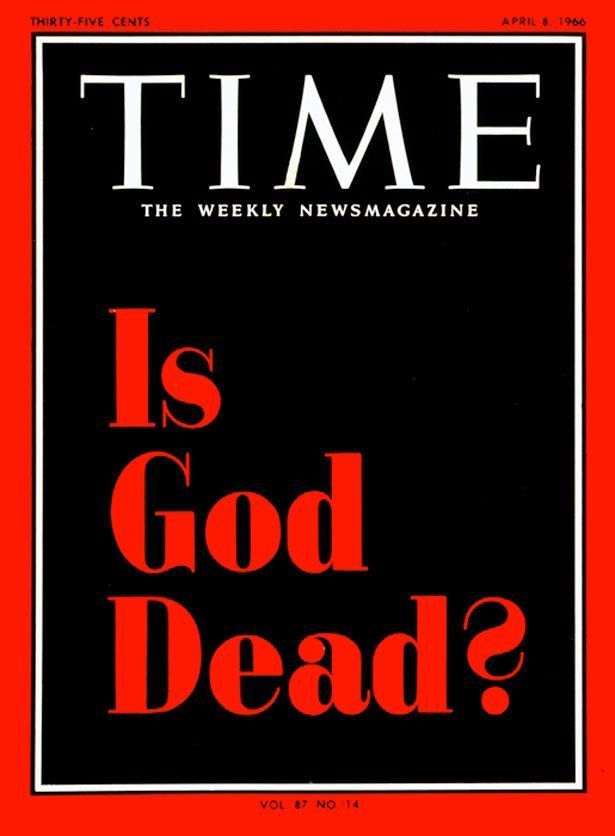 Music of the Month
: John Sebastian led the Lovin' Spoonful back to the top of the charts while back in the UK, a 17-year old upstart named Stevie Winwood helped the Spencer Davis Group score their second straight #1 hit:
US Top Singles
:
1. (Your My) Soul & Inspiration - Righteous Brothers
2. Daydream - Lovin' Spoonful
3. Bang Bang (My Baby Shot Me Down) - Cher
4. Secret Agent Man - Johnny Rivers
5. Time Won't Let Me – The Outsiders
UK Top Singles
:
1. Somebody Help Me - Spencer Davis Group
2. Hold Tight - Dave Dee, Dozy, Beaky, Mick & Tich
3. The Sound Of Silence – The Bachelors
4. Elusive Butterfly - Val Doonican
5. The Sun Ain't Gonna Shine Anymore - Walker Brothers
Further Down the Charts
: Otis Redding howled his way to #31 on the charts with his brassy cover of "Satisfaction", a garage band from Chicago known as The Shadows of Knight remade "Gloria" and took it all the way up to #10, The Animals cracked the top 40 again with "Inside – Looking Out", while Herb Alpert & the Tijuana Brass sent "Spanish Flea" up to #27
Movie of the Month
: "The Dirty Game", starring Henry Fonda, Vittorio Gassman, and Annie Girardot (premiered in US April 13, 1966)
TV Clip of the Month
: The First Oscars broadcast in color, including Bob Hope's opening monologue (first aired April 28, 1966)
Sports Moment of the Month
: The Boston Celtics win a mind-boggling 8th consecutive NBA title with a 95-93 Game 7 win over the LA Lakers (April 28, 1966)
Top 10 DC Comics of the Month
(as selected by Osgood Peabody, listed in order of their publication):
Green Lantern #45
: Hal Jordan and Alan Scott reunite in the face of "Prince Peril's Power Play" (Cover by Gil Kane)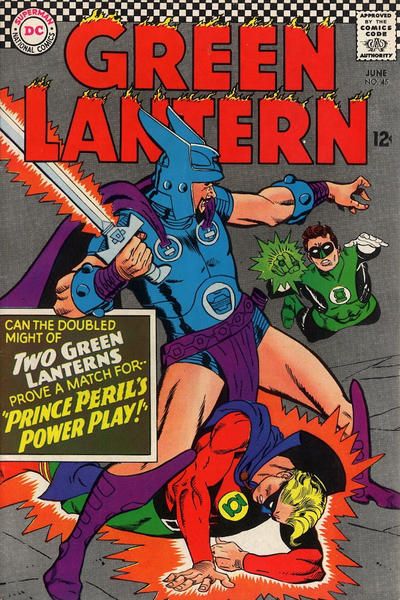 Hawkman #14
: The Winged Wonders tackle the agents of C.A.W. for the third and final time in "The Treasure of the Talking Head" (Cover by Murphy Anderson)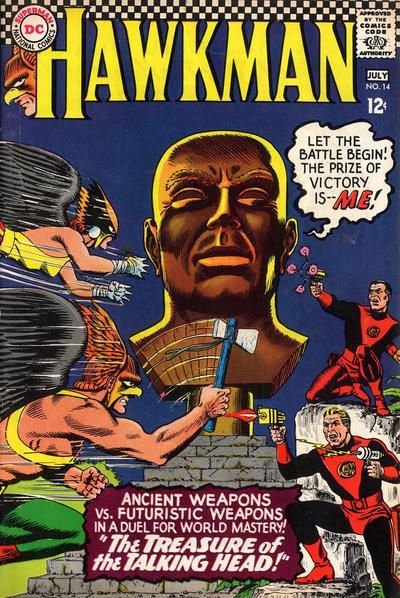 Superman #187
: An all-star collection of tales featuring the Fortress of Solitude! (Cover by Curt Swan & George Klein)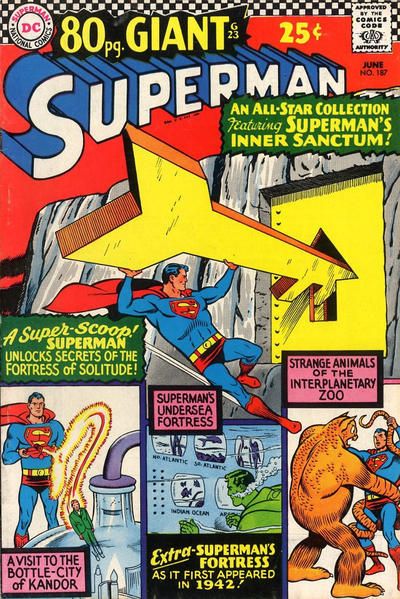 Batman #181
: The Caped Crusader acquires a new femme fatale in "Beware of … Poison Ivy", then the Mystery Analysts of Gotham City return to solve "The Perfect Crime… Slightly Imperfect"! (Cover by Carmine Infantino & Murphy Anderson)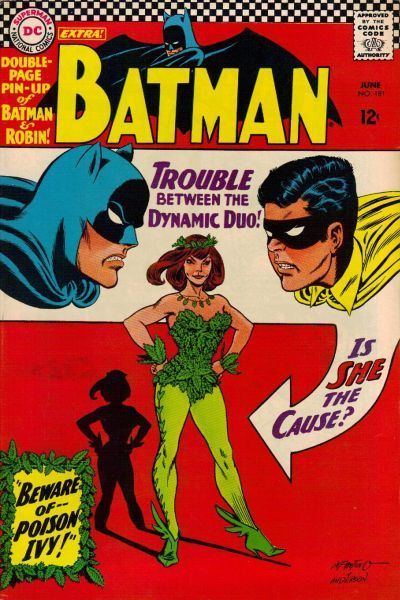 Doom Patrol #104
: It's the wedding of the century… Elasti-Girl marries Mento in "The Bride of the Doom Patrol"! (Cover by Bob Brown)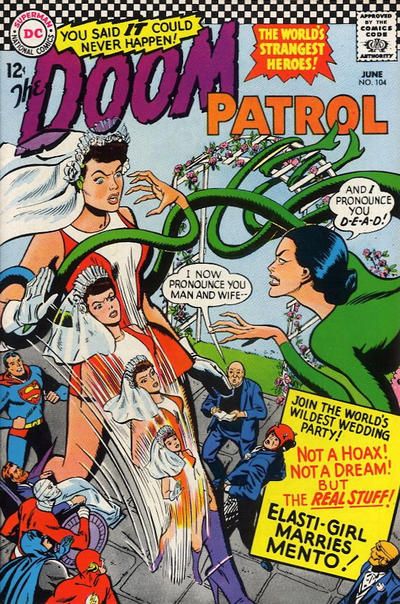 The Flash #162
: The Scarlet Speedster encounters a bizarre menace in an amusement park in "Who Haunts the Corridor of Chills?" (Cover by Carmine Infantino & Joe Giella)
Justice League #45
: The World's Greatest Super-Heroes battle a deadly new foe in "The Super-Struggle Against Shaggy Man"! (Cover by Mike Sekowsky & Murphy Anderson)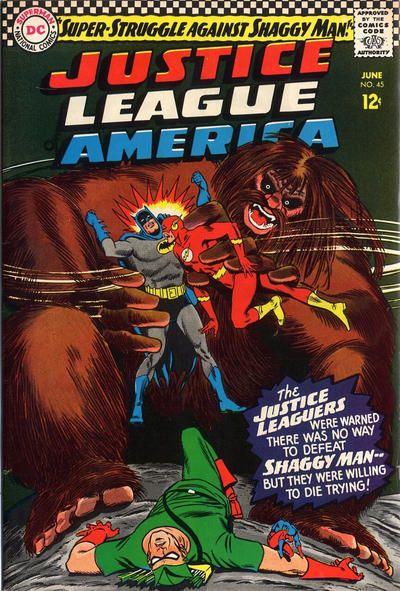 World's Finest Comics #158
: Your Two Favorite Heroes, along with Jimmy Olsen and Robin, encounter "The Invulnerable Super-Enemy"! (Cover by Curt Swan & George Klein)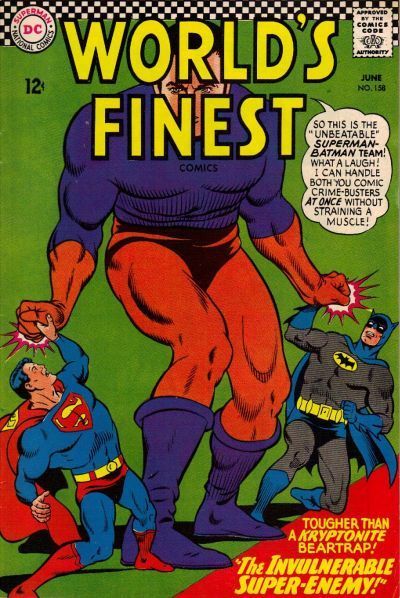 Adventure Comics #345
: The Legion concludes their battle with Nardo in "The Execution of Matter-Eater Lad"! (Cover by Curt Swan & George Klein)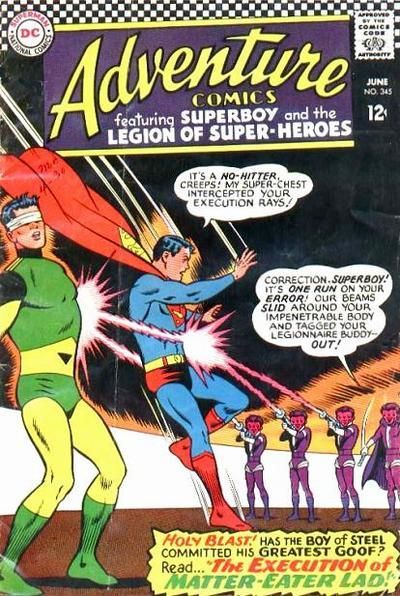 Detective Comics #352
: The Dynamic Duo match wits with a crooked magician named Mr. Esper in "Batman's Crime Hunt A-Go-Go", then Ralph and Sue find trouble on the Riviera in "The Counter of Monte Carlo"! (Cover by Carmine Infantino & Murphy Anderson)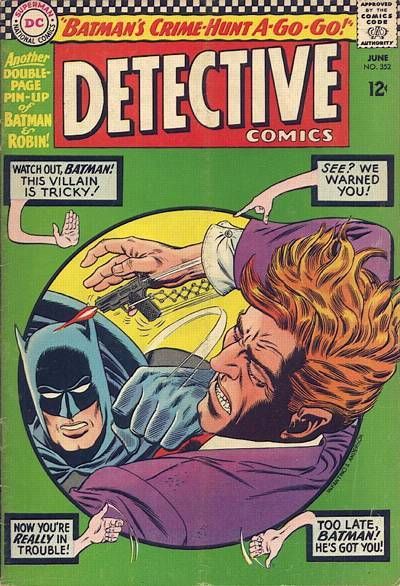 You can find all DC comics published this month right
here
courtesy of Mike Voiles' Time Machine!
You can also find a lot of other publishers' output this month courtesy of Mike's site right
here
.
And if you want to see what Marvel was up to this month, click right
here
to find the matching installment of the Marvel Masterworks Marathon!
.