This is my first attempt at binding. I'm a huge Bane fan, and these are (what I feel are) his defining appearances pre 52. I'll be using Houchen Bindery for this.
The map
DC Direct Currents 58
​Comic Talk 15
Vengeance of Bane
Batman 489
Detective Comics 656
Batman 490-491
Batman 495
Detective Comics 663 (splash page signed by Graham Nolan)
Batman 497
Detective Comics 664 (signed by Kelley Jones)
Batman 500 (signed by Kelley Jones)
Vengeance of Bane II
Bane of the Demon 1-4 (issue 1 signed by Graham Nolan)
Detective Comics 700-701
Batman: Bane
Detective Comics 736
Batman 571
Detective Comics 738
Batman: Shadow of the Bat 93
Detective Comics 740
Batman: Gotham Knights 33-36
Batman: Gotham Knights 46-49
I need to add Catwoman 1-4 but I'm still checking the chronology. 
The graphic cover mockup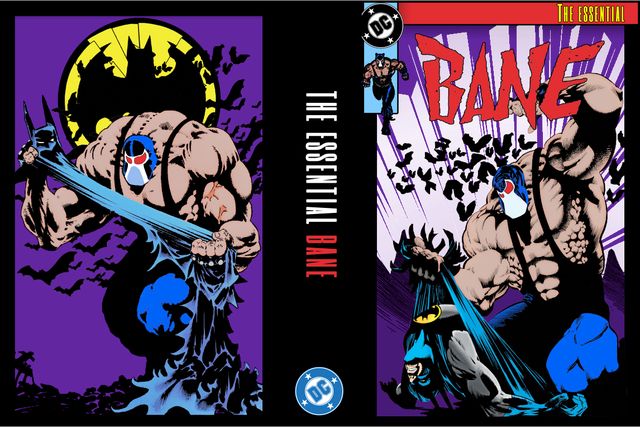 The hardest part here was removing the UPC boxes in Photoshop and attempting to recreate the art. Thank God my wife is a graphic designer and gave me some advice. I made the broken Bat logo, but I'm not sure it fits.
ToC (ignore the comics listing, i've since corrected it but didn't upload another picture
Opposite sides of the ToC
Now, onto the questions...
-I plan to add some issues of Catwoman, and possibly Gotham Knights, where Bane is literally in one or two pages of the entire comic. Do any of you trim these down to just the relevant pages? If I do, do I add "With selections from Catwoman #4, etc." to the table of contents?
-How do I go about adding some pages for possible sketches at cons? What size/weight do you all recommend?
-I've started working on a couple of pages that have concept sketches and so forth, is this overdoing it?
Any advice/critique/suggestion is greatly appreciated. Thanks in advance!