"Extremism in the defense of liberty is no vice"
- Senator Barry Goldwater, upon accepting the Republican Party nomination, 7/16/1964
It's time once again to journey back 50 years… the month is July '64… while adults discussed the passage of the Civil Rights Act and Goldwater's nomination, their kids were much more interested in the ongoing British Invasion… the Beatles long-awaited movie was unveiled, the Stones and Animals were hitting the top of the charts, and a budding guitar god was even glimpsed on British television… and in the four color world, there were team-ups galore… the JLA and JSA, Professor Zoom and Mr. Element, Clayface and Brainiac, and Batman and the Elongated Man…
News of the Month
:
2nd - Grand jury indicts Beckwith in murder of Medger Evers
2nd - US President Johnson signs Civil Rights Act & Voting Rights Act into law
8th - U.S. military personnel announce that U.S. casualties in Vietnam have risen to 1,387, including 399 dead and 17 MIA.
15th – Senator Barry Goldwater is nominated for president by Republicans
18th - Six days of race riots begin in Harlem.
26th - Teamsters President Jimmy Hoffa convicted of fraud & conspiracy
27th - The U.S. sends 5,000 more military advisers to South Vietnam, bringing the total number to 21,000.
28th - Former UK Prime Minister Winston Churchill retires from the House of Commons at the age of 89.
31st - Rolling Stone concert in Belfast, Ireland halts after 12 minutes due to riot
31st - US Ranger 7 takes 4,316 pictures before crashing on Moon
Newsreel of the Month
: President Johnson Signs Historic Bill (July 2, 1964)
Magazine Cover of the Month
Richard Burton (Saturday Evening Post, July 11, 1964)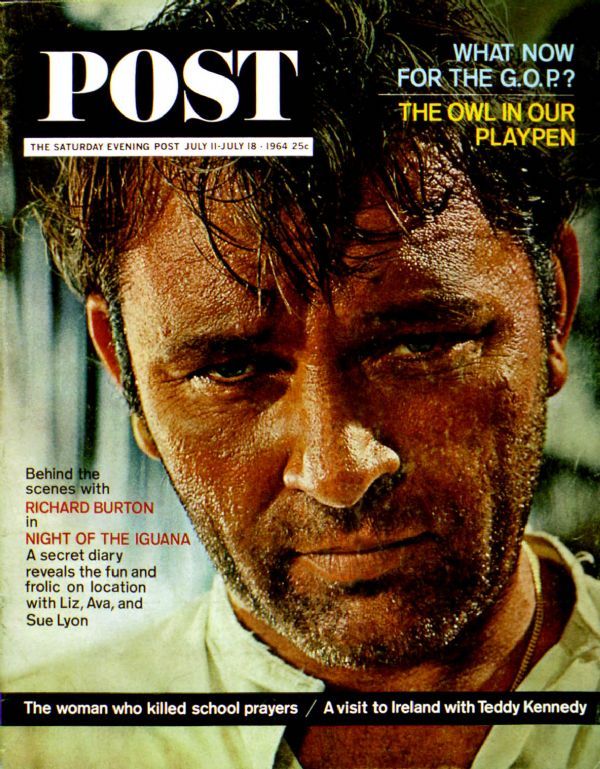 Music of the Month
: A bluesy group from Newcastle puts their stamp on an old folk song and takes it all the way to the top of the charts in the UK, the Stones and Beach Boys both score their first #1s on their respective sides of the Atlantic, and a kid from Baton Rouge has his first big hit covering a Chuck Berry tune
UK Top Singles
:
1. House Of The Rising Sun – Animals
2. Hold Me - P.J. Proby
3. It's Over - Roy Orbison
4. It's All Over Now - Rolling Stones
5. I Won't Forget You - Jim Reeves
US Top Singles
:
1. I Get Around - Beach Boys2. Memphis - Johnny Rivers
3. Rag Doll - Four Seasons
4. Can't You See That She's Mine - Dave Clarke Five
5. Don't Let The Sun Catch You Crying - Gerry & The Pacemakers
Movie of the Month
: A Hard Day's Night, starring the Beatles (premiered July 6, 1964 in London)
The Trailer:
The frenetic opening credits:
TV Clip of the Month
: The Yardbirds, including a 19 year old guitarist from London named Eric Clapton, perform "Louise" on the British TV show "Go Tell It on the Mountain" (first aired July 22, 1964)
Sports Moment of the Month
: In a dramatic finish, the Phillies Johnny Callison hits a three run homer off of Red Sox pitcher Dick Radatz for a 7-4 National League victory in the All-Star Game at Shea Stadium, New York (July 7, 1964)
Top 10 DC Comics of the Month
(as selected by Osgood Peabody, listed in order of their publication):
The Many Loves of Dobie Gillis #25
: Maynard an astronaut? Blast off for Bellylaughs with "The Two Astro-Nuts!" (Cover by Bob Oksner)
Green Lantern #31
: Find out why GL is shilling the universe's most potent weapon on the street in "Power Rings for Sale", plus another Jordan Brothers caper in "Pay Up or Blow up"! (Cover by Gil Kane & Murphy Anderson)
Adventures of Jerry Lewis #84
: Throw together a desperate cartoonist, a dentist who wants to rule the world, a beautiful model, and our clueless hero, and what do you get? Why "The Fearless Tarantula" of course! (Cover by Bob Oksner)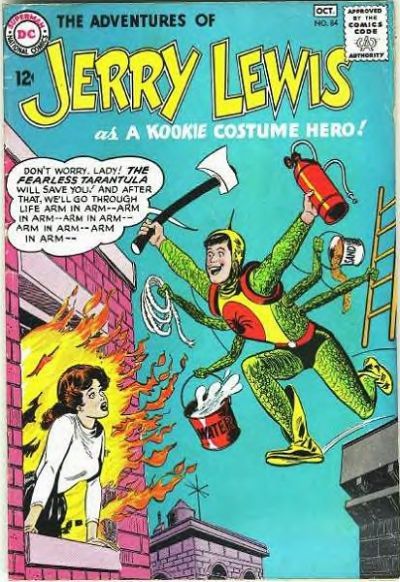 Doom Patrol #90
: Madame Rouge uses her new shape-shifting abilities to infiltrate the World's Strangest Heroes in "The Enemy Within the Doom Patrol" (Cover by Bob Brown)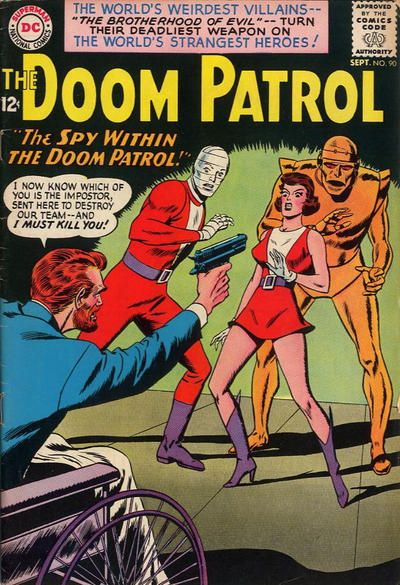 The Flash #147
: Professor Zoom returns and seeks to recruit Mr. Element in a battle against "Our Enemy, The Flash"! (Cover by Carmine Infantino & Murphy Anderson)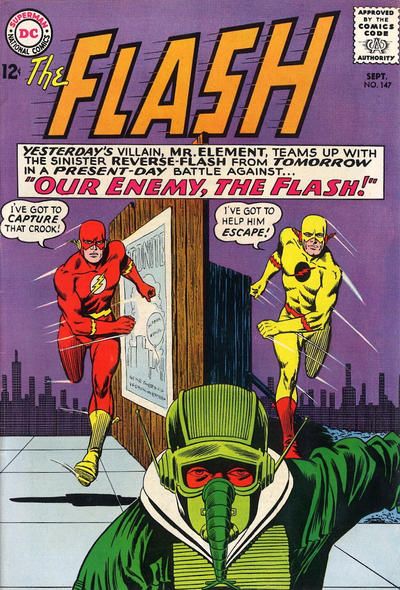 80 Page Giant #3
: A super-sized collection of treats featuring Superman's girlfriends, past and present! (Cover by Kurt Schaffenberger)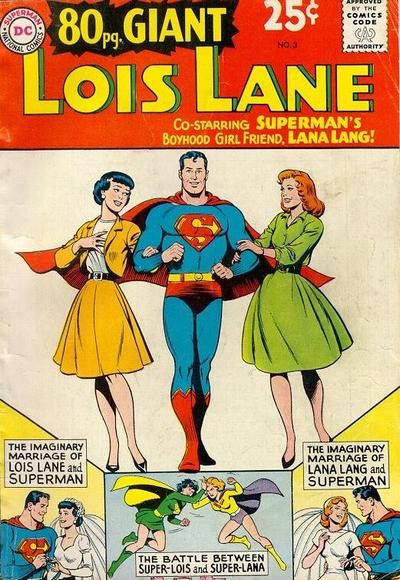 Justice League of America #30
: The JLA and JSA conclude their epic battle with the Crime Syndicate of Earth 3 in "The Most Dangerous Earth of All"! (Cover by Mike Sekowsky & Murphy Anderson)
World's Finest Comics #144
: Two of the World's Finest duo's deadliest foes join forces in "The 1,000 Tricks of Clayface and Brainiac"! (Cover by Curt Swan & George Klein)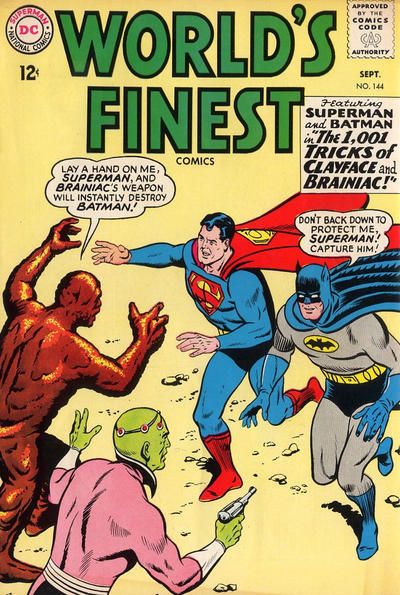 Adventure Comics #324
: The Heroes of Lallor are introduced into Legion lore in "The Legion of Super-Outlaws"! (Cover by Curt Swan & Sheldon Moldoff)
Detective Comics #331
The Dynamic Duo team up with the Ductile Detective in "The Museum of Mixed-Up Men"! (Cover by Carmine Infantino & Joe Giella)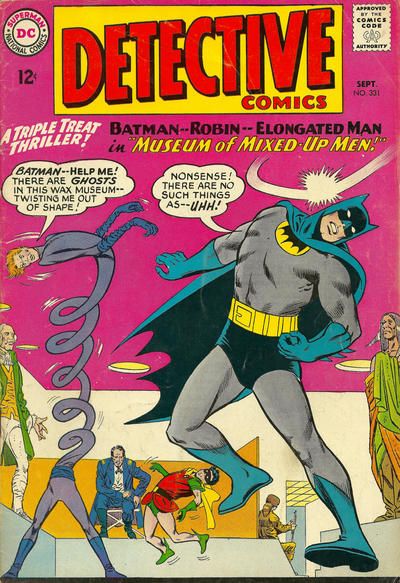 You can find all DC comics published this month right
here
courtesy of Mike Voiles' Time Machine!
You can also find a lot of other publishers' output this month courtesy of Mike's site right
here
.
And if you want to find out what was going on over at Marvel this month, click
here
to find the concurrent installment of the venerable Marvel Masterworks Marathon.
.