This is a reading companion thread to accompany the new Teen Titans volume, and it will include letter columns from the original issues to help place the stories into better context.
For those not familiar with previous threads of this nature, here's an index of where to find them:
Adam Strange volume 2
Adam Strange volume 3
Batman: Dynamic Duo volume 2
Diana Prince: Wonder Woman volume 1-3
Doom Patrol volume 3
Doom Patrol volumes 4 and 5
Flash volume 4
Flash volume 5
Flash volume 6
Green Lantern volume 5
Green Lantern volume 6
Green Lantern volume 7
JLA volume 9
JLA volume 10
Metal Men volume 1
Metal Men volume 2
Superman: Man of Tomorrow volume 2
Kryptonite Nevermore
Steve Ditko's Creeper
Kamandi volume 1
Sugar & Spike
Atomic Knights
Lois Lane
One of the things that's great about these 400 page mega-Archive volumes is that they can cover a tremendous amount of territory. In the case of the Teen Titans, it's quite a change going from the ginchy gear go-go checks of '66 to the social relevance dawning in '69.
You get a much better feel for this when you peruse the "Tell it to the Titans" letter columns that originally accompanied these tales.
So let's get right to the first one, and you can draw your own conclusions. We'll start with the column that appeared in TT #8, which had reader reaction to the first story that appeared in this volume.
At the conclusion of "The Fifth Titan", Robin invited the readers to write in and say whether they thought Beast Boy should become a TT member. Judging by the letters printed here, fans seemed to be split on the issue, with Berte Bunte and Timothy Harris giving thumbs up, while Zori Ferkin and Billy Schamp saying nay. Also of note is a letter from two stylish young Brits named Russ Martin and John Howard, who complained about the "square" haircuts sported by the guys in the group. And too bad Jay Frazier's idea of teaming up the TT with the I5 never happened - that would have been interesting!: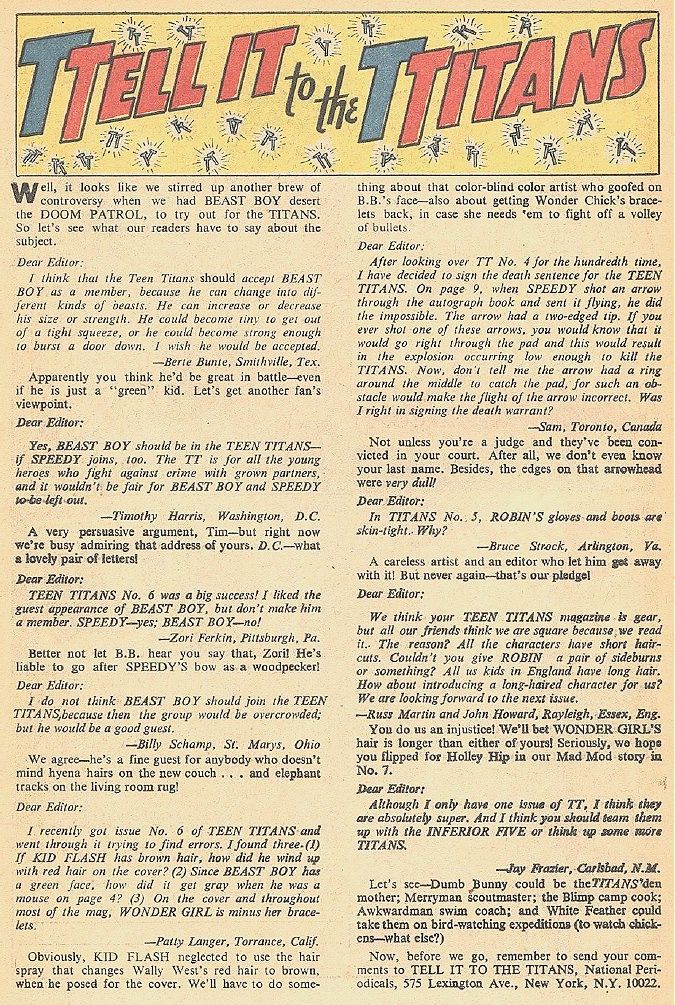 I'm going to proceed slowly with this thread for a couple of reasons. First, I know some of you are still waiting to get this book in the mail. Second, it's always a good idea for one's sanity to take Bob Haney stories in small doses...
Coming up: Wondering about Wonder Girl
.