This is a reading companion thread to accompany the new Metal Men volume, and it will include letter columns and other artifacts from the original issues to help place the stories into better context.
For those not familiar with previous threads of this nature, here's an index of where to find them:
Adam Strange volume 2
Adam Strange volume 3
Batman: Dynamic Duo volume 2
Diana Prince: Wonder Woman volume 1-3
Doom Patrol volume 3
Doom Patrol volumes 4 and 5
Flash volume 4
Flash volume 5
Flash volume 6
Green Lantern volume 5
Green Lantern volume 6
Green Lantern volume 7
JLA volume 9
JLA volume 10
Metal Men volume 1
Superman: Man of Tomorrow volume 2
Kryptonite Nevermore
Steve Ditko's Creeper
Kamandi volume 1
Sugar & Spike
Atomic Knights
Lois Lane
Because of the size of these new collections, I'm going to scale back the scope of these threads a bit and no longer pull in the house ads, unless there's something particularly pertinent to the collection on hand. They can be found elsewhere on this board and I'd rather go back to what I did originally, which is focus on fan reaction in the LCs. However, with the Metal Men there is something unique that needs to be addressed... namely the continuing omission of the feature that Kanigher/Andru/Esposito created for most of the early issues entited "Metal Facts & Fancies".
Those I most certainly
will
be including here, and that's a good place to start. Not only did the creative team put a lot of time and imagination into putting together those pages, sometimes they foreshadowed developments in the actual stories. For example, the F&F page to #5, which I posted previously
here
, gave readers a bit of a preview of the Gas Gang that appeared in issue #6.
However, issue #6 itself did not contain an F&F page, so we'll start this installment with #7's, which shone the spotlight on Gold: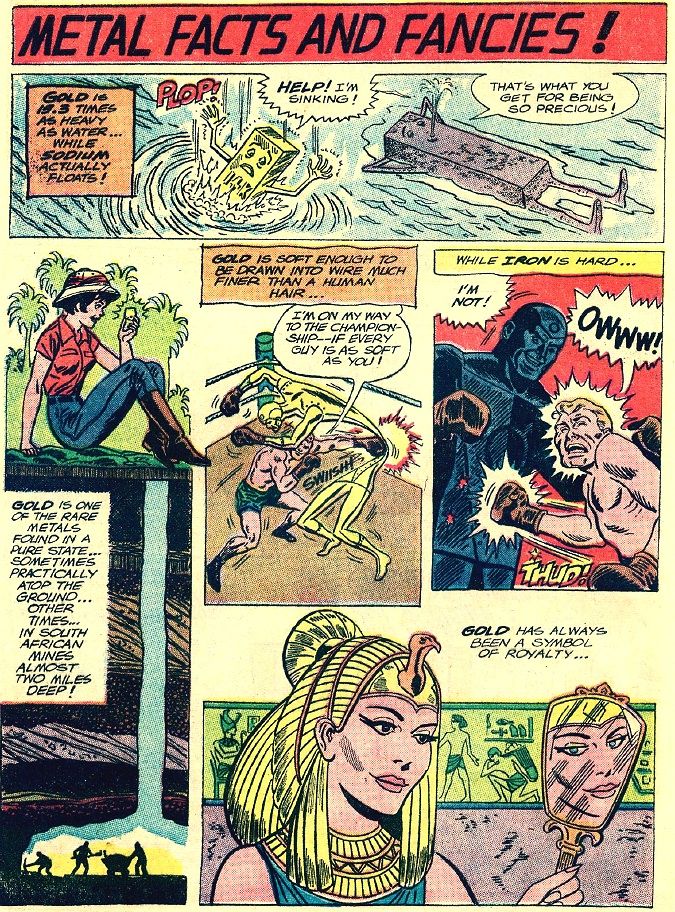 Letter columns for issues 6 and 7 can also be found in the companion thread for the first Metal Men archive, as they commented on stories from that collection, so the first LC we'll visit is from #8. In the previous issue, Kanigher began having the characters "answer" the letters, so in this column we find Platinum a bit perturbed at the suggestion of Connie Graff from Pennsylvania that they spin off a new "Metal Women" book: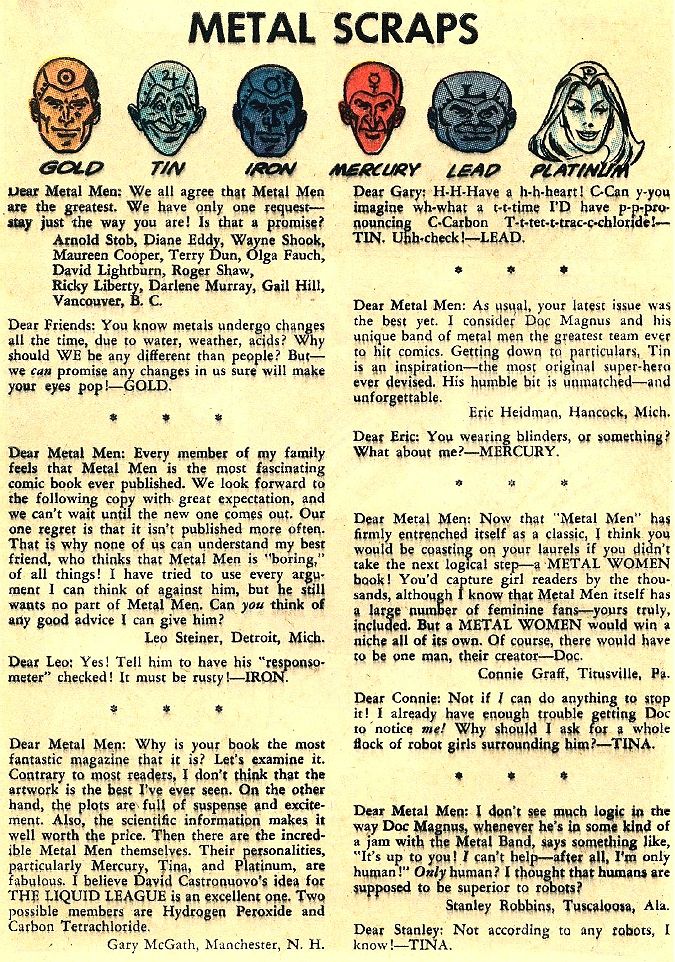 Also in that issue were these two wonderful pages (alas, the final F&F double spread that would appear) which contained a myriad of elements, from arsenic to potassium, as well as a humorous queue of "rejects" that didn't make the cut: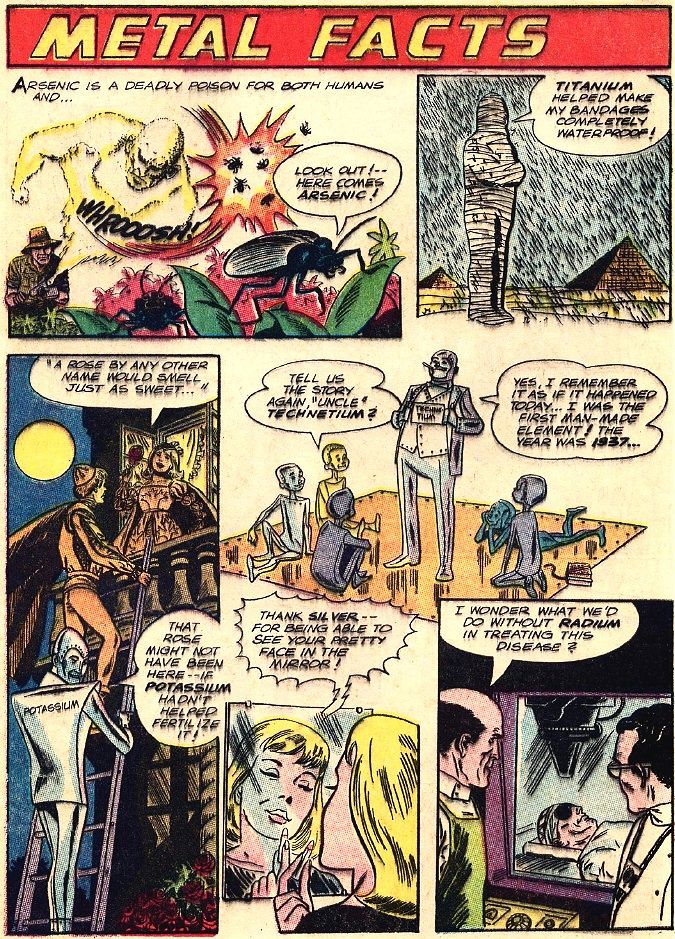 Coming up: A fan from California gets fresh with Tina, while Tin gets the "Fancy" treatment!
.