"All free men, wherever they may live, are citizens of Berlin, and, therefore, as a free man, I take pride in the words 'Ich bin ein Berliner'."
JFK, 6/26/1963, in front of a crowd of 150,000 at the Rudolph Wilde Platz in West Berlin.
Welcome to another installment of the DC Comics Time Capsule, where we look in on the world as it was a half-century ago!
This month, there was a stirring speech in Berlin, a Hollywood spectacle on the silver screen, and a bruising match in London, while on the spinner racks, Crisis entered the DC vocabulary and a pair of giants welcomed in the summer!
News of the Month
:
3rd – Pope John XXIII, [Angelo G Roncalli], dies at 81
4th - John Profumo resigns as the UK Secretary of State for War, after admitting having lied to his fellow MPs in the House of Commons about his extramarital affair with Christine Keeler.
4th - Ayatollah Khomeini, religious leader of Iran's Shi'ite Muslim community, is arrested after speaking out against the emancipation of women in the regime of Shah Pahlavi.
6th - Chairman Mao Zedong of China sends a letter to Soviet Premier Nikita Khrushchev, stating that "The Chinese people will never accept the privileged position of one or two superpowers" with a monopoly on nuclear weapons, and gives the go ahead for China to accelerate its own nuclear program.
7th - 1st Rolling Stones TV appearance (Thank Your Lucky Stars) & 1st single release, "Come on"
11th - JFK says segregation is morally wrong & that it is "time to act"
12th - Medgar Evers, NAACP official, is shot and killed in Jackson Mississippi
14th - Valery Bykovsky in Vostok 5 orbits earth 81 times in 5 days
14th - Actress Betty White (41) weds "Password" game show host Allen Ludden (45) at the Sands Hotel-Casino in Las Vegas, Nevada
16th - Valentina Tereshkova (USSR) is 1st woman in space, aboard Vostok 6
21st - Pope Paul VI (Giovanni Battista Montini) succeeds John XXIII
22nd - "Little" Stevie Wonder (age 13) releases "Fingertips"
23rd - President Kennedy begins tour of Western Europe
24th - The Telcan, the first system designed to be used at home for recording programs from a television set, is given its first demonstration. The system, shown in Nottingham, England, is seen to record programs onto a reel of videotape and then to play them back with "very fair video quality" on a 17-inch TV, holds 30 minutes of programming, and has a suggested retail price of £60 ($175).
26th - U.S. President John F. Kennedy delivers his famous "Ich bin ein Berliner" speech in front of the Berlin Wall, after climbing a specially built reviewing stand at the Brandenburg Gate so that he could look into East Berlin.
27th - In a visit to Ireland, U.S. President Kennedy visits Dunganstown, which his great-grandfather Patrick Kennedy had left in 1843 to emigrate to the United States. "If he hadn't left," Kennedy jokes, "I'd be working at the Albatross Company", a local fertilizer factory.
Newsreel of the Month
: Kennedy Trip – Irish Roar Welcome After German Visit
Magazine Cover of the Month
: Burton & Taylor (Saturday Evening Post – June 1, 1963)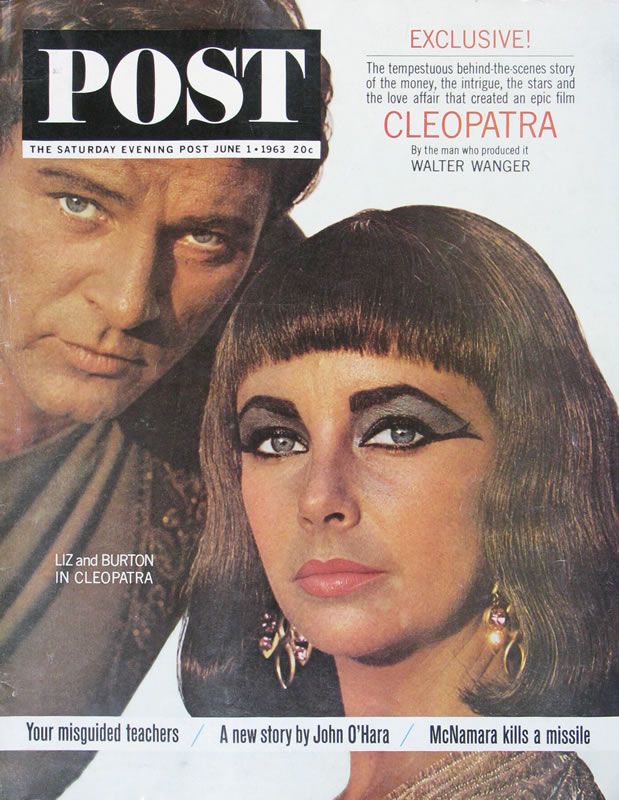 Music of the Month
:
US Top Singles
1. It's My Party - Lesley Gore
2. Sukiyaki - Kyu Sakamoto
3. You Can't Sit Down - Dovells
4. Da Doo Ron Ron – Crystals
5. I Love You Because - Al Martino
UK Top Singles
1. I Like It - Gerry & the Pacemakers
2. Do You Want To Know A Secret - Billy J Kramer & The Dakotas
3. From Me To You - Beatles
4. Take These Chains From My Heart - Ray Charles
5. If You're Gonna Make A Fool Of Somebody - Freddie & the Dreamers
Movie of the Month
: "Cleopatra", starring Elizabeth Taylor, Richard Burton, and Rex Harrison (premiered June 12, 1963)
TV Clip of the Month
: Newlyweds Betty White and Allen Ludden appear on "What's My Line?" (first aired June 23, 1963)
Sports Moment of the Month
: After being knocked down in the 4th round ("he hit me so hard that my ancestors in Africa felt it!"), Cassius Clay comes back to defeat British boxing legend Henry Cooper in the 5th round before 35,000 at London's Wembley Stadium (June 18, 1963)
Top 10 DC Comics of the Month
(as selected by Osgood Peabody, listed in order of their publication):
The Flash #138
: The Scarlet Speedster and his pal Ralph Dibny face "The Pied Piper's Double Doom", plus Shakespearean actor Dexter Myles makes his first appearance in the Kid Flash tale "Mystery of the Matinee Idol"! (Cover by Carmine Infantino & Murphy Anderson)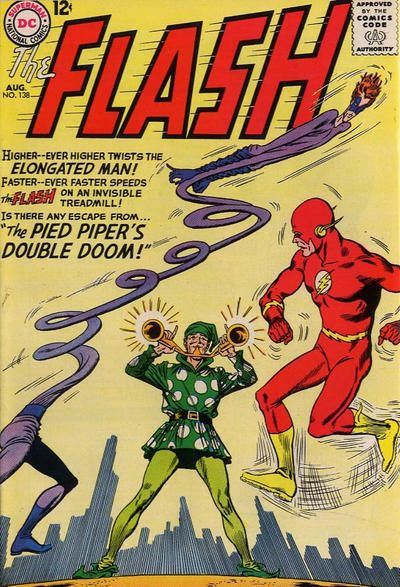 Lois Lane Annual #2
: Another giant collection of Superman's Girlfriend in her greatest adventures! (Cover by Kurt Schaffenberger)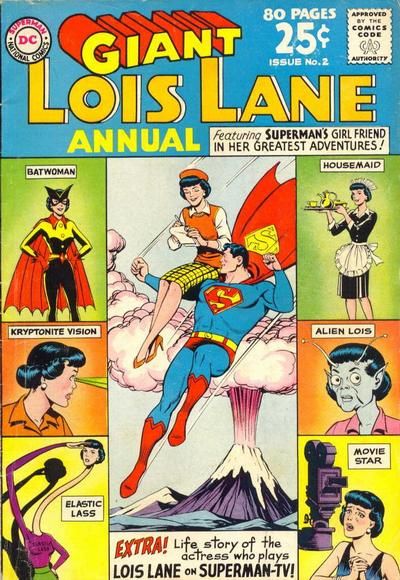 My Greatest Adventure #81
: The Doom Patrol take on an evil scientist in their second adventure entitled "The Nightmare Maker", plus an Alex Toth back-up "Listen World… I'm the Missing Link"!(Cover by Bruno Premiani)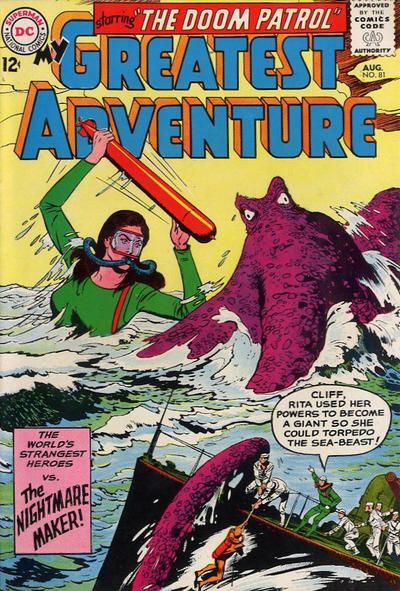 Mystery In Space #85
: Adam Strange must solve "The Riddle of the Runaway Rockets", plus meet a creature that can warp space to escape predators in "Next Year – Andromeda"! (Cover by Carmine Infantino & Murphy Anderson)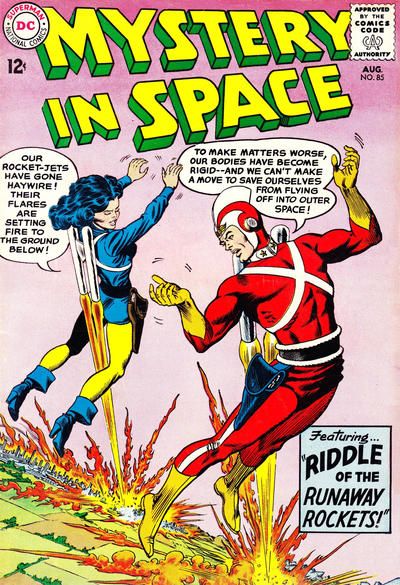 Justice League of America #21
: At long last, the JLA meet their forebears from a parallel world in an earth-shaking "Crisis on Earth-One"! (Cover by Mike Sekowsky & Murphy Anderson)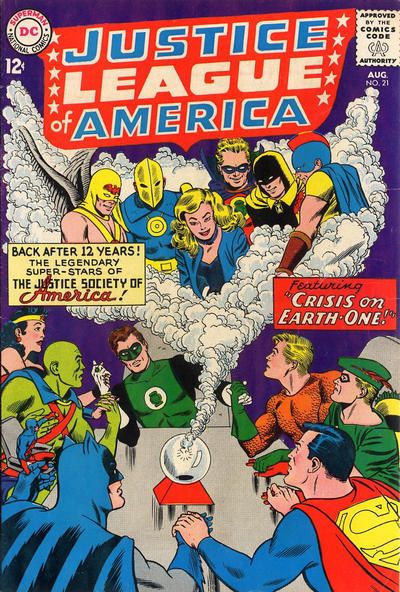 Superman Annual #7
: A silver anniversary celebration of the Man of Steel's first 25 years! (Cover by Curt Swan & George Klein)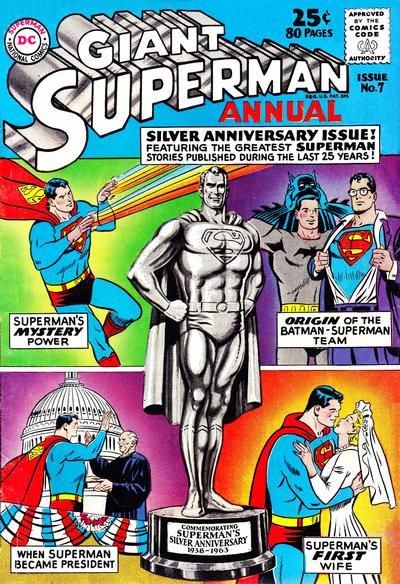 The Atom #8
: The diabolical Dr. Light sets his sights on taking out the members of the JLA one by one, starting with the Mighty Mite in "Lockup in the Lethal Lightbulb"! (Cover by Gil Kane & Murphy Anderson)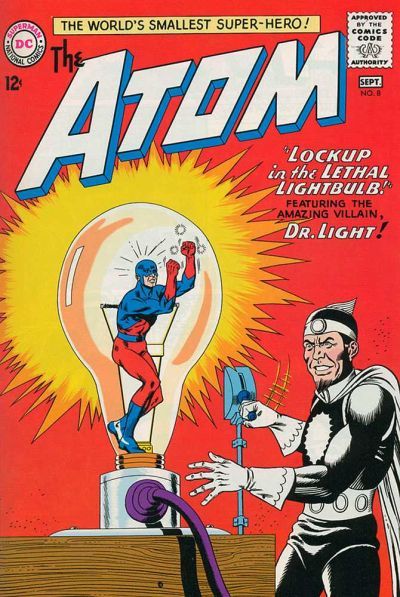 Adventure Comics #311
: Two teams square off in "The War Between the Substitute Heroes and the Legionnaires"! (Cover by Curt Swan & George Klein)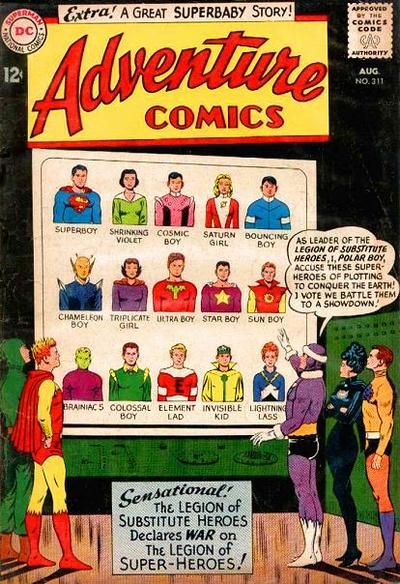 Brave & The Bold #49
: In the final try-out issue for Strange Sports Stories, it's "Gorilla Wonders of the Diamond" plus "Warrior of the Weightless World"! (Cover by Carmine Infantino & Murphy Anderson)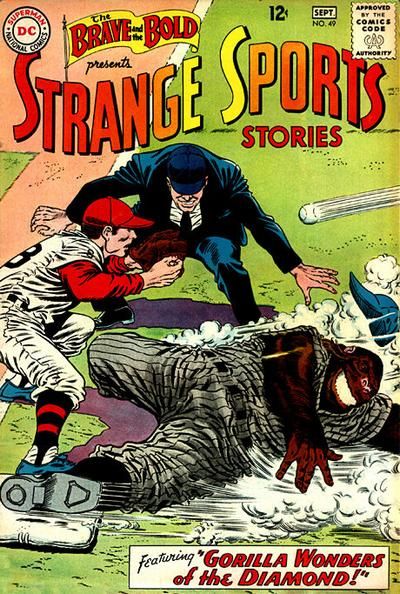 Strange Adventures #155
: An astronaut named John Marvin is at the center of two tales – "Prisoner of the Undersea World" and "Prisoner of the Green Planet", plus Star Hawkins and Ilda are involved in "The Case of the Red Diamond Smugglers"! (Cover by Gil Kane & Sid Greene)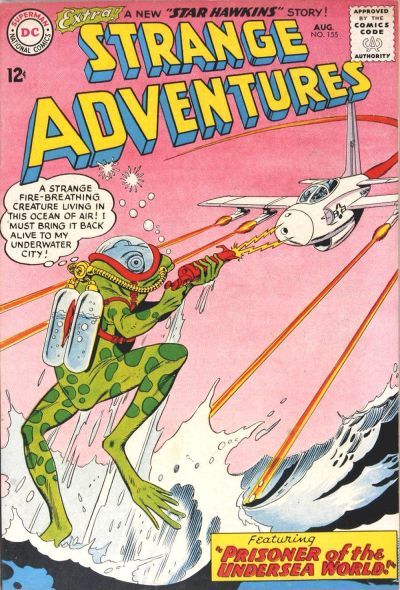 You can find all DC comics published this month right
here
courtesy of Mike Voiles' Time Machine!
You can also find a lot of other publishers' output this month courtesy of Mike's site right
here
.
And if you want to find out what was going at Marvel this month, click
here
to find the matching installment of the Marvel Masterworks Marathon.
.