The March PREVIEWS includes a listing for SHARAZ-DE from Archaia. I was blown away by this story when I saw the 2-volume French edition a few years ago. It looks like the Archaia edition collects the full story in one volume. Amazing artwork from Italian maestro Sergio Toppi. And now I'll be able to read it in English!
This book deserves its own thread. I'm copying the Amazon link and the pics from an earlier post by Pimp My Shelf, from a thread devoted to Archaia's THE SECRET HISTORY. (Pimp, I hope you don't mind; I'm sure you agree that this book deserves all the attention it can get.)
Sharaz-de [Hardcover]
Sergio Toppi (Illustrator)
A set of tales inspired by the Arabian Nights by European comics master Sergio Toppi, exploring a barbaric society where the supernatural is the only remedy to injustice, as Sharaz-de, captive to a cruel and despotic king, must each night spin tales to entertain her master and save her head from the executioner. Tales filled with evil spirits, treasures, risk, and danger, but always at their center the passions of gods and men.
Hardcover: 208 pages
Publisher: Archaia Entertainment (June 12, 2012)
ISBN-13: 978-1936393480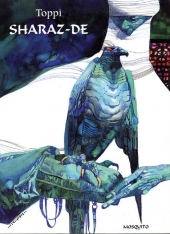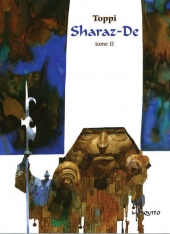 *********************************************