Approximately about two weeks ago, I attempted to contact Steve Ditko. I did a Google search on "how to contact Steve Ditko," and I found a New York address. I sent a 2-page handwritten letter telling Mr. Ditko how much I enjoyed his work at Marvel, especially Spider-Man. I told him that his work on Spider-Man was one of the things that led to my life-time hobby of collecting comic books. I told him that Amazing Spider-Man Annual #1 was one of my all-time favorite comics. I printed a copy of the cover on a color printer at work and enclosed it, asking him to autograph it and return it to me. I, of course, included a stamped self-addressed envelope for his convenience.
Last Saturday, my self-addressed envelope arrived in the mail. I excitedly opened it, but what I received was quite a disappointment.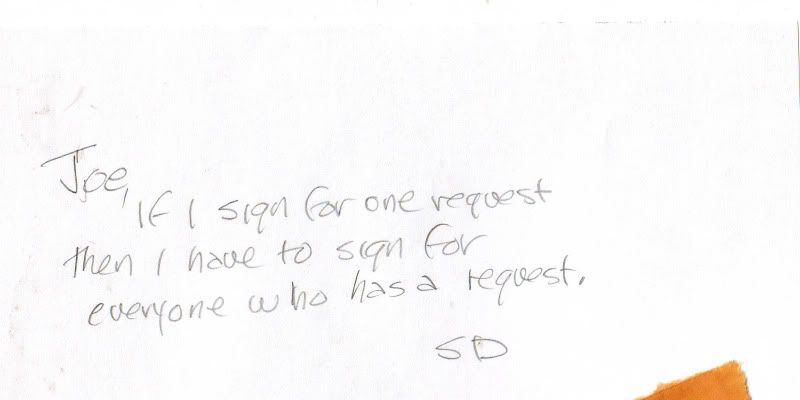 I am fully aware that Mr. Ditko was under no obligation to respond to my request. Was I disappointed? Certainly. Am I mad at Mr. Ditko? Not in the least. At least he had the decency to reply to me, albeit not in the way that I had hoped. At least I was able to contact one of my childhood idols, and I was able to let him know how important his work was to me. That has to count for something, and at least I
did
get a response.
Anyhoo, I just thought this might be something that some of you might be interested in seeing. Based on what you can see, do you think this actually came from Steve Ditko?
JMA
PS - I did not provide the return address so that more people can attempt to contact Mr. Ditko. As you can see, any attempt to contact him will most likely not turn out the way you had hoped.