My name is Hepcat and comic books and other collecting activities have been a big part of my life since first grade.

The first comics I can remember reading were the Harvey Felix's Nephews Inky & Dinky.The first comics I can recall buying were the Dell Cicero's Cat 1 and 2 in the summer of 1959 - which I now have once again in pristine, near-mint condition!

The first superhero comic I distinctly remember reading was the Archie Adventures of the Fly 11, which featured a dandy two-headed dinosaur in 1961. I remember reading it at the local drugstore, before they chased me out! The first DC superhero comic I can specifically remember reading was Green Lantern 11 in 1962 which a buddy on a farm outside of London, Ontario had. I still remember how it filled me with wonder at the time. A copy of JLA 8 that I read at summer camp a couple of months later that same year clinched the deal. The first superhero comic I bought shortly thereafter was Justice League of America 14. I still need better copies of Fly 11 and Green Lantern 11 but I have a very satisfactory copies of JLA 8 and 14 now.

These comics had a lifelong influence on me. But so did the bubble gum cards I collected and model kits I built as a kid.

Despite the fact that my boyhood treasures all went by the wayside at some point in time, I never completely lost interest in these things. Throughout high school and university I always wished I still had my comics and cards.

My first job after university was in 1977 and by 1979 I was back to collecting. Big time.

I collect comics from 1945 to 1980. My concentration is Silver Age DC such as Justice League, Flash, Green Lantern, Aquaman, Atom, Hawkman, Mystery in Space, Sea Devils, Challengers of the Unknown, Metal Men, Wonder Woman, Tales of the Unexpected, Teen Titans, Fox & the Crow etc. I'm just about solid in my main titles going back to 1962. For example, I have all the Justice Leagues going back to 1960 with the exception of issues 5, 6 and 47.

I also collect other titles like Fly, Jaguar, Black Cat, Captain Atom, Blue Beetle, Space Adventures, Gorgo, Herbie, Turok, Dr. Solar, Lone Ranger, Gold Key Phantom and many Atom Age Jungle and Adventure titles including Sheena, Jumbo, Space Western and Commander Battle & the Atomic Sub. I have a few Harveys such as Casper, Wendy, Spooky, Little Dot, Little Audrey and Hot Stuff and quite a few Dell Funny Animal comics.

I also have a very good collection of the car humour mags such as Drag Cartoons, Hot Rod Cartoons and CARtoons. I also collect the Warren horror mags such as Creepy and Eerie and the Skywalds. I have a collection of several dozen Mad magazines from the late fifties and early sixties as well.

Here are a few pics of myself in front of my comic cabinet and the magazine cabinet beside it: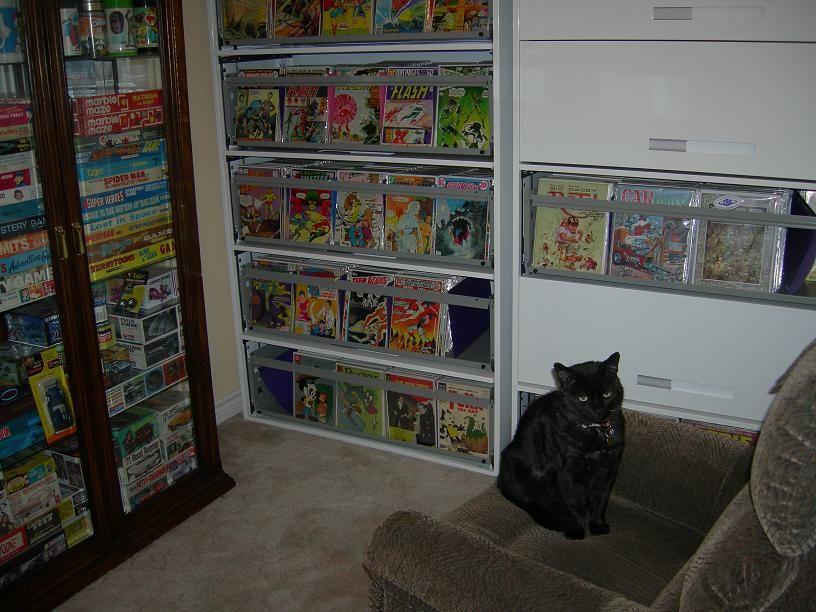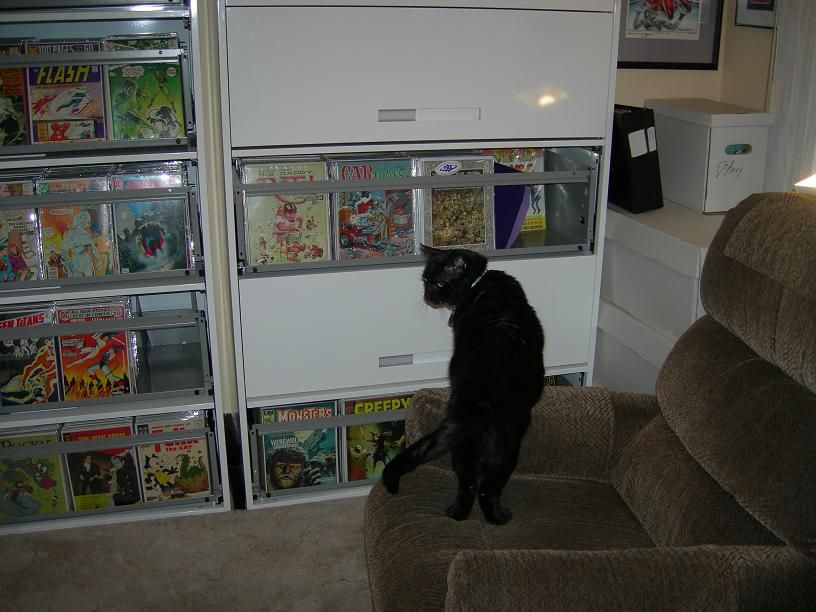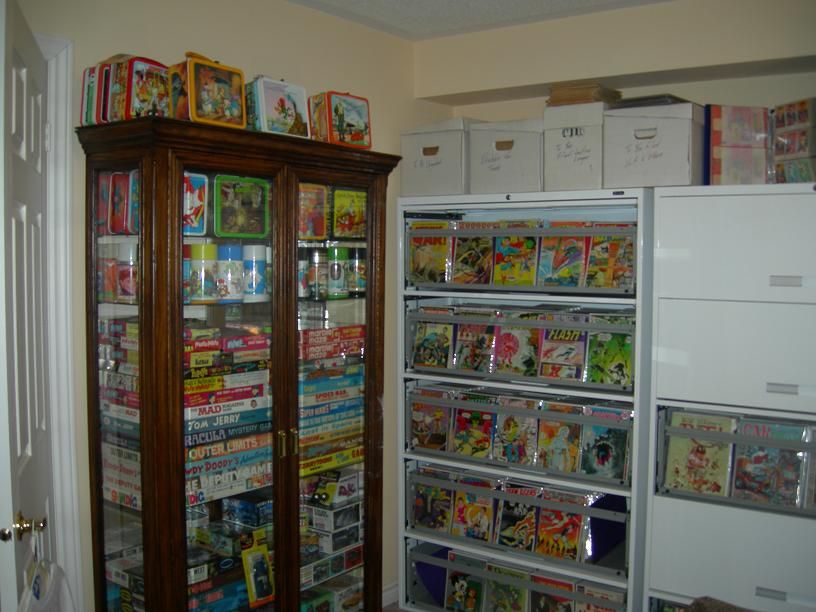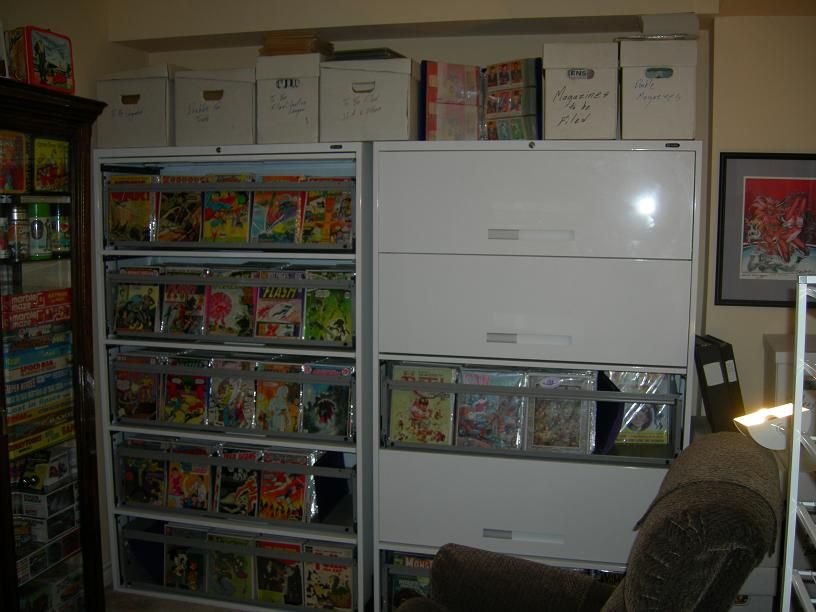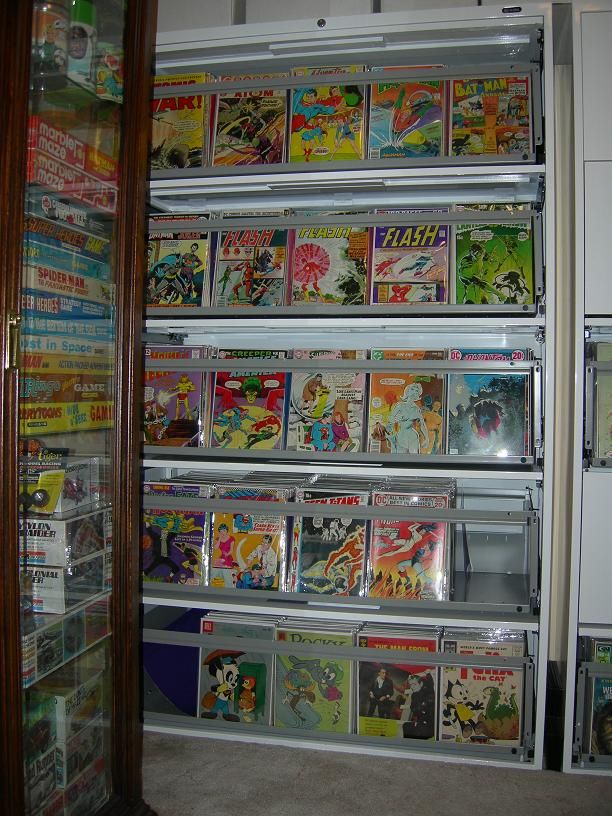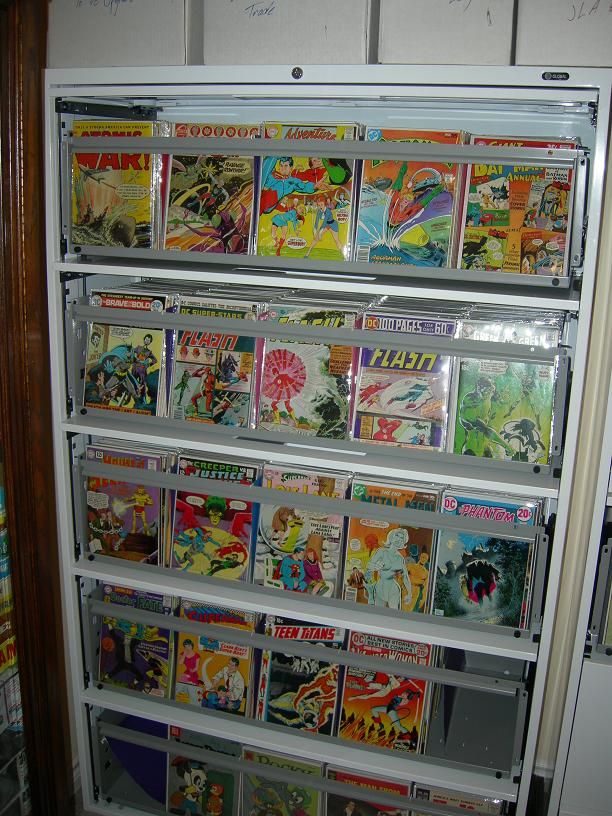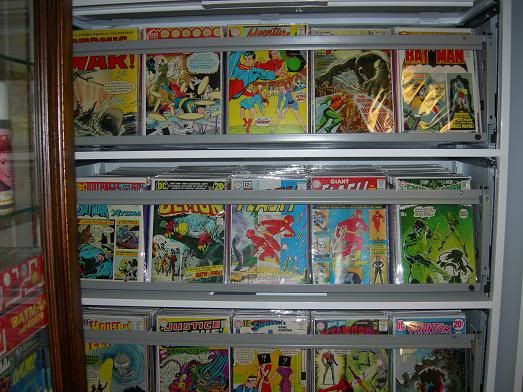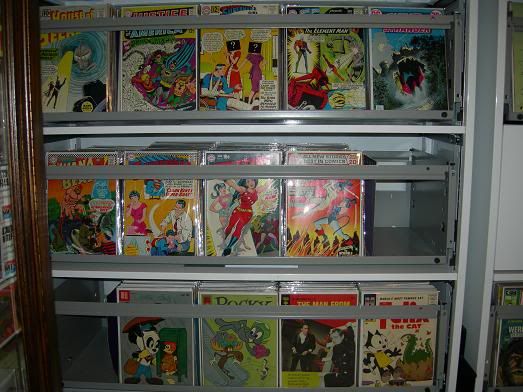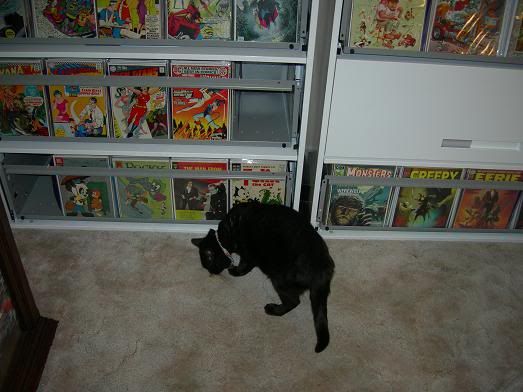 My comics are all in Mylites/Arklites backed by Thin X-Tenders/Halfbacks.

I've not yet Mylited my magazine collection though. It's in the third, half the fourth and the fifth row of the cabinet to the right of my comic cabinet. The top row and the second row of this cabinet are presenting false fronts. I've just put up a few high nostalgia comics from 1963 for display purposes. Behind them is just miscellaneous junk. The other half of the fourth row consists of comics waiting to be Mylited. I've run out of Halfbacks and need to put in an order for several hundred comic ones and probably a thousand magazine ones. Hopefully that will be sufficient for at least another ten years.