The more I see of DC's late 40s super-hero stories, the more intrigued I've become about the sudden outpouring of female characters during an 18-month period from mid-1947 to the end of 1948.
These gals ran the gamut... some were good, some were evil... some appeared evil initially, but turned out to be good after all... some were introduced as supporting characters, but quickly supplanted the main character, while others were quite obscure, appearing only a handful of times.
But most interestingly, these females began popping up in a wide swathe of features in a comparatively brief period of time, suggesting that this was a coordinated effort to try and reverse the flagging fortunes of the postwar era.
So far, I've catalogued a dozen of these characters and there may be others I've overlooked. I thought I would compile what I have into a thread and see where it takes us...
Let's first dispense with what I consider to be the obvious "big two" in this discussion:
1. Black Canary
First appearance:
Flash Comics
#86 (Aug. 1947) - in Johnny Thunder feature
19 solo appearances in the 40s
Created by: Robert Kanigher & Carmine Infantino
Most people don't remember that the Black Canary was first introduced as a crook in the Johnny Thunder strip! But she quickly overshadowed poor Johnny and bumped him not only out of
Flash Comics
, but the Justice Society to boot.
By the time she struck out on her own in
Flash Comics
#92, she had dispensed with the mask and was out fighting crime, not committing it. She also was given a secret identity and a boyfriend:
She was then a mainstay in the title for the rest of its Golden Age run:
A month after Black Canary debuted, another femme fatale appeared on the scene:
2. The Harlequin
First appearance:
All-American Comics
#89 (Sep. 1947) in Green Lantern feature
12 appearances in the 40s
Created by: Robert Kanigher & Irwin Hasen
The Harlequin followed a similar arc as the Black Canary, although it took her a lot longer to complete it. She began her career as a villain, albeit one with a major soft spot for her nemesis Green Lantern. In the next several months, she became virtually a co-star in the feature, and continued to play a cat-and-mouse game of secret identity charades with her adversary:
But just as the feature was sliding toward oblivion, Alan Scott and his readers received a shocking revelation in
Green Lantern
#34 (Sep/Oct 1948) - the Harlequin was never a criminal after all!!: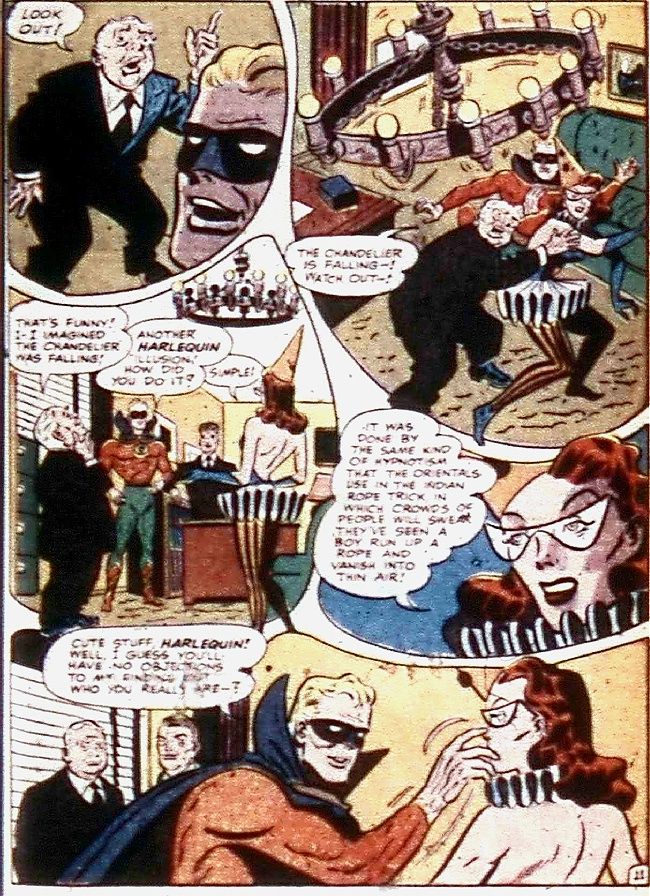 The end of the story attempted to establish a new status quo - GL and Harlequin would still
pretend
to be enemies, but she would be secretly assisting him!
Unfortunately, the creative team never had an opportunity to follow up on this development, as GL was cancelled shortly afterward. It would have been interesting to see where they would taken the duo from there.
So those were the two archetypes, but we've barely scratched the surface...
Coming up: Find out what pair of villainesses debuted in the very same issue!
.