It's the merry month of May, so that means it's time to crack open another capsule of DC history!
So what was happening 50 years ago?
JFK asks for the moon… Alan Shepard blazes America's first trail into space… one of the funniest men who ever lived is out plugging his book (literally!)… Green Lantern meets his greatest enemy… The Man of Steel's origin is retold… and Superboy's best friend uncovers his secret!
News of the Month
:
1st - Pulitzer prize awarded to Harper Lee (To Kill a Mockingbird)
4th - 13 Freedom riders began bus trip through South
5th - Alan Shepard becomes 1st American in space aboard Freedom 7
13th - Gary Cooper, 2 time Academy award winning actor (High Noon), dies at 60
16th - 13rd Emmy Awards: Jack Benny Show, Raymond Burr & Barbara Stanwyck win awards
24th - 27 Freedom Riders arrested in Jackson, Mississippi
25th - JFK sets goal of putting a man on Moon before the end of decade
31st - Chuck Berry's amusement park, Berryland in St Louis, opens
Newsreel of the Month
: "Before This Decade is Out…" (May 25, 1961)
Magazine Cover of the Month:
Life Magazine (May 12, 1961): Alan Shepard
Music of the Month:
UK Top Singles
1. Blue Moon - Marcels
2. Your Driving Me Crazy - Temperance Seven
3. On The Rebound - Floyd Cramer
4. Runaway - Del Shannon
5. More Than I Can Say - Bobby Vee
US Top Singles
1. Runaway - Del Shannon
2. Mother-In-Law - Ernie K-Doe
3. A Hundred Pounds Of Clay - Gene McMcDaniels
4. Daddy's Home - Shep & the Limelites
5. I've Told Every Little Star - Linda Scott
TV clip of the month
: The legendary Harpo Marx promotes his new book and confounds host Garry Moore and his panelists (including a pre-Tonight Show Johnny Carson!) on I've Got a Secret (May 3, 1961):
Movie of the month
: "A Raisin in the Sun" starring Sidney Poitier, Claudia McNeil, and Ruby Dee (released May 29, 1961):
Sports Moment of the Month
: Ralph Boston of US, sets then long jump record at 27' ½" (May 27, 1961):
Top 10 DC Comics of the Month
(as selected by Osgood Peabody, in order of publication):
Our Army at War #108
: Sgt. Rock is knocked woozy and fancies himself battling Redcoats, rebs, and the Kaiser's infantry in "The Unknown Sergeant" (cover by Jerry Grandenetti)
Superman #146
: For the first time in a generation, Superman's origin is retold, and then… can the Man of Steel change history? Be prepared to be amazed by the answer in "Superman's Greatest Feats"! (cover by Curt Swan & Sheldon Moldoff)
The Many Loves of Dobie Gillis #8
: Dobie finds himself in a pickle when the rich and beautiful Melissa Moreworth insists that he marry her! (cover by Bob Oksner)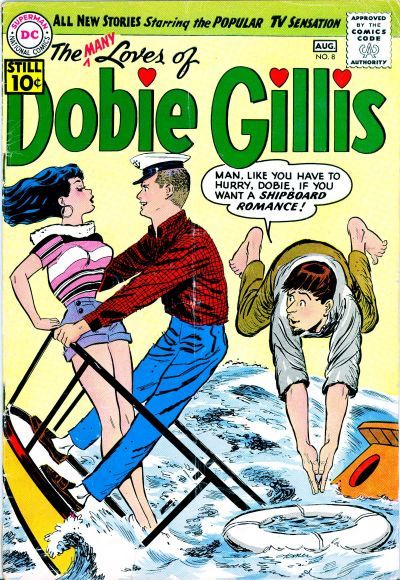 Lois Lane #26
: Another trio of Schaffenberger delights… Lana Lang has a tragic imaginary marriage to the Man of Steel, a flashback to "Lois Lane's Childhood", and Miss Lane gets her sanity tested yet again in "The Mad Woman of Metropolis"! (cover by Curt Swan & John Forte)
Adventures of Jerry Lewis #65
: Jerry travels to Hawaii in search of the perfect pineapple sundae, and instead finds a lovely damsel in distress! (cover by Bob Oksner)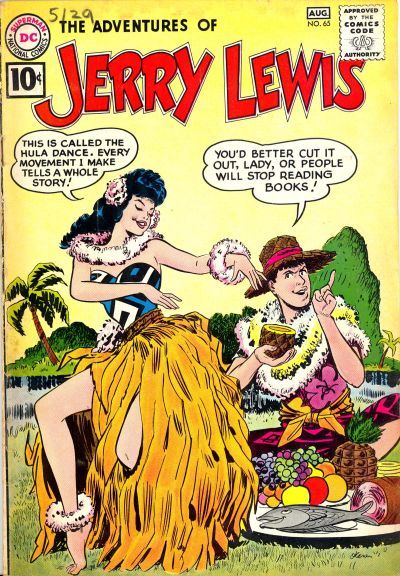 Rip Hunter… Time Master #3
: Rip and company journey back to medieval Europe to uncover the secret behind a coin bearing Corky's image! (cover by Ross Andru & Mike Esposito)
Superboy #90
: Lana Lang peers into the future and gets an unpleasant surprise in "The Girl Who Saw the Future Superboy", but this issue is probably best remembered for one of the most oft-reprinted panels of the Silver Age, involving a camping trip, a lightning storm, and "Pete Ross' Super-Secret"! (cover by Curt Swan & Stan Kaye)
Green Lantern #7
: The Emerald Gladiator meets a rogue Green Lantern named Sinestro, who has allied himself with the evil Weaponers from Qward in "The Day 100,000 People Vanished", plus GL discovers that his ring works even when he sleeps in "Wings of Destiny"! (cover by Gil Kane & Joe Giella)
All-American Men of War #86
: Johnny Cloud struggles to keep a vow he gave to his old squad leader in the dramatic tale of "Top Gun-Ace"! (cover by Jerry Grandenetti)
Strange Adventures #130
: Scientists Jim and Rhoda Trent return for a "War with the Giant Frogs", 12 year old Peter Blake saves the world in "The Invisible Space Dog", plus Tommy Parker hears the amazing story of "The Toy Soldier War" in another trip to the Space Museum! (cover by Sid Greene)
You can find all DC comics published this month right
here
courtesy of Mike Voiles' Time Machine!
You can also find a lot of other publishers' output this month courtesy of the GCD right
here
.
.