The final time capsule for 1960 can now be unsealed…
50 years ago this month, a horrific airline crash over New York City, a Twilight Zone classic, and a new Disney adventure provide the backdrop as the Winged Wonders make their glorious debut, and another step forward is made in the re-engineering of Lex Luthor!
Headlines of the Month
: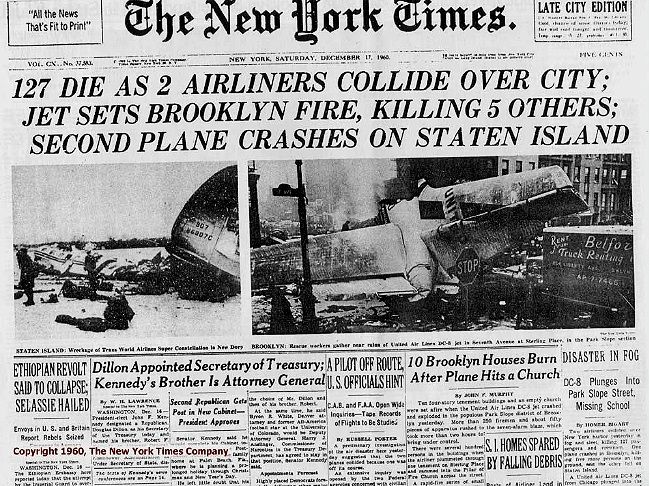 1st - Paul McCartney and Pete Best arrested then deported from Hamburg, Germany for accusation of attempted arson.
3rd - Frederick Loewe/Alan Jay Lerner's "Camelot," premieres in NYC
11th - Black Sunday - Riot in Algiers, 114 die
16th - TWA 266 & United 826 collide over Staten Island, killing 134
18th - General Meeting of UN condemns apartheid
20th - National Front for the Liberation of Vietnam is formed.
27th - France performs nuclear test
Newsreel of the Month
News Highlights of 1960 (December 31, 1960)
Magazine Cover of the Month
– Life (December 19, 1960) – John John Kennedy's christening: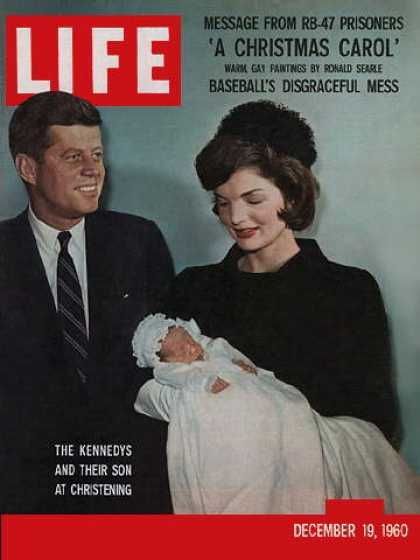 Music of the Month
:
US Top Singles
1. Are You Lonesome Tonight - Elvis Presley
2. Last Date - Floyd Cramer
3. A Thousand Stars - Kathy Young and the Innocents
4. North To Alaska - Johnny Horton
5. Wonderland By Night - Bert Kaempert
UK Top Singles
1. It's Now Or Never - Elvis Presley
2. Save The Last Dance For Me - Drifters
3. I Love You - Cliff Richard
4. Strawberry Fair - Anthony Newley
5. Goodness Gracious Me - Peter Sellers & Sophia Loren
TV clip of the month
(Over 40 years before "Bad Santa", Art Carney gave a brilliant performance as a down and out department store St. Nick in "Night of the Meek", the Twilight Zone episode that aired on December 23, 1960):
Movie of the month
(Swiss Family Robinson, featuring John Mills, Dorothy McGuire, and James MacArthur– released December 10, 1960):
[Sorry, but you'll have to sit through a brief commercial first, as I couldn't find this particular trailer on YouTube]
Sports Moment of the Month
(Future Hall of Famer Chuck Bednarik tackles future Hall of Famer Jim Taylor at the 9 yard line as time expires, preserving a thrilling 17-13 win for the Philadelphia Eagles over the Green Bay Packers in the 1960 NFL Championship game – December 26, 1960):
Top 10 DC Comics of the Month
(as selected by Osgood Peabody, in order of publication):
Our Army at War #103
: A landmark in the Sgt. Rock series - Easy Company is rounded out for the first time, as Bulldozer, Ice Cream Soldier, Alfie and others become recurring characters in "Easy's Had It!" (cover by Russ Heath)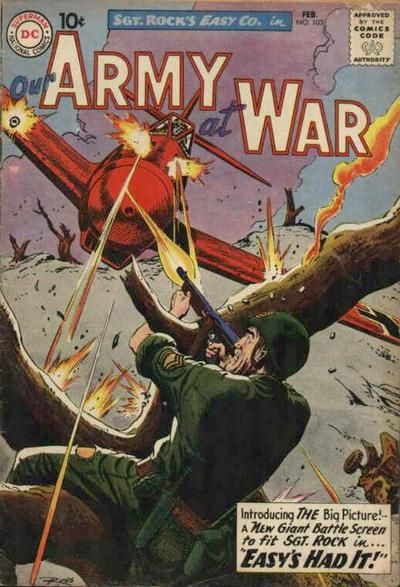 The Flash #118
: The Scarlet Speedster visits Hollywood in "The Doomed Scarecrow" plus Wally West must spend the night in a haunted house in "The Midnight Peril" (cover by Carmine Infantino & Joe Giella)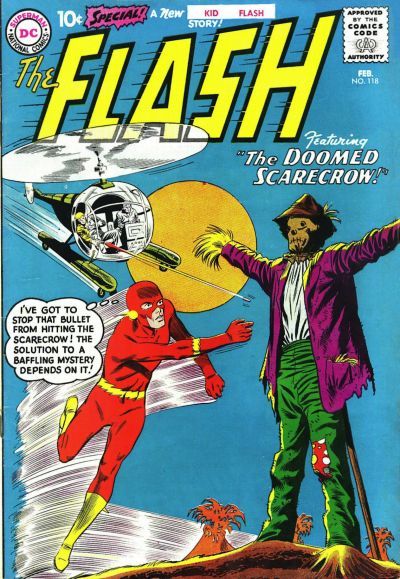 Mystery in Space #65
: Adam Strange matches wits with "The Mechanical Masters of Rann", plus other great sci-fi tales from Sid Greene and Carmine Infantino (cover by Infantino & Giella)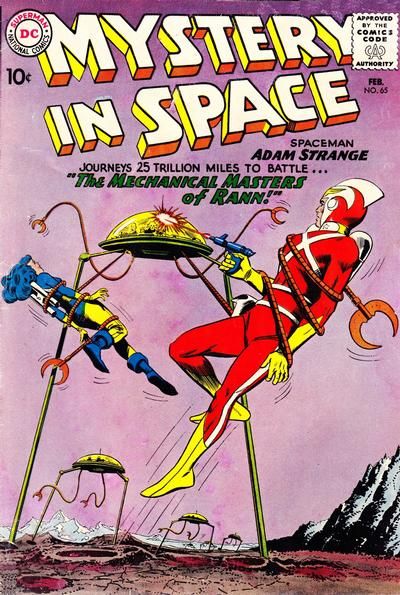 World's Finest #115
: What's causing the Man of Steel's powers to go haywire? It's up to the Dynamic Duo to solve the mystery in the Dick Sprang illustrated "Curse that Doomed Superman", plus "A Trap for Tommy Tomorrow" by Jim Mooney and Green Arrow & Speedy tackle "The Mighty Arrow Army" by Lee Elias (cover by Curt Swan & Sheldon Moldoff)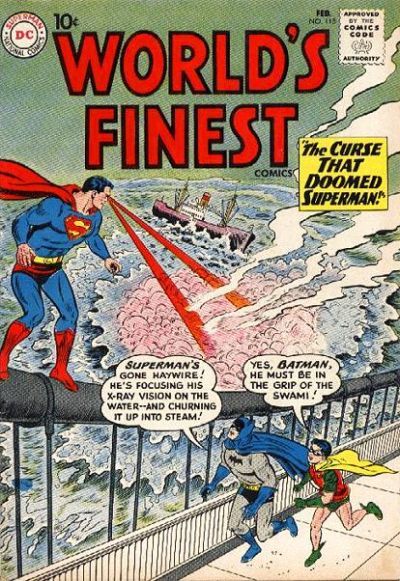 Sugar & Spike #33
: Tomorrow's Teenagers have a return bout with their nemesis Little Arthur, plus Uncle Charley pays the tots another visit in "A Valentine Tale" (cover by Sheldon Mayer)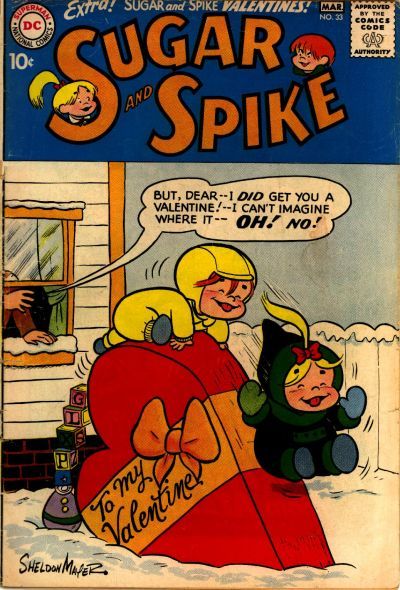 Justice League of America #3
: The World's Greatest Super-Heroes meet Kanjar Ro and his diabolical Gamma Gong for the first time in "The Slave Ship of Space" (cover by Murphy Anderson)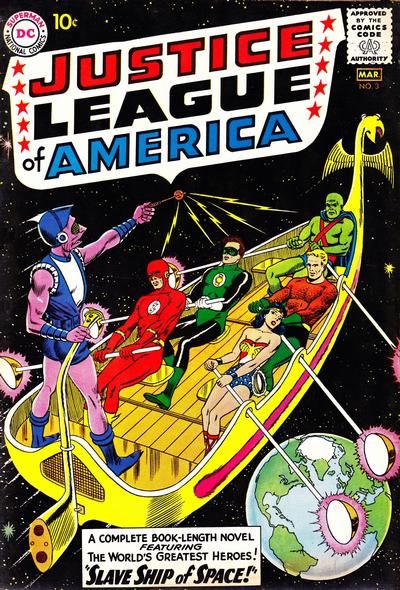 Lois Lane #23
: A trio of vintage Schaffenberger treats… Lois unravels the secret of Lena Thorul and her strange connection to Lex Luthor, turns into Elastic Lass for a day, and becomes Mrs. Clark Kent in an imaginary tale (cover by Curt Swan & Stan Kaye)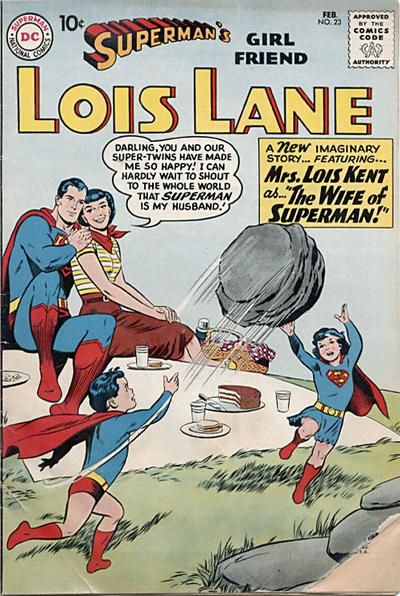 All-Star Western #117
: Two great new characters are introduced – Madame .44 seen here in her first clash with Johnny Thunder, and Super-Chief, a fabulous new blend of western and science fiction courtesy of Gardner Fox and Carmine Infantino (cover by Gil Kane & Joe Giella)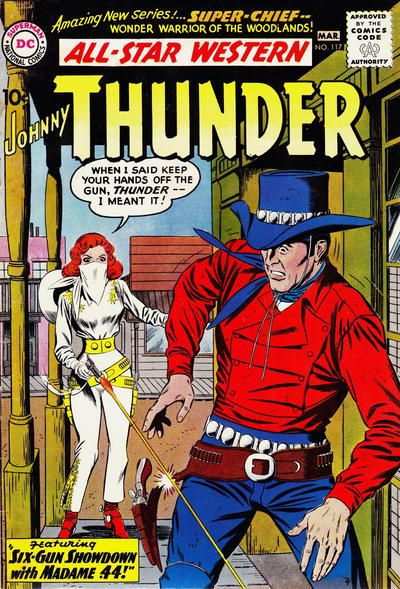 Strange Adventures #125
: Who can resist a flying gorilla? More sci-fi greatness from the likes of Carmine Infantino, Gil Kane, and Mike Sekowsky (cover by Sid Greene)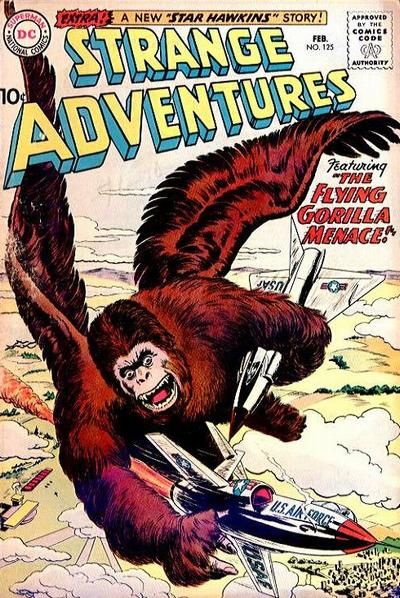 Brave & The Bold #34
: For my money, the most entertaining origin tale ever told… the classic "Creature of a Thousand Shapes" which introduced Katar Hol and his wife Shayera to the DC universe (cover by Joe Kubert)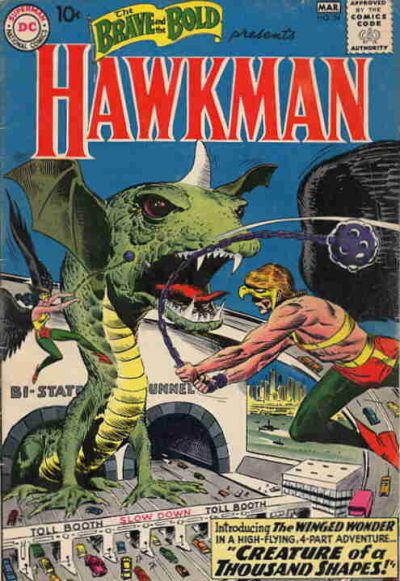 You can find all DC comics published in December 1960 right
here
courtesy of Mike Voiles' Time Machine!
.