Once again I will be using this thread to serve as a reading companion for anyone who'll be picking up the Atomic Knights volume. My goal is to serve up some context to enhance the reading experience. For those who may have missed previous threads like this, there's an index over here.
So, let's set the stage… it's the spring of 1960. The Cold War was reaching its apex… within days of the first published AK story, news broke that U.S. pilot Gary Powers had been shot down in a spy plane over the Soviet Union and taken prisoner, which ratcheted tensions between the superpowers to a new height. Especially ominous was that with the development of the ICBM in 1958, a sprint was on by both nations to build more missiles capable of delivering nuclear destruction across the globe. Many viewed a Third World War as inevitable and even imminent, so John Broome's decision to place his fictional Ground Zero in 1986 was perhaps charitable given the sentiment of the time. Alongside this gloom, however, there was also widespread naivete with regard to the effects of radioactive fallout, and the prospects of surviving a nuclear war. In fact, up until the Limited Test Ban Treaty in 1963, the U.S. exploded atomic bombs every 3 weeks at midnight just 65 miles outside of Las Vegas, to the delight of tourists who routinely gathered on hotel rooftops to toast the "Atomic Night":
With respect to DC specifically, 1960 was smack in the middle of editor Julie Schwartz's Silver Age renaissance. The Flash, Green Lantern, and Adam Strange had already been successfully installed in ongoing features. The Justice League was finishing its try-out in Brave and the Bold, and the Hawkman and the Atom were right around the corner.
However, Julie's remaining holdover from the 50s, the sci-fi anthology title Strange Adventures, lacked a regular feature to anchor it. With his artistic talent already spread thin, Schwartz decided to develop 3 different strips there instead, and publish them in rotation. The sublime Space Museum, by Gardner Fox and Carmine Infantino, made its debut in issue #104 (May 1959), followed by Broome and Mike Sekowsky's light-hearted Star Hawkins in #114 (Mar 1960). With issue #117, the Atomic Knights joined their ranks, and remained alternating with them for the duration of Julie's tenure on the title.
So, let's take a closer look at that issue. Not surprisingly, this new era of Strange Adventures began with a gorilla on the cover: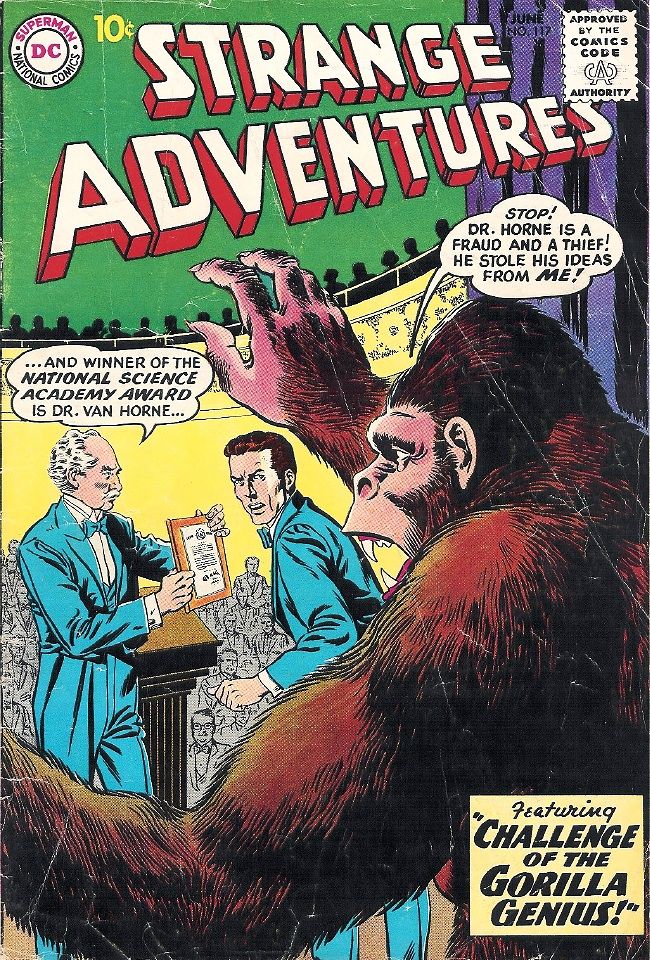 As you can see, the new feature did not rate even a mention, but it's still a catchy Gil Kane/Murphy Anderson cover. That's right - while DC may not have been able to include the non-AK covers for space reasons, I'm under no such constraint, so we'll take our time to peruse some of these unsung gems of the Silver Age!
What else appeared in that issue? Well, there was this house ad for Brave & the Bold #30 (the final JLA try-out featuring Amazo) and Showcase #26 (the final Rip Hunter try-out):
There were also the ever-present science feature pages. You could count on one or two these to appear in all of Julie's titles. In this case, I won't be posting all of them that appeared through the AK run, because there's just so many of them, but I thought I'd post these first two as a sample: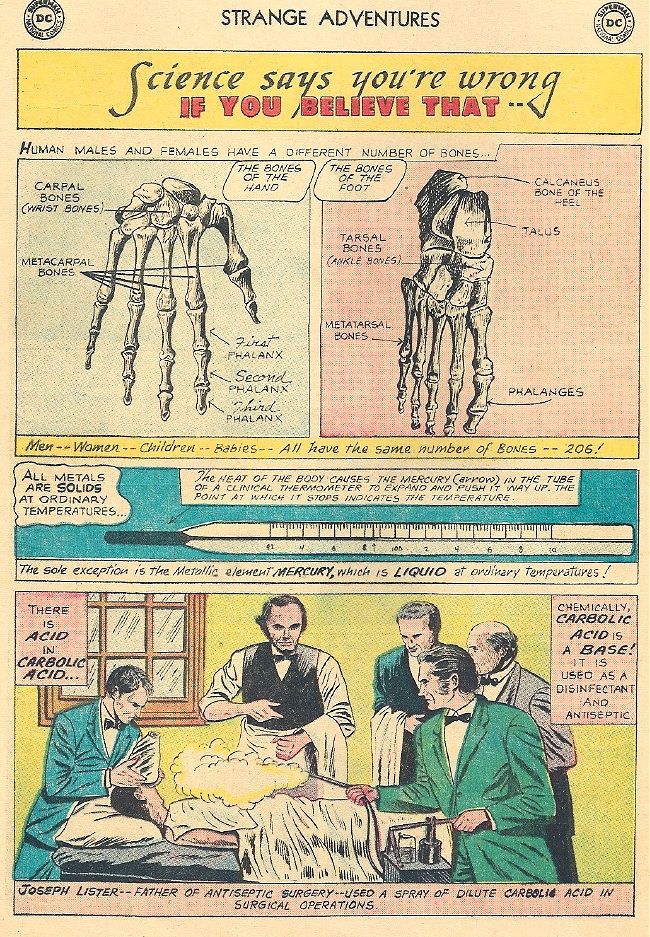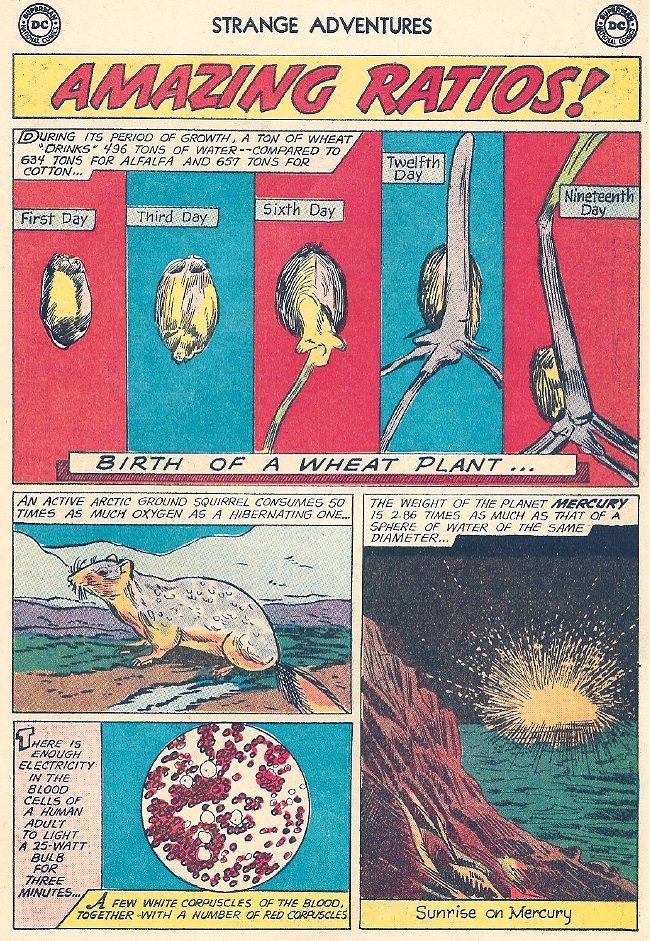 There was also a Q&A page, usually entitled "Spotlight on Science". The Strange Adventures text page followed a similar evolution to its companion title, Mystery in Space. At its inception, there was a science quiz for readers to test their knowledge. This was eventually replaced by a science column, but in 1958, Julie decided to start taking science questions from his readers, addressed to the "science editor". Amid the classroom session, Mr Schwartz was proud to announce that the title had won a prestigious "Maggie" award: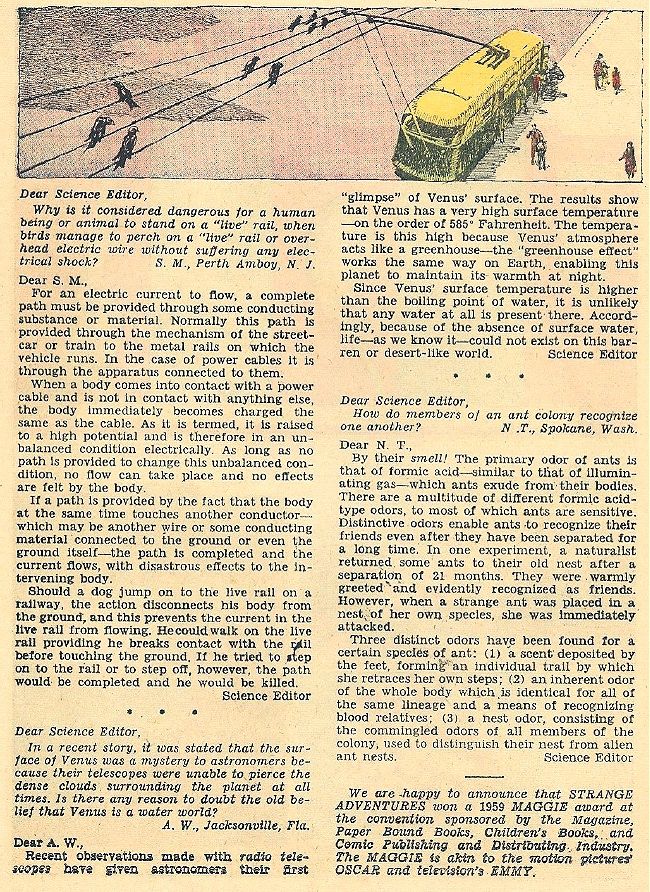 Finally, at the end of the Atomic Knights tale, there was the following caption: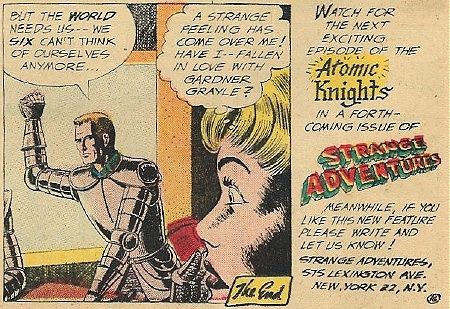 This caption was left out of the volume, but it's interesting to me – DC usually only employed an appeal for letters at the end of a "try-out" feature, such as the ones then underway in Showcase and Brave & the Bold. So the first AK tales were definitely seen as a trial run of sorts. I don't recall the same care being taken when Space Museum and Star Hawkins were introduced - perhaps there was some real trepidation that the somber post-apocalyptic setting of AK would be too unsettling for young readers.
Next: Reaction pours in – the "reality" of World War 3, a "kissing controversy", and even a letter from Jericho?