This thread is dedicated to the memory of Dick Giordano (1932-2010)
I am starting this thread to serve as a reading companion to the recently released volume featuring Steve Ditko's Creeper. It will hopefully put the stories into their original context, serving up commentary from the letter columns of the time, plus house ads of other contemporary DC features.
For those who may have missed other threads I've done of this nature, you can find an updated index
here
.
So let's begin by setting the stage. Late in 1967, Carmine Infantino was promoted to Art Director, which put in motion a whirlwind of changes behind the scenes at DC. Readers were tantalized with in-house promotions like these: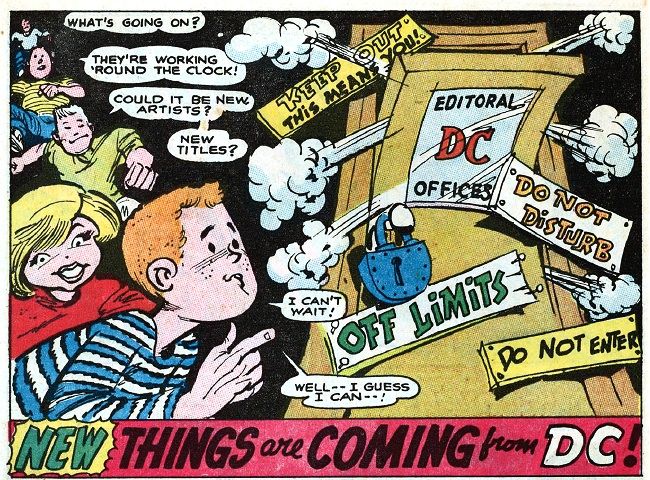 What new things were coming? Well, a host of new talent came on board including the likes of Joe Orlando, Dick Giordano, Denny O'Neil... men who would shape the company for decades to come. But the first big revelation of the new era was unveiled in this ad which appeared in January 1968: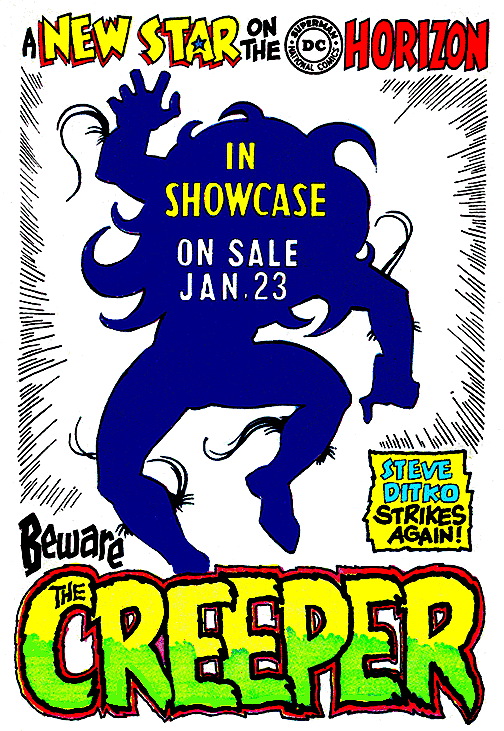 This particular promotion was eye-grabbing to be sure, but it was groundbreaking as well. Not since the days of Joe Simon & Jack Kirby back in 1943 had DC named any of its talent in its house ads - but there it was, boldly proclaiming
Steve Ditko Strikes Again!
This was indeed a big deal - Mr. Ditko, fresh from his triumphs at Marvel and Charlton, launching a new feature at DC!
Given Mr. Ditko's reclusive nature, it's not surprising that the introductory text feature in
Showcase
#73 spent most of the time talking about Don Segall, the man who dialogued that first story: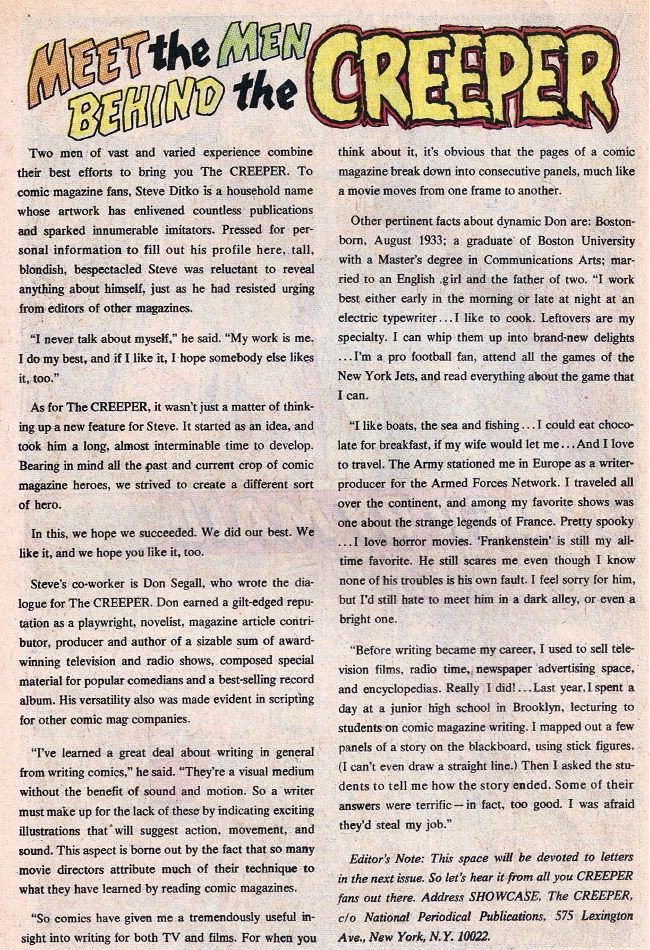 It's also interesting to note that it speaks of letters "in the next issue", meaning presumably the next
Showcase
. But this new feature was not to follow the old DC blueprint of 3 try-outs. In an unprecedented move, it was immediately launched into its own title
Beware the Creeper
, just 2 months later!
This being the late 60s, one thing you could always count on is a bounty of house ads. In that
Showcase
issue, there were a few, which reflect the crossroads that DC was at during this time. The first ad was one for the old guard, a collection of Supergirl reprints from a decade earlier, repackaged in a nifty "game board" cover:
The next one was a different kettle of fish altogether - this brilliant Joe Kubert page celebrated the return of the acclaimed Enemy Ace feature which was being relaunched in
Star Spangled War
: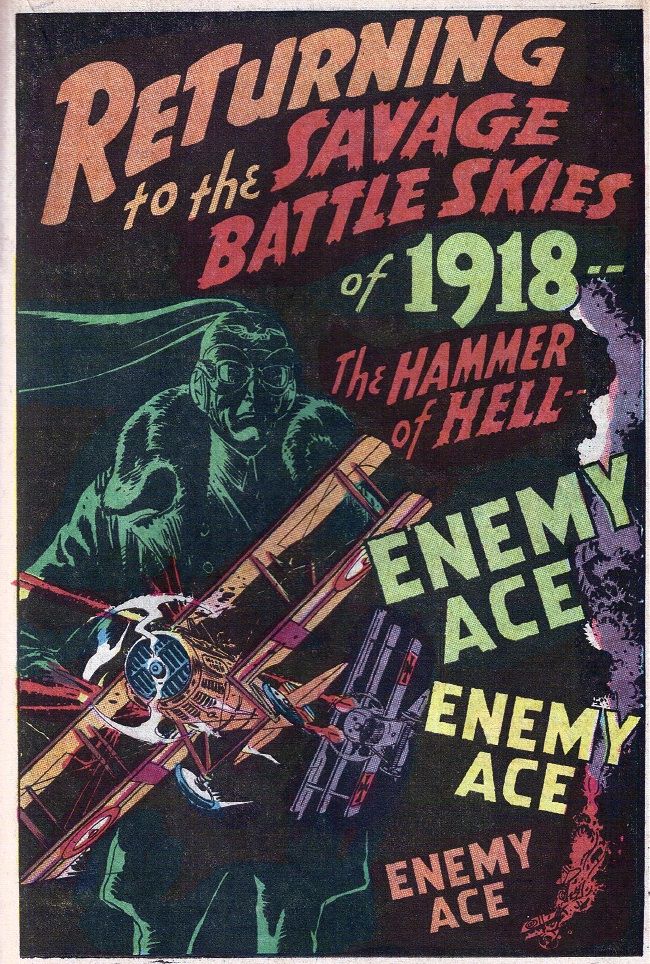 The last ad from that issue previewed the next Ditko creation, the Hawk and the Dove. This would wind up seeing print 3 months later in
Showcase
#75: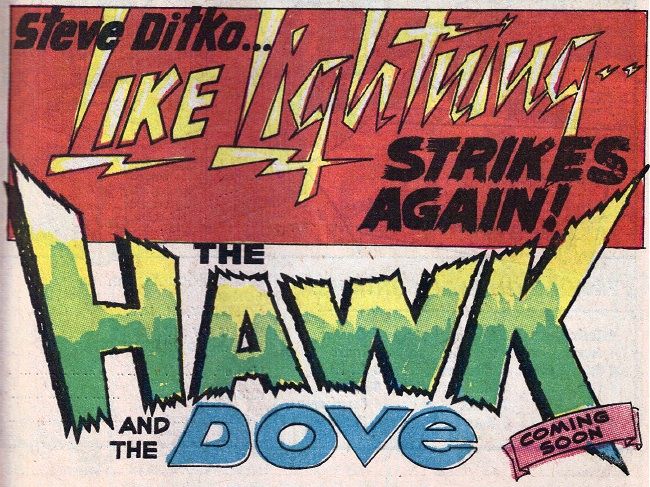 Finally, we also got a "Direct Currents" column courtesy of E. Nelson Bridwell, which gave a nice cross-section of DC titles from that month, including some notable stories of the Spectre, Deadman, and the Legion of Super-Heroes: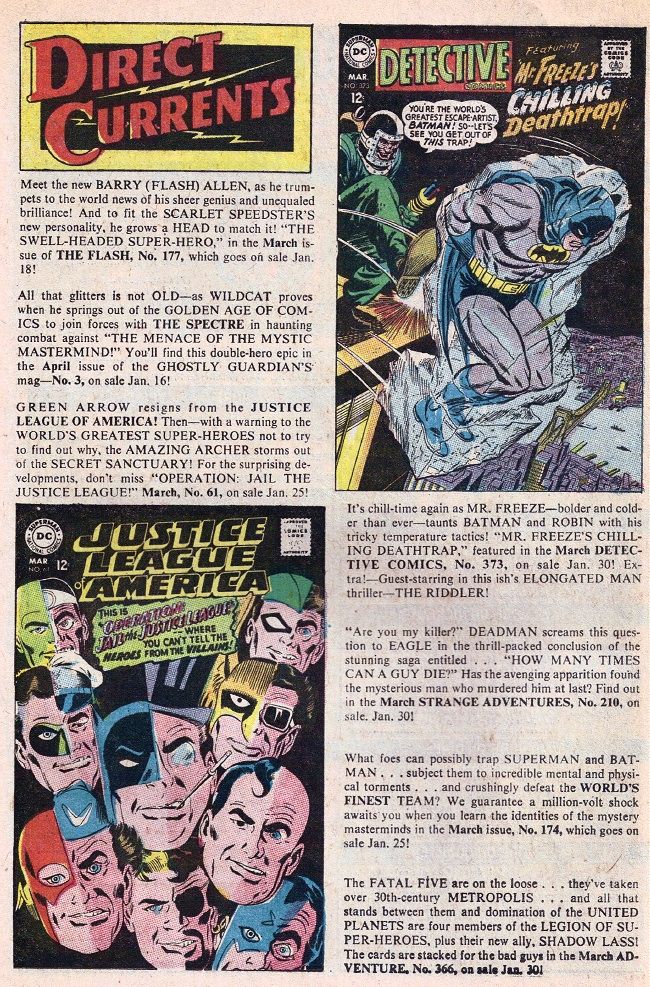 Coming up: A peek inside the new Creeper title, as we meet the gentleman at the helm!