Thanks to DVD, I've begun rewatching the original Ultraman series from the mid-sixties (although, from the Japanese titles, the name of the show is actually Ultra Q - Ultraman!). It's definitely a nostalgic treat. My first awareness of the character came from these mini-puzzles purchased for me as a child in the late 1960s ...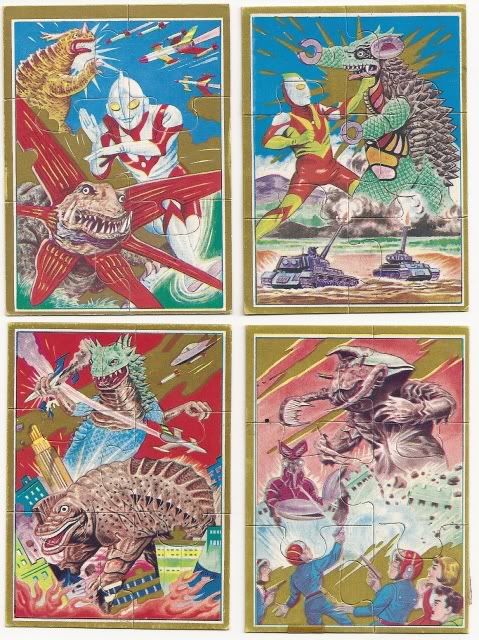 Around 1970 or so, Philippines TV started airing promo spots for the Ultraman series, showing urban devastation with a giant silver-and-red clad hero battling a giant monster. But it wasn't until we moved to the United States in 1971 that I finally got a chance to see the actual show. It aired on a local San Diego station, and for a kid who grew up on Godzilla and Japanese monster movies, the show was a delight.

It wasn't until much, much later that I learned of the Ultra saga: numerous series stretching over decades to the present day, depicting various Ultra personages. The only other Ultra shows I saw were 1990's Ultraman - Towards the Future, Ultra 7 (when it was aired on TBS), and the more recent Ultraman Tiga. There have been some decent-budgeted Ultraman movies released in Japan lately, I've read. Interestingly, the whole saga began with a show called Ultra Q. From what I've read, it was somewhat of an X-Files-ish kind of show, depicting a team that investigates strange otherwordly phenomena. I'm not aware that it's available here in the U.S. in any form, but I would certainly be curious to see how the whole magilla began.

In the meantime, I'm reveling in some old-fashioned giant hero vs. monsters heroics with the original Ultraman show. Any Ultra fans out there?

Shuwatch!


---