Hard to believe the Marathon has now entered 1965, another year of growth and development in the Marvel Universe. This year will see Sub-Mariner get his first series since 1955, Nick Fury get his
second
series, a new Avengers team, the beginning of the Kirby-Sinnott team, the Inhumans, and at the end of the year, the Silver Surfer and Galactus! Plus the Beatles release their
Help!
and
Rubber
Soul albums (as T.T. Clark asked me to mention), and the Rolling Stones can't get no "Satisfaction." Definitely worth the price of admission, right?
JOURNEY INTO MYSTERY #114:
The mighty Thunder God finally battles a foe who is every bit as powerful as Thor himself! In fact, in some ways our newest villain actually has the advantage! This one's a shocker!


X-MEN #10:
Possibly the greatest X-MEN saga of all time, introducing a fabulous character who will take your breath away! This one is so terrific that it'll make you realize why we simply can't produce an issue faster than every two months!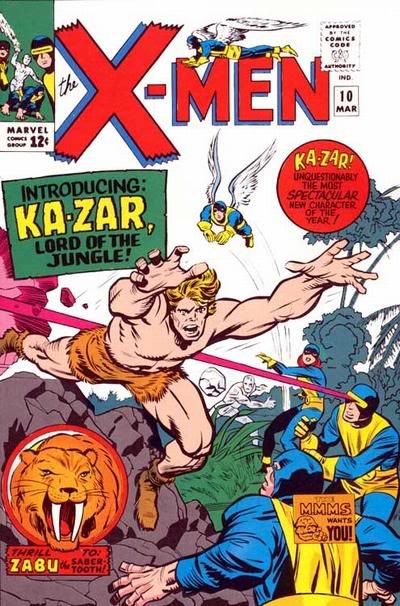 TALES TO ASTONISH #66:
A real surprise is in store for you when Giant-Man is trapped by the awesome Madam Macabre! And wait till you see the Wasp fighting for their lives; top it all off with the latest Hulk rampage behind the Iron Curtain! Wow-
EEE
!


AVENGERS #14:
Another off-beat sensation for the world's mightiest costumed heroes! This one takes them to the farthest reaches of Earth, pitting them against a menace like none they have ever fought before! You'll love it!


SGT. FURY #16:
This one will clearly demonstrate why the Howling Commandos are the most popular, most talked-about war mag heroes in the world today! It features our own brand of batty battling action in the mysterious tinderbox of North Africa! It's got everything!


AMAZING SPIDER-MAN #23:
This one's a rare treat! Stan and Steve have combined the super-villany of the exciting Green Goblin with the down-to-Earth menace of a deadly gang of criminals, to give Spidey one of his toughest battles yet!


FANTASTIC FOUR #37:
For sheer spectacle and imaginative fantasy, you won't want to miss "Behold! A Distant Star!" in which the world's top super-team finds undreamed-of dangers on a faraway star! It's sheer Marvel magic!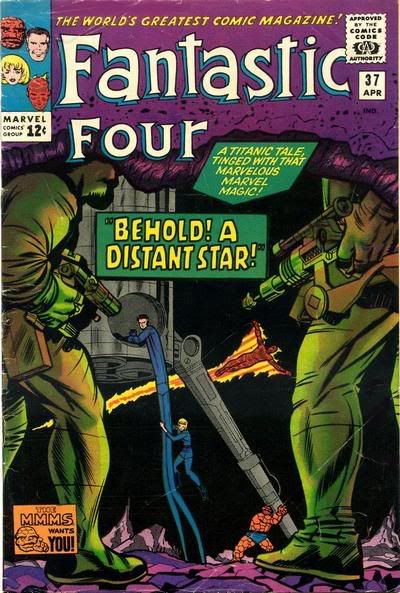 TALES OF SUSPENSE #64:
Wait till you see the
new
Black Widow, a new super-power and a captivating costume! Then, add the ever-popular Hawkeye, and put them both against the dramatic Iron Man! You'll also see Captain America and Bucky battling two menaces from the past! What more can we say!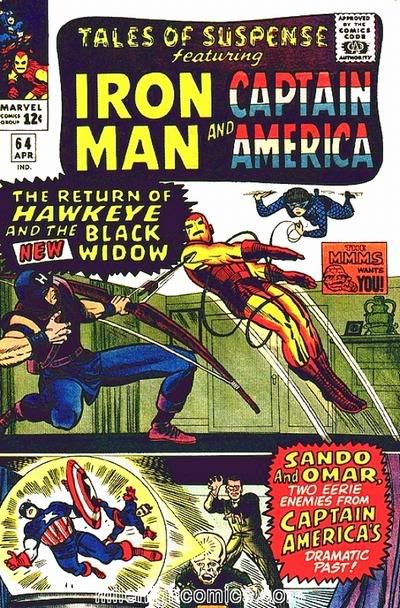 STRANGE TALES #131:
See why all of comicdom is talking about Bob Powell's takeover of the Torch/Thing strip. This talented whiz really makes them live! And Doctor Strange is still on the run! Two action-packed thrillers!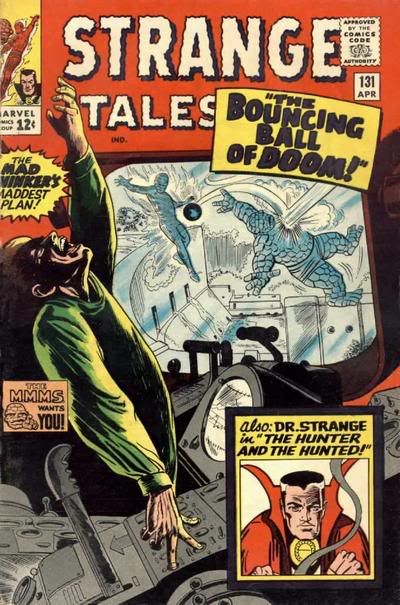 Catch all past threads at
http://marvelmasterworksfansite.yuku.com/forums/5
A complete and updated list of which comics we covered in which leg of this marathon is at
http://marvelmasterworksfansite.yuku.com/topic/7980?page=1