This is going to be a work in progress and I'll try to add more each evening.
First, a word of caution. Ive been using Photoshop 5.5, a significantly older version of Photoshop than Photoshop CS. So the steps and features being described will not exactly match the newer version. The good news is everything Ive done is probably available to Photoshop CS users. I had some frustration trying to use Samys cover tutorial because Photoshop CS has features Photoshop 5.5 does not have. So, know that you have a better version of Photoshop than I have.
I start the process of creating dust jackets for my bound comics once I have received the books back from the binder. My first step is to measure each side of the book so that I can accurately size the graphic. I very simply use a ruler and take the measurements. Nothing fancy at all. I measure the length and width of the front and back and the width of the spine. For the Kull dust jacket, these measurements were:
Front 10.375 high by 6.75 wide (the back was identical.)
Spine 10.375 high by 2.00 wide
I also made an arbitrary decision that I wanted 3.00 flaps on the dust jacket. The three inches gave me enough room to add text and pictures on the flaps without being too crowded or having the flaps much too wide. Again, it was an arbitrary decision; I could have chosen 2.5 or 3.5, etc.
I then added the widths of each element to get the overall size of the dust jacket graphic I will be developing.
3.00 + 6.75 + 2.00 + 6.75 + 3.00 = 21.50 (This will be the width of the dust jacket). The height of the dust jacket is a consistent 10.375. So my first step in Photoshop is to create a new image with the dimensions of 21.5 inches width and 10.375 inches height and 300 dpi.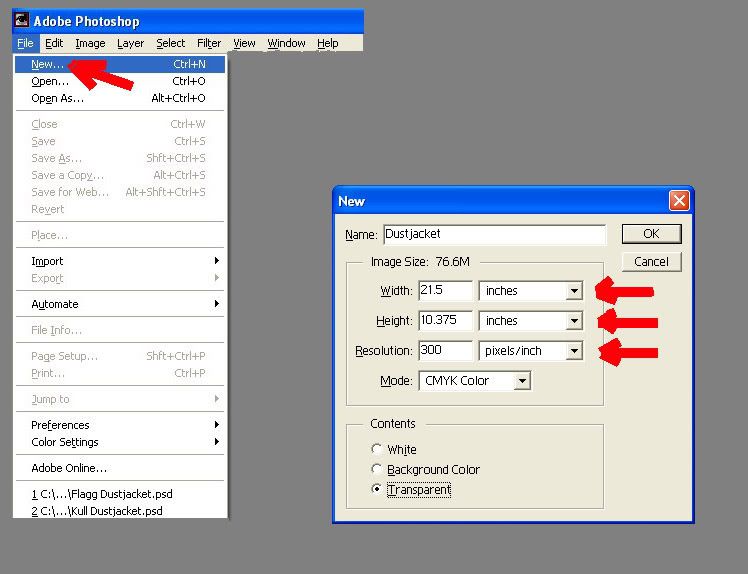 The next step I take is to create the front and back flaps of the dust jacket. Since I established my image dimensions with 3.00 flaps, I select the RECTANGULAR MARQUEE tool and create a 3 x 10.375 rectangle starting at the very top-left corner of the image.
Once I have the rectangle as I want it, I choose the foreground color I want for the flaps. So far, Ive been using 000000 Black as I think it looks good and provides a stark contrast for white lettering on the flaps themselves. Then I select the PAINT BUCKET tool and pour the BLACK foreground color into that rectangle.
And I repeat the process for the right end flap.
More to come tomorrow as I put the front and back Masterworks templates in place and create the spine and associated graphics.