Here we go....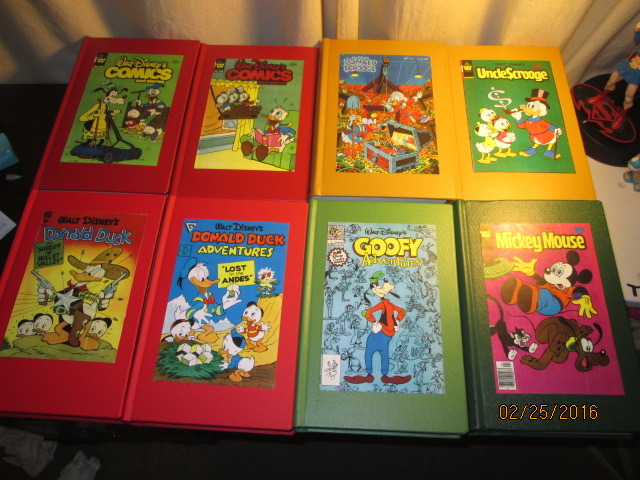 First the Disney books.  The images are printed off of my laser jet printer.  For my first batch I didn't have the foresight to pre-scan enough covers for all of the volumes so many of the images were high-res Internet images.  
Note: I used Whitman covers as much as possible event though I had no Whitman comics at the time.  I always liked Whitman's logo designs from their later years.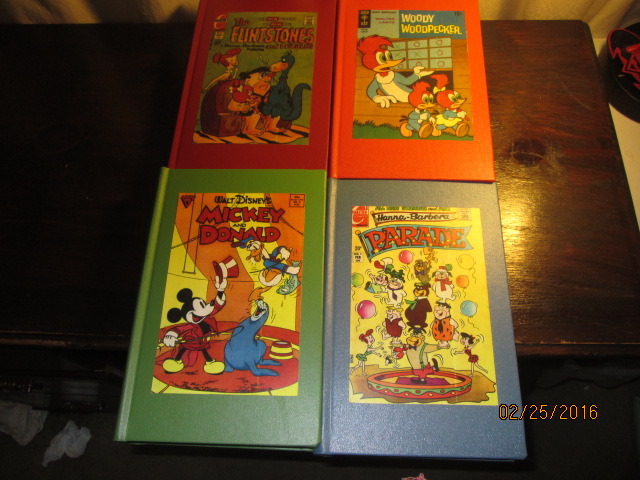 Two Hanna-Barbera volumes.  The Flintstones volume contains issues from the 90s Harvey reprint series, the 90s Archie series and the first issue of DC's The Flintstones and The Jetsons.  The non-Flintstones volume contains Harvey's Yogi Bear reprint series as well as random issues of Cartoon All-Stars and other series.  While assembling this volume I discovered Dark Horse's Tex Avery comics from a while back.  I tossed them in the back, they're not technically H-B but they're close enough.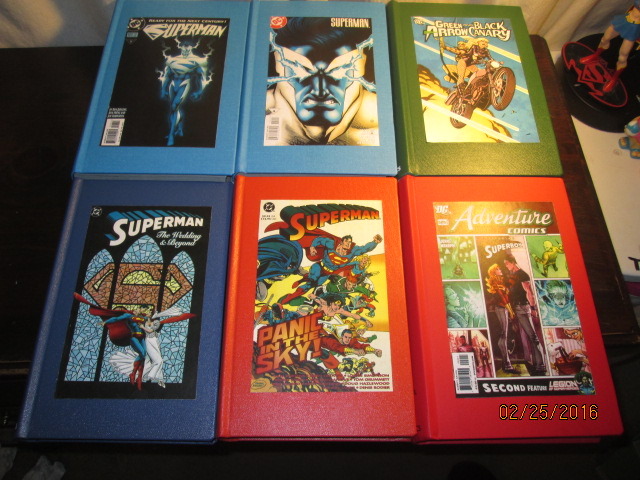 I've always been intrigued by the 'Electric Superman' era, luckily the issues are cheap and a'plenty.  Superman The Weddin and Beyond and Panic in the Sky were both trades that I 'padded up.'  
Adventure Comics is the complete 2009 revival series that started with Superboy and ended up with the Legion and later The Legion Academy.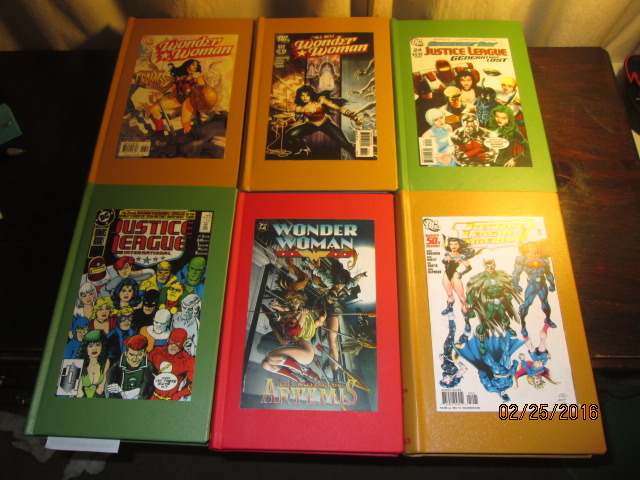 Here's my first three Wonder Woman volumes.  I wanted to bind both the Simone and JMS runs.  The JMS run was short and the GS run was about 31 issues so I split up Gail's run and volume 2 includes the JMS pantsy Wonder Woman.  The Artemis volume is 'The Contest' and 'The Challenge of Artemis' trades along with ww 85-86, Legends of the DCU 4-5 and the 'Artemis: Requiem' mini.  Also pictured is vol. 2 of my Justice League America run (not collecting JLE except for the cross-overs), JUstice League: Generation Lost from 2010 and James Robinson's pre-Flashpoint Justice League.