" In Russia, all you have to do to get a house is to be born in the Soviet Union.
You are entitled to housing...In America, if you don't have a dollar you have a right to
choose between sleeping in a house or on the pavement. Yet you say we are the slave to
Communism."
- Nikita Khrushchev, to Richard Nixon during their "Kitchen Debate", 7/24/1959
In this bonus installment, we journey back to July of 1959, a month filled with images of Nixon vs. Khrushchev and an Alfred Hitchcock classic, and a month where DC introduced us to a an Emerald Gladiator and a Trail Boss, while bringing down the curtain on a pooch and a chimp!
News of the Month
:
4th - America's new 49-star flag honoring Alaska statehood unfurled
14th - USS Long Beach, first nuclear powered cruiser launched at Quincy, Mass.
15th - More than 500,000 steelworkers walk off the job as the United Steelworkers of America called the largest strike in American history
17th - Billie Holiday, jazz singer, dies at Metropolitan Hospital in New York of cirrhosis of the liver at age 44
21st - The Boston Red Sox become the last Major League Baseball team to integrate, twelve years after Jackie Robinson had broken the color line.
24th - The Kitchen Debate takes place between Soviet Premier Nikita Khrushchev and American Vice-President Richard Nixon, at Moscow's Sokolniki Park, where the American National Exhibition was being held. At a display of a model kitchen, Khrushchev and Nixon argued, through interpreters, over the merits of communism and capitalism
Newsreel of the Month
: Nixon in USSR – Opening U.S. Fair, Clashes with Mr. K (July 24, 1959)
Magazine Cover of the Month
: Jane Fonda (Vogue, July 1959)
Music of the Month
:
US Top Singles
:
1. Lonely Boy - Paul Anka
2. The Battle Of New Orleans - Johnny Horton.
3. Waterloo - Stonewall Jackson
4. Personality - Lloyd Price
5. Tiger - Fabian
UK Top Singles
:
1. Dream Lover - Bobby Darin
2. The Battle Of New Orleans - Lonnie Donegan
3. A Teenager In Love - Marty Wilde
4. Roulette - Russ Conway
5. Peter Gunn Theme - Duane EddyMovie of the Month
: "North by Northwest" starring Cary Grant, Eva Marie Saint, and James Mason (premiered July 17, 1959)
TV Clip of the Month
: Groucho Marx appears on "I've Got A Secret" (first aired July 1, 1959)
Sports Moment of the Month
: In his major league debut, SF Giant Willie McCovey goes 4-for-4 (July 30, 1959)
Top 10 DC Comics of the Month
(as selected by Osgood Peabody, listed in order of their publication):
Superboy #75
: An untold tale relates "Superboy's First Day of School", the Dog of Steel travels through time in "How Krypto Made History", and Ma and Pa Kent are stymied in their attempts to discipline their son in "The Punishment of Superboy"! (Cover by Curt Swan & Stan Kaye)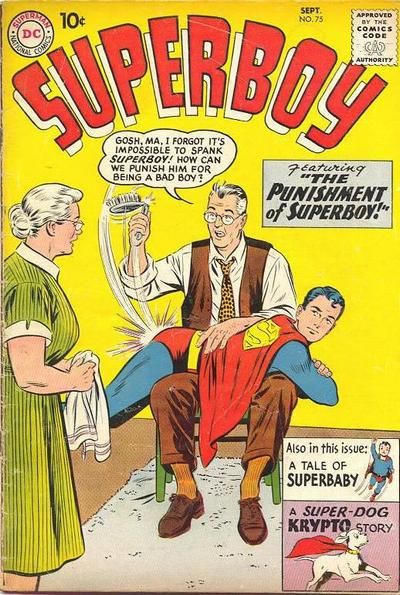 Jimmy Olsen #39
: Jimmy travels to the planet Zolium and becomes "The Super-Lad of Space", then has a run of bad luck in "The Million-Dollar Mistakes", and finally misplaces his signal watch in "Jimmy Olsen's Super-Signals"! (Cover by Curt Swan & Stan Kaye)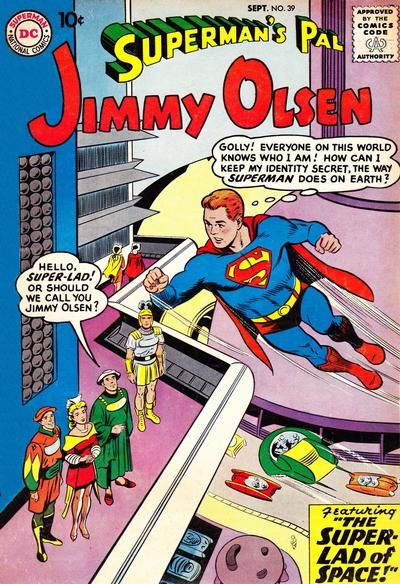 Rex The Wonder Dog #46
: Rex and his friend Professor Rayburn revisit the world of Lamenor in "Mystery of the Magnetic Monsters", Bobo becomes "The Chimp-Champ of Baseball", then Rex visits a dude ranch in "Canine Buckaroo"! (Cover by Gil Kane & Bernard Sachs)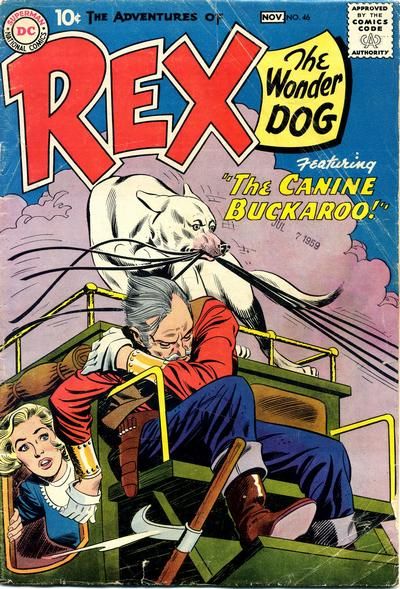 Western Comics #77
: Matt Savage, Trail Boss, is introduced in "The Barbed Wire Barricade", then Pow-Wow Smith must solve the "Secret of the Sheriff's Stand-In", while Wyoming Kid unravels "The Clue of the Outlaw's Hat"! (Cover by Gil Kane & Joe Giella)
Mystery In Space #54
: Adam Strange battles "The Invaders of the Underground World", two space explorers make an amazing discovery in "Amazing Ark of Space", while another pair of astronauts in the year 1988 must solve the "Riddle of the Counterfeit Earthmen"! (Cover by Gil Kane & Frank Giacoia)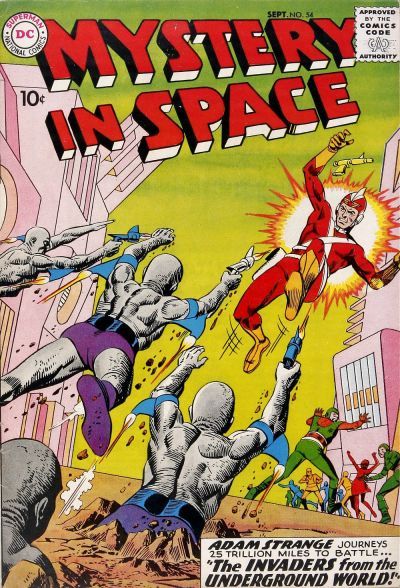 World's Finest Comics #104
: Batwoman guest-stars as Lex Luthor is behind "The Plot to Destroy Superman", then Tommy Tomorrow and his co-pilot Brent Wood become "Prisoners of Amazon Asteroid", and Green Arrow and Speedy come to the aid of a Native American princess in "Alias Chief Magic Bow"! (Cover by Curt Swan & Stan Kaye)
Showcase #22
: Meet Hal Jordan, test pilot, as he is sought out by the dying Abin Sur to become a Green Lantern in his classic origin tale, then we meet the lovely Carol Ferris in "Secret of the Flaming Spear", and finally Hal must thwart the "Menace of the Runaway Missile"! (Cover by Gil Kane)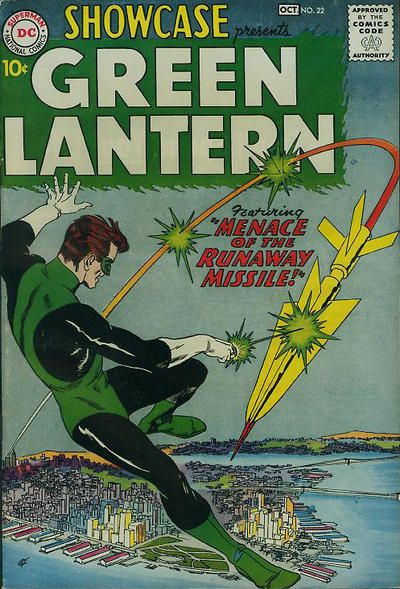 Strange Adventures #108
: Dan Fuller, Space-Patrolman, becomes "The Human Pet of Gorilla Land", then space-salesman Wayne Morgan is the victim of "The Martian Earth-Trap", and then we meet 35th Century lawman Var Evans as he battles evildoers astride "The Last Horse on Earth"! (Cover by Gil Kane)
Action Comics #256
: The Man of Steel changes places with "The Superman of the Future", then Congo Bill's companion becomes "Janu, The Joker of the Jungle", and Kara meets another orphan named Dick Malverne in "The Great Supergirl Mirage"! (Cover by Curt Swan & Stan Kaye)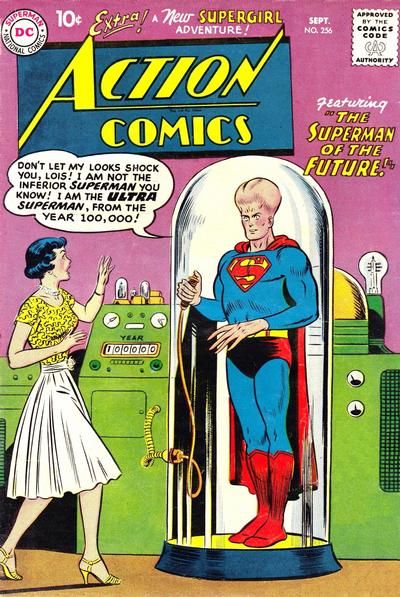 Adventure Comics #264
: An alien turns Superboy into "The Helpless Hero", while the Sea King visits New Venice for the first time in "Aquaman and His Sea Police", then Oliver Queen travels to England and meets "The Green Arrow Robin Hood"! (Cover by Curt Swan & Stan Kaye)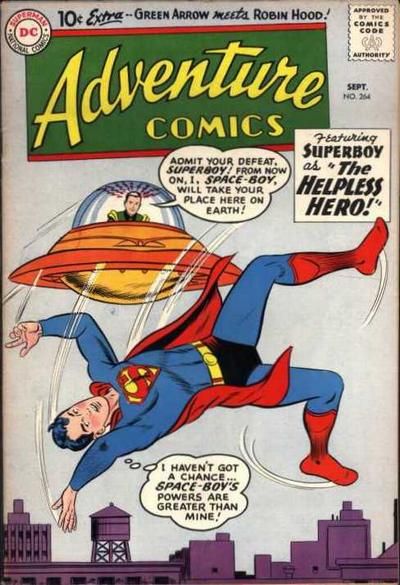 You can find all DC comics published this month right
here
courtesy of Mike Voiles' Time Machine!
You can also find a lot of other publishers' output this month courtesy of Mike's site right
here
.
.