We all have characters and series we favour over the years, but I want to give a shout-out to some of the interesting, under-appreciated or just plain long-missing second bananas that came and went in Marvel's history. Feel free to give some love to yours...Extra points to those of you who add pictures or even some tidbits about said characters...
[1]  From 70s Thor:
HILDEGARDE : She first appeared about the same time I started reading Thor, becoming the lady Sif's companion/protector/bodyguard for much of the 70s. She had a sweet babe of a sister named Krista who was a hostage for the Greek god Pluto at some point IIRC, and she seemed to be angled as a girlfriend for Volstaag which was an undeserved fate (LOL). I always liked tall women and she was a true Valkyrie-type, and unafraid to punch a bad guy or two. Apparently she`s recently resurfaced in the Jane Foster Thor series.  Miss her greatly...
[2] Mostly from Captain America and elsewhere:
UNION JACK: Great costume! (see, over-designed is NOT always the way to go, New52 DC!) liked him in the Invaders, the Stern/Byrne Cap run, love two of his limited series...When I think of other countries' signature heroes (like Guardian/Canada, Cap/USA), Union JACK usually wins out against Captain Britain, though the MI-13 version makes that a toss-up...
[3] From Fantastic Four
THUNDRA: Marvel likes to spin the yarn that Ms Marvel/Carol Danvers was the 70s big symbol for feminism, but nuh-uh, this tall babe from another dimension was the first and best!! she could beat out most of the Marvel U's heavy hitters at the Thing's level, but she also was direct in the ways of romance, a trait I always like
(hmmm, two tall female bruiser-types I like, does that say anything about me?)
[4] From the Avengers and briefly in X-Men
Henry Peter Gyrich: man would this guy fit in the current US administration...
I think one of the first slimy hardass bureaucrats in comics. He looked a bit like Jasper Sitwell's %$+++$! big brother...He was perfect as an inhouse antagonist to the Avengers, and really should have stayed around for a lot more years...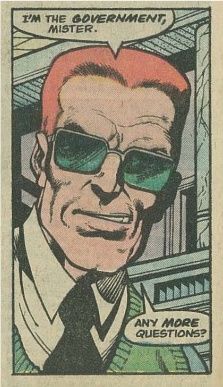 [5] From Golden age Marvel and Sensational She-Hulk
LOUISE MASON / Blonde Phantom: She was Byrne's answer in She-Hulk to the modern age's reintroduction of the SubMariner in Lee/Kirby's FF (I thought that was a great touch) and was a great supporting character for the brief time she was there...I thought de-aging her was a bit much, but she brought a good dose of much-needed humour back in the bleak 90s.
[6] from Captain America
LEILA Taylor: I didn't know who Pam Grier was until many years later, but even back then I really liked the often sour, intense and pushy Leila when she had the Falcon panting after her...(heck, I would have as well if I was a bit older and knew someone like her back then- I must be a masochist!) Don't know why she completely disappeared, I guess as Marvel became reticent to have angry-black males or females in their books after the 70s they felt the need to phase her out, but the Falcon really needed her to get the fire coming out of him, witness how after Kirby retired the Cap/Falcon partnership the Falcon went basically nowhere for over 25 years, I guess because they thought he was too bland on his own?
But with today's social upheavals, she'd fit right in with a bit of tweaking...